I love the period details in my Victorian apartment, but I don't need a discolored, chipped bathtub to remind me of the history of the place. (I have sloping floors and drafty windows for that.)
A few weeks ago, I was batting around some small remodeling projects with a friend who was staying with me. I wondered aloud about refinishing my bathtub, and she quickly chimed in: "Yes, that would be good!" Hint taken–and in anticipation of more guests soon arriving for the holidays–I got to work.
Here's a look at my project, followed by instructions, should you, too, be feeling ambitious. Word of warning: This project is not for the faint of heart. It takes a full day of work, plus three days to dry. The refinishing fumes are toxic, and you'll need to wear a respirator mask. And though the tub looks 95 percent better after my labor, it still isn't perfect.
I would only recommend refinishing your bathtub yourself if at least two of the following three apply to you: You're at least a little bit handy–let's say you have a strong painting resume. You're extremely patient, or at least refuse to give up. You're someone like me who hates not knowing how to do things and won't be satisfied until you've tried. Does this describe you? Then let's proceed.
Photography by Liesa Johannssen.
Finished Results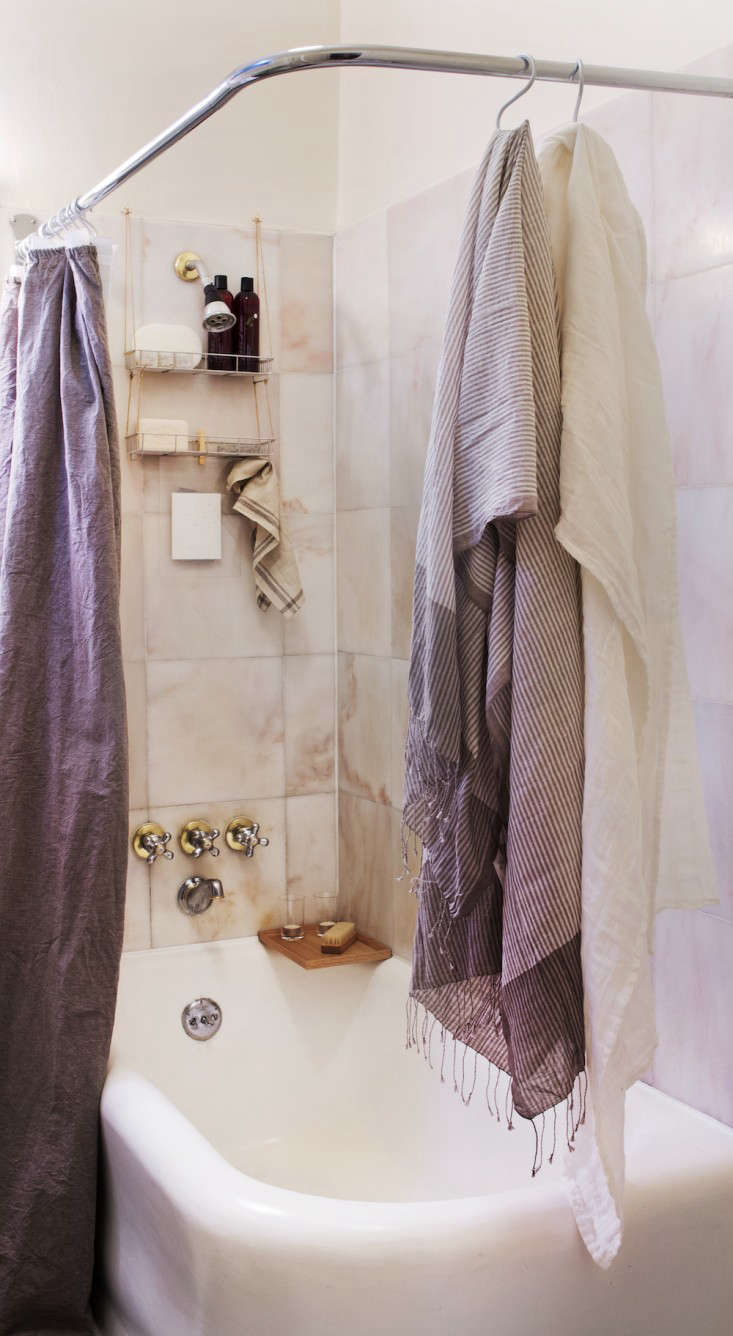 Above: The fruit of my labor: A refinished tub with new caulk and accoutrements for houseguests. Photography shot with the Canon EOS 70D digital SLR camera, with Dual Pixel AF technology and built-in Wi-Fi.
Materials
Instructions
Step One: Make plans to shower somewhere else for three days. You'll absolutely want (and need) to shower after completing this task, and the epoxy has to cure for 72 hours. Lucky for me, I have nice neighbors.
Step Two: If your existing caulk is worn, strip it. Mine was moldy and looked if it had been applied by someone with his eyes closed. I first used a chemical caulk remover to soften the existing caulk and within seconds, I got some in my eye. (Yes, really.) It was an early reminder to wear goggles; the chemicals in this project only get worse. Once I could see again, I removed most of the caulk with an ingenious little Caulk-Away tool, and scraped off remaining residue with a sharp Putty Knife.
Step Three: If you have chips and cracks in your tub as I did, you'll want to apply chip repair before you get started.
Step Four: Clean the tub. Mine not only had heavy evidence of the showers of tenants past, but was full of paint splatters and stray globs of caulk from sloppy maintenance jobs. I scraped everything off with a plastic putty knife, then followed the bathtub refinishing kit's directions to wash, dry, sand, repeat. It's critical to do a good job or the epoxy won't adhere. This is where the bulk of your time will go today.
Step Five: Prepare the bathroom for Armageddon. Mask off anything you don't want covered in tiny white flecks. (In reviews, some commenters were surprised by how far the epoxy traveled, so I heeded their warnings and covered everything. Turns out it was overkill; if you've spray painted something before, expect the same amount of overspray.)
Step Six: Lock up the men, kids, and pets, open the windows, and turn on the fan. Make sure your space is well-ventilated. The refinishing fumes are strong and you're going to need a respirator. I can't sing the praises of mine enough; I truly didn't know what the epoxy smelled like until I left the bathroom and took the mask off, it worked that well. Don't forget chemical goggles and gloves.
Step Seven: Follow the directions that come with the kit and spray paint the bathtub. Rest assured, once you've prepped, this is the easy part. If you get any epoxy drips from spraying too heavily, dab them away with a sponge.
I was glad to discover that the toxic smell didn't linger for long. I don't have any direct ventilation in my bathroom, but with a standing fan blowing air out three open windows in the next room, all chemical odor was gone within 90 minutes.
Step Eight: Use Lacquer Thinner to clean up any errant epoxy, and wait 72 hours for the finish to cure. Once it's dry, re-caulk the tub if you removed your old caulk. Thoroughly wash the surface so the silicone will adhere and pass over it with rubbing alcohol. I used GE White Kitchen and Bath Caulk, which is shower-ready in three hours; $6.24 at The Home Depot.
Above: The "before" bath was scratched, discolored, and surrounded by moldy caulk. Here, I'm midway through the process of removing the old grout.
Above: It's a delight to bathe in a tub with bright white walls and mold-free trim; I'm sure my holiday guests will agree.
Finally, get more ideas on how to evaluate and choose a bathtub or shower in our Remodeling 101 Guide: Bathroom Tubs & Showers.
(Visited 244 times, 1 visits today)