Imagine a place so off-the-grid that, if you wanted to make a phone call, you'd have to amble down to a pond, pull a canoe from the muddy bank, row quietly across the surface, and float in the middle of it—oars pulled in—to get enough service.
It's true for Alice Saunders and her boyfriend, Greg Ralich, who bought a bare-bones, no-electricity, no-running -water cabin on a one-acre parcel of land down a class IV road in the Lakes Region of New Hampshire, that also turned out to have no cell service. (The road, Saunders says, "is mostly used for horseback riding and hunting and is not plowed in the winter;" their only neighbors are across the pond.) Saunders, who founded and runs Forestbound Bag Co., spotted the cabin on Craigslist after eight years of looking, "on and off," for "something small with interesting build and design elements, private, and within a two-hour drive of our home in Boston. When I saw this cabin pop up on Craigslist I knew immediately that it was special. We went up to see it the next day and I put in an offer almost immediately."
Among the draws were the cabin's quiet, truly unplugged location, just a half hour from where Saunders grew up—and that the structure itself was in good shape. "I could tell that the renovations I wanted to do wouldn't be so significant that Greg and I couldn't tackle them ourselves," she says.
The couple set about rehabbing the cabin together (with the occasional help of Greg's brother, who has his own off-the-grid cabin in Maine). They kept the budget low, investing in a few essential elements ("a new metal roof, which only ended up being around $2,500 since our cabin is so small and simple, and a system of Goal Zero batteries, the rechargeable lithium ion batteries that we use to power the cabin"), installing a few systems to account for the lack of electricity and water, and upgrading the interiors with simple, rustic finds. Now, with this weekend marking two years since they bought the place, they're almost done. The final tally? "About $4,000, which includes the cost of all the tools we needed."
We've been tracking the DIY renovations unfold on Instagram; join us for a first look at the (nearly) finished cabin.
Photography by Alice Saunders.
After
Saunders' inspiration for the interiors started with one piece of furniture: "an old cabinet I found buried in someone's garage during an estate sale," she says. (You can see it four photos down; it's the green cabinet in the living room, close to the window.) "The color of that cabinet inspired the color of the kitchen floor and a lot of other color choices throughout the cabin. It's also very basic and utilitarian but interesting and beautiful, which is what I hope to accomplish with the cabin."
The design has come together intentionally slowly over the past two years. "Ninety-five percent of the pieces in the cabin are from the antique store in our town, flea markets, estate sales, Craigslist, or the swap shop at the town dump. It definitely takes much longer to outfit a space this way, but I would much rather take my time and find pieces that mean something to me than buy something online just to fill a space," Saunders says. "I also need to be mindful that while our cabin is beautiful and cozy, it's also an uninsulated cabin in the middle of the woods. It gets very damp and cold, so I try to bring in things that can hold up well in that environment."
The kitchen—which Saunders and Ralich built by hand—was the biggest project. They stripped out the particle-board cabinets, countertops, vinyl-tile flooring, and sink; added DIY tongue and groove cladding (made by cutting plywood into strips, which was cheaper than buying individual boards); and sanded, primed, and painted the plywood subfloor in Sherwin-Williams' Perilous Grey. They installed an Ikea Havsen Sink close to the window, "so we could have more light and nicer views when washing dishes and brushing our teeth," Saunders says. The butcher-block counters are also Ikea.
Saunders and Ralich kept the shelving open and simple, allowing them to slot in "wooden boxes filled with tools, screws, cleaning products, extra small propane tanks," and also to keep an eye out for any woodland visitors: "Even though we have had zero signs of rodent activity, I want to be able to see what's happening and be able to easily clean everything," Saunders says.
In addition to aesthetic upgrades, the couple had to find ways to make the cabin work for them—so they could cook, keep food fresh, take showers, and have enough light to play board games by. Just a few of the clever systems at work in the cabin:
For water: "We bring all of our water in eight-gallon jugs that we fill up from the spigot at our apartment in Boston. If we go through our water supply, which can happen on a very hot long weekend, we have a few natural springs within an hour where we can fill up," Saunders says. The curtain below the kitchen sink conceals a six-gallon portable Pressure Shower by Nemo Equipment, which the couple uses in lieu of running water in the sink: "It has a foot pedal to pressurize and a nozzle, so we just thread the nozzle up through the counter and it looks and functions just like a normal sink spray nozzle does."
For food storage: "When we bought the cabin there was a propane fridge, which we never actually turned on since it's kind of a pain, and we found ourselves just using it as a pantry. So we got rid of it and replaced it with an Ikea cabinet. We use a cooler for perishables, which works just fine for us!"
For cooking: "We cook mostly on a Coleman grill that came with the cabin. But we also cook over the fire a lot, and use the indoor range when it's cold outside."
Wondering how the pendant light works? "One of our first projects was to rewire the cabin to accommodate our preferred method of power: rechargeable lithium batteries by Goal Zero," Saunders says. (It had previously run off of a generator.) "Greg and his brother did the rewiring (and they moved the electric box to a more hidden spot in our bathroom). We have a few outlets throughout, as well as some lights and a ceiling fan. One full charge on our Goal Zero battery will get us about four days of power."
The bench doubles as hidden storage for a cabin that originally had none. "We fit so much in there: the generator, a lot of our tools, our bell tent, etc. We get to spend evenings sitting comfortably in the nook playing board games and eating dinner, looking out the big windows at our view of the pond. And then the next day open up the bench and get all the tools we need to finish a project." The pendant light is from Barn Light Electric Company, and the table was a lucky find, spotted at a nearby yard sale a few weeks after they'd finished the nook.
As for the W.C.:"The cabin came with a Sun-Mar composting toilet which is inside, in a separate (very small) bathroom," Saunders says. "It's super easy to maintain, does not smell, and makes it so you don't have go outside to use an outhouse in the middle of the night or when it rains."
How is it to spend weekends so off the grid? "You know, we enjoy it a lot more than I thought we would (and I knew we would love it)," Saunders says. "I enjoy the process of unpacking our car and getting everything set up—the water, the batteries, the cooler. I've also come to really treasure our time without cell service. It gives us the opportunity to be fully present and focus on the tasks we're tackling that day, or focus on each other and the woods around us without any sort of screen distraction or text notification."
Before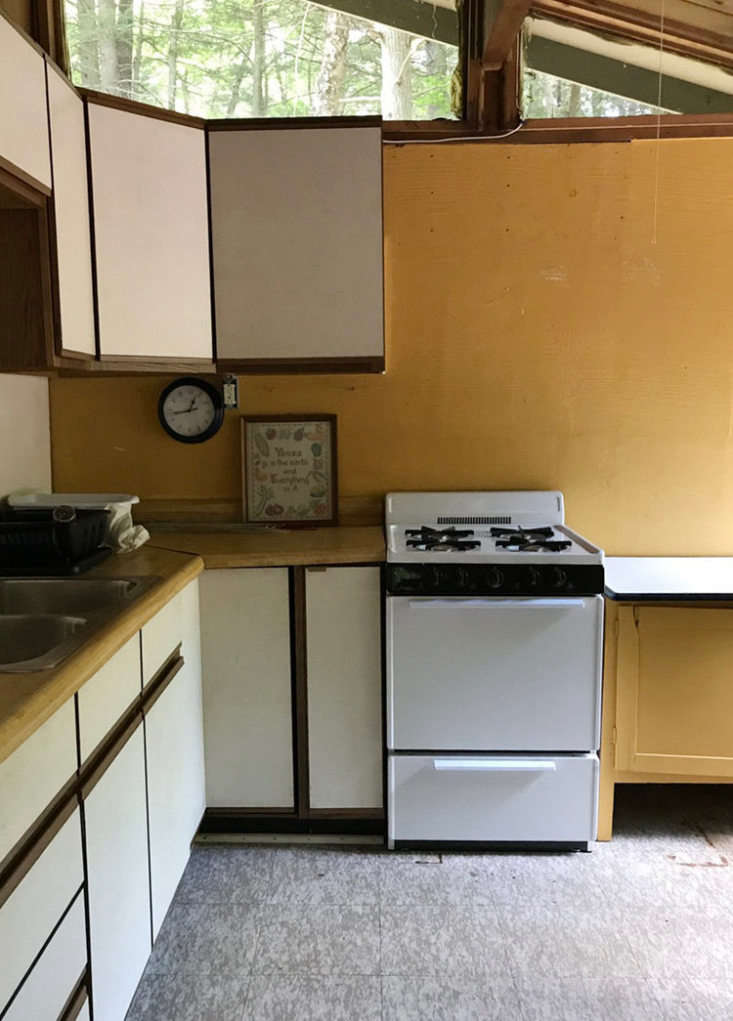 For more rustic fall inspiration, browse our archive of Cottages & Cabins, and check out: