Lots of people get lost in novels; architect Mariana de Delás's client wanted to curl up and live in her favorite book. Italo Calvino's The Baron in the Trees is a fable about an 18th century young baron who breaks away from his restricted life by climbing into the tree canopy and leading a rich arboreal existence. Mariana, who runs her own multidisciplinary studio in Madrid, Barcelona, and Majorca, gamely did a deep read and dubbed the project House for Cosimo Piovasco after the novel's main character.
Her client, she tells us, is an artist who runs an emerging gallery in Madrid, and her small one-bedroom apartment is in a 1940s four-story building near the city's famed Rastro flea market. As an ode to Calvino, Mariana and her team removed internal partitions and in the exposed roof inserted an industrial treehouse-like mezzanine that turned the cramped setup into a duplex. The design works as an art piece, an architectural interpretation of the book, a space enhancer, and a hideaway. Come see.
Photography by Miguel de Guzman and Rocio Romero of Imagen Subliminal, courtesy of Mariana de Delás.
The art throughout is from the owner's gallery, Cinco Tejas.
The floating panel of orange Plexiglas "lets the skylights shine through the surface and doubles as a lamp that floods the space with a warm orange light at night."
The additional floor will contain an additional bedroom with a living area and terrace, and the existing kitchen will expand.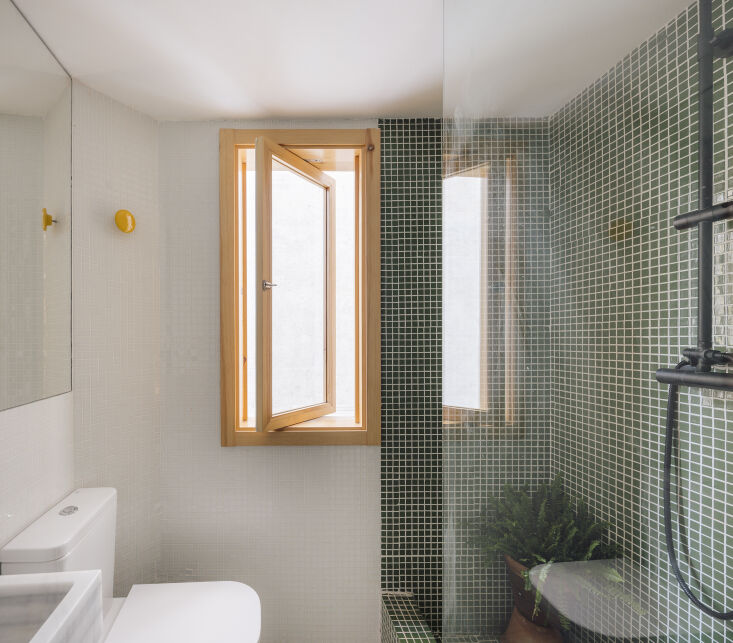 Here's another high-concept remodel by Mariana de Delás:
Shed Chic: An Off-the-Grid Hut Transformed into a Dream Retreat
More small apartment inspiration:
(Visited 3,219 times, 7 visits today)