How useful: bathroom mirrors with a shelf for assorted sundries. We especially like the vintage-looking 1930s French models, but here are a few modern options as well.
Above: A pair of midcentury modern vanities are a perfect foil for this contemporary bath in Australia by Wonder.
Above: The Astoria Mirror with Tray is available in two sizes (the small is 28 inches high and the large is 36 inches high) and four finishes; prices range from $415 to $635 at Restoration Hardware.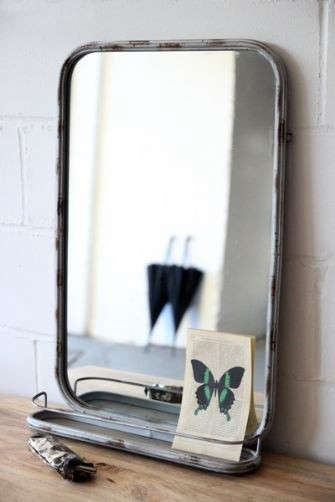 Above: The Bathroom Mirror with Shelf is £70 at Ben Pentreath.
Above: The institutional-grade Bobrick Welded Frame Mirror with Shelf is $207.95 from Global Industries.
Above: The Fullen Wall Mirror with Shelf is $9.99 from Ikea.
Above: Finally, a more rustic contender: the Elm Shelf Mirror from VivaTerra; $349.
On the lookout for great bathroom details? Have a look at more Bath Accessories that we love, including High/Low: A Fog-Free Shower Shaving Mirror.
Finally, get more ideas on how to evaluate and choose the hardware items for your bathroom in our Remodeling 101 Guide: Bath Hardware.
(Visited 999 times, 3 visits today)