LA-based artist Delphine Lippens first started working with ceramics just three years ago after taking a six-week introductory pottery course. Her simple, one-of-a-kind pieces quickly gained a following at local maker events, and before she knew it, several Los Angeles retailers showed interest and Humble Ceramics was born. Lippens is staying busier that ever, trying to keep up with demand from both stores and restaurants. 
Pieces are available from a small roster of retailers, and can also be ordered directly from Humble Ceramics (email [email protected]), but prepare to be patient: this work is small batch at high demand.
Photos via Ceramics by Delphine (Humble Ceramics Pinterest page).
Above: The color palate is peaceful and discrete, and parts of pieces are often left unglazed. "When I choose a glaze, I want to make sure it harmonizes yet doesn't overpower the texture or color of the clay and marries well with its shape. Just like cooking, it's a play of balance and proportions between the ingredients", says Lippens.
Above: Lippens calls these dishes cazuelas, Spanish for shallow-rimmed ceramic cooking vessels.
Above: Humble Ceramics' corked jars come in several glazes and sizes.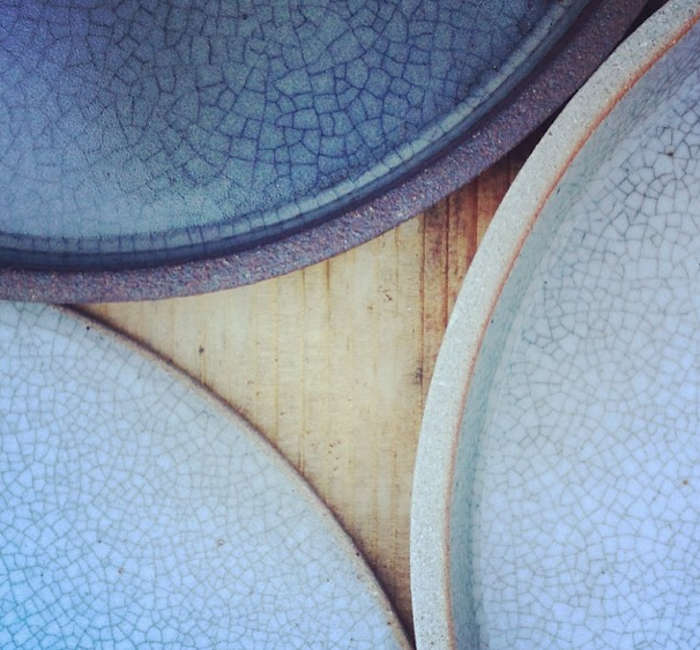 Above: A close-up of cazuelas in a subtle range of blues.
Above: A lineup of black vases with the unglazed bases.
Above: Lippens' ceramics tools.
Above: Bowls ready to be glazed.
Above: Clay molded into cylinders, soon to become one-of-a-kind pieces.
Above: Since Lippens doesn't own a kiln (yet), she fires her ceramics at various studios throughout Los Angeles. It requires lots of loading and off-loading of pieces. 
Into ceramics? Our post A French Potter at the Wheel in New York highlights the work of Eric Bonnin, another one of our favorite artists.
You need to login or register to view and manage your bookmarks.