Chay Wike grew up in New York City, the daughter of rock 'n roll musicians who emigrated from South Africa in the 1970's. A child actress for many years, she quit in her twenties to study, among other things, winemaking in France. It wasn't until she met her now husband, Mark Wike, and moved to Los Angeles that she began exploring design. Two years ago Chay opened up her eponymous shop on West 3rd Street specializing in household wares and other works that she makes in collaboration with some of our favorite LA designers, including jewelry designer Kathleen Whitaker, Christina Kim of Dosa, and Wendy Polish of Le Feu de l'Eau. Have a look:
Above: A plywood jewelry counter in the back displays pieces by Suzannah Wainhouse, Fort Standard, Grace Lee, Kathleen Whitaker, and more. Chay fully remodeled the space with local designer Lauren Soloff, exposing its concrete floor and adding natural light through skylights.
Above: After seeing the custom folding dining table at Dosa 818 in Los Angeles (for a look at the space, pick up a copy of our book Remodelista: A Manual for the Considered Home), Chay was introduced to architect Lindon Schultz who first designed the table with Dosa's Christina Kim. Chay and Lindon began collaborating on a version of the table for Chay's home, a project that evolved into the Live/Work Table now at Chay. Available in two sizes, the design is made from coffee- and tea-stained sugar pine and finished with a food-safe wax. "It's a perfect example of an essential piece for the home, so I'm thrilled to have it in the collection," she explains; for more information contact Chay directly.
Above: Native Line hand-woven wall tapestries are made from wool, brass, gold, and silver. The display below the tapestries includes Neon Acrylic Bookends designed by Chay that are $325 each or $600 for the pair.
Above: Chay Wike sits in the front of her small gallery-like shop.
Above: This group displays a Turkish Copper Watering Can ($70), Skultuna Brass Flower Pots ($115 each), Bellocq Teas ($33 each), and Mt. Washington Ceramic Mugs (ranging from $40-$60 each).
Above: The middle shelf holds a Wooden Bowl ($120-$170) containing Fair Trade-certified Wooden Spoons ($22-$30 each) made from higuerilla wood in Peru.
Above: Brahms Mount Cotton Throws ($394), a shaggy Tibetan Lamb Skin ($415), and Australian Sheep Skin ($135 each).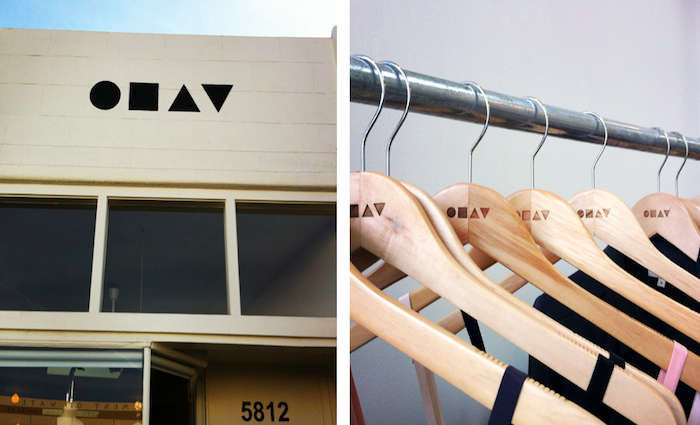 Above: Chay's geometric logo is seen on the front of the building and on the clotheshangers. Beyond designing bookends and collaborating on jewelry and tea towels, Chay is currently working on her line of clothing, "all utilitarian, easy pieces that can be worn to the market, work, or out to dinner," she says. Stay tuned for that collection.
Don't miss our other favorite shops, restaurants, and places to stay nearby in our Los Angeles city guide.
Location of Chay in Los Angeles:


Maps?client=safari&oe=UTF 8&q=5812+West+3rd+Street+Los+Angeles,+CA+90036&ie=UTF8&hq=&hnear=5812+W+3rd+St,+Los+Angeles,+California+90026&gl=us&t=m&ll=34.069014, 118.346701&spn=0.024885,0.060081&z=14&iwloc=A&source=embed 151
(Visited 171 times, 2 visits today)