On any given summer day, it's not usual to find Marnie Campbell stationed at Rock Harbor, in Orleans, Massachusetts, knitting away in her signature orange beach chair. Her latest handmade inspiration? A series of nautical knits made from foraged marine twine.
A consummate hunter-gatherer and creative thinker, Marnie walks the shore of Cape Cod daily in search of new and unusual finds to incorporate into her work. (My prized Marnie-made possession is a tomato-red hot pad interwoven with thin strips of golden grass.) For the past few years, Marnie has been collecting ocean-tossed twine washed ashore by the tides. Weathered and worn by the sea, these bits of detritus from lobster traps and fishing boats develop a salty patina that renders them more pliable and pale. Marnie then transforms them into pot holders, table mats, and scrub cloths that echo the textures and hues of her coastal home.
Photography by Justine Hand for Remodelista.
Above: Last weekend, my daughter, Solvi, and I tagged along on one of Marnie's foraging expeditions in search of any flexible fibers, natural or man-made, that might find new life in her creations. This is Marnie heading out.
Above: A find! The best place to search for twine is at the high-tide mark, where it becomes entangled in seaweed.
Above: Twine is also used to mark off nesting bird sites. Over the winter, when the birds have migrated, strong winds and high tides often sweep these lines away. Here, keeping a respectable distance from the protected area, Solvi and Marnie harvest twine from previous years.
Above: A rare chartreuse find. Can't wait to see what Marnie does with it.
Above: After Marnie has harvested her twine, she untangles and sorts it according to color. She likes the idea of the twine being salty, so she washes only the white string or very dirty lines by soaking them in a mild solution of soap and water.
Above: Solvi helps wind the untangled twine into a neat coil.
Above: Cleaned and sorted shipwrecked twine.
Above: Marnie's discoveries differ greatly in terms of thickness and pliability–the more time in the water, the softer the twine. So Marnie has to experiment to find the right knitting needles for each batch. She says she usually ends up using something between size 7 and 11 needles.
Above: Evoking the high-tide line, this hot pad was fashioned from natural cotton rope (also found on the beach) interwoven with a fine stripe of man-made green twine, as well as brown seaweed that Marnie soaked in water to make it flexible enough to knit. 
Above: Marnie's worktable displays various pot holders and scrubs in, from top to bottom, a deep seaweed shade, natural cotton, mariner's green, sea foam green, and natural jute.
Above: Marnie's salty knits can be used as trivets, potholders, table mats, or scrubs. See below for ordering information. 
Above: Fittingly, Marnie uses what's called a lobster pot knot to connect two different twines. Since her pieces embrace the rustic nature of Cape Cod, she doesn't mind extra bumps or even a few stray lines. 
Above: Mats in mariner's green hang by the beach.
Above: Each of Marnie's marine-twine knits is one of a kind. This example includes rare blue rope.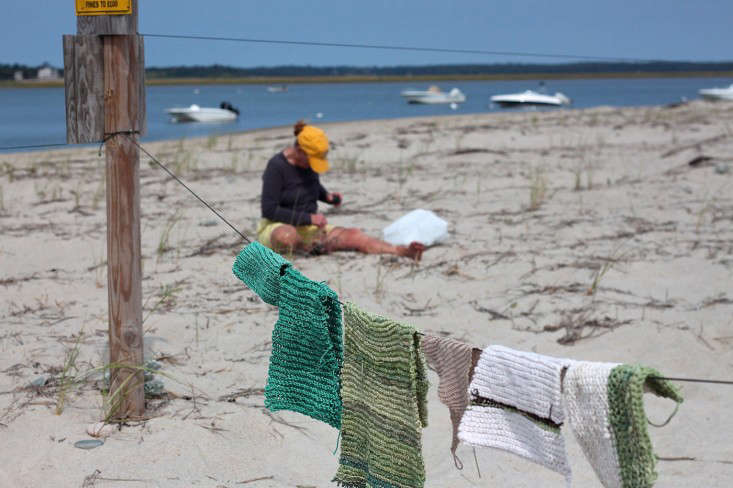 Above: Marnie works on a tangle near some of her creations. If you would like her to make one for you, email her at [email protected]. Prices vary depending on the size of the piece and weight of the twine; generally $20 to $50 for smaller pieces, and $100 and up for larger ones.
Want more nautical DIYs? Turn tumbled rocks into a Beach Stone Gate Clasp and sun-bleached shells into a Razor Clam Pendant Lamp. And go to Nautical Style for year-round ideas, including Oars as Decor and Marine Canvas Water Buckets as Bathroom Storage.

This post is an update; it originally appeared on September 17, 2014, as part of our Style on a Budget issue.
(Visited 10 times, 1 visits today)