Whenever we ask architects if we can see where they live, the response is invariably: "My place? Let's just say it's a work in progress." Followed by: "You know the expression about the shoemaker having no shoes?" Paris architect Camille Hermand is one of the brave few to open her doors to us.
Hermand has a degree from Paris's École Spéciale d'Architecture and runs her own five-person firm specializing in residential architecture and interior design (a year ago we featured her Grand Apartment Updated for a Modern Family). She lives in the Marais with her children, Madeleine, Adelaide, and Honore—a few years ago, they moved into the apartment immediately above her office. She recently relocated her workspace to a new location and transformed upstairs and down into a family duplex. The results are notably more bohemian and experimental than Hermand's studied designs for clients—and, yes, "a continual work in progress." Come see.
Photography by Hervé Goluza, courtesy of Camille Hermand Architectures.
The sofa and velvet cushions are from Paris favorite Caravane. The woven rush armchair is by Le Déan Prieur (which has since gone out of business) and the daybed is from online vintage store Retour de Chine accessorized with custom cushions. Note the shade/awning/curtain combination on the large front window: "The most important challenge was to forget the street when we're in the living room," says Hermand. "Thanks to the café curtain, we still have the view and the light."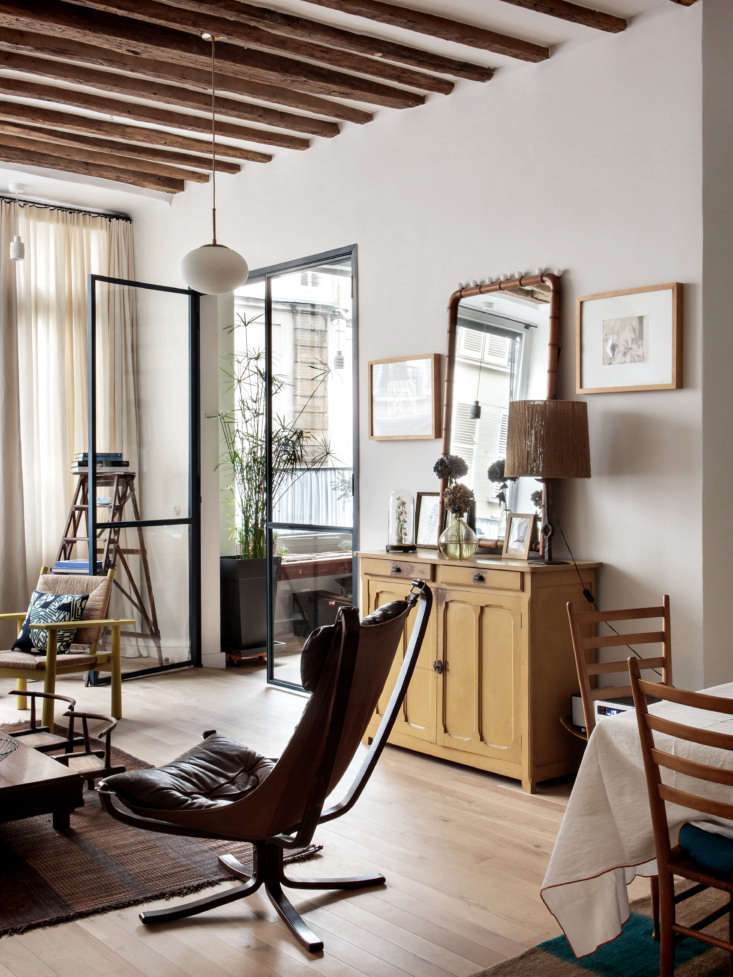 Floor Plans
Three more architects at home in inventive spaces: