Interiors stylist/writer Tricia Foley, the author of more than a dozen design tomes, likes to juggle multiple projects: she's currently in the midst of designing comedian Chris Rock's New Jersey house, restoring a 19th century coffee plantation house in Bangelore, India, and writing a biography of 19th century suffragist and writer Mary Louise Booth.
When it comes to her own 1820s Long Island farmhouse, she finds it "more calming to live in monochrome, in an environment that's a blank slate for adding and subtracting," she says. Her approach to holiday decor is simple: "I like to layer texture and warmth using foraged greens from the garden, oversized wreaths, Ikea sheepskins, nothing too fancy or over the top." Here are a few clever ideas for keeping it simple (and for keeping costs in check):
Photography by Marili Forastieri.
1. Play with Scale
Above: Over the fireplace in her kitchen, Tricia hangs a 42-inch wreath from her local Home Depot. "I like the drama of a giant wreath used indoors," she says. "Every holiday season, I pick up a stack of greenery at Home Depot that I hang in various spots throughout the house (on the back of a door, say)." N.B. The soot on the wall "has been there for years," Tricia says. "I left it because I think it adds character."
2. Stick to a Monochrome Palette
Above: A white Felt Stocking from West Elm is currently on sale for $13 (down from $19).
3. Raid the Garden
Above: "To add a touch of nature to my gift wrapping, I go outside and fill a basket with boxwood, privet berries, holly, and different types, which I use to decorate packages," Tricia says.
4. Shop Your Cupboards
Above: Tricia pulled a square black leather-covered tray out of her cupboard and turned it into a base for a holiday place setting. She favors Linen Napkins from Restoration Hardware ($50 for a set of four, down from $72) "folded to look like an envelope and decorated with a sprig of privet berry from my garden." The 1815 Royal Doulton Dinner Plate is $11.89 from Amazon ("it's the perfect shape," she says).
5. Use an Ikea Sheepskin as a Christmas Tree Skirt
Above: Tricia uses a Rens Sheepskin ($29.99 from Ikea) as a Christmas tree skirt and keeps the decor simple and silvery (for similar ornaments, consider a set of six silver Glass Ball Ornaments for $16 from West Elm; down from $24). The vintage mirror behind the tree is from Beall & Bell in Greenport, LI.
6. Use Inexpensive Newsprint as Wrapping Paper
Above: Tricia uses White Newsprint from Nashville Wraps as gift wrapping and decorates her packages with White Feathers from Michael's, all tied with Cotton Cooking String ($4.95 from Williams-Sonoma).
7: Even Candy Canes Can Be Stylish
Above: Tricia fills a rustic stoneware bowl with white candy canes (a pack of 24 White Peppermint Candy Canes is $6.49 from Oriental Trading). Photo by William P. Steele.
8. No Tree? Hang Ornaments from a Shaker Peg Rail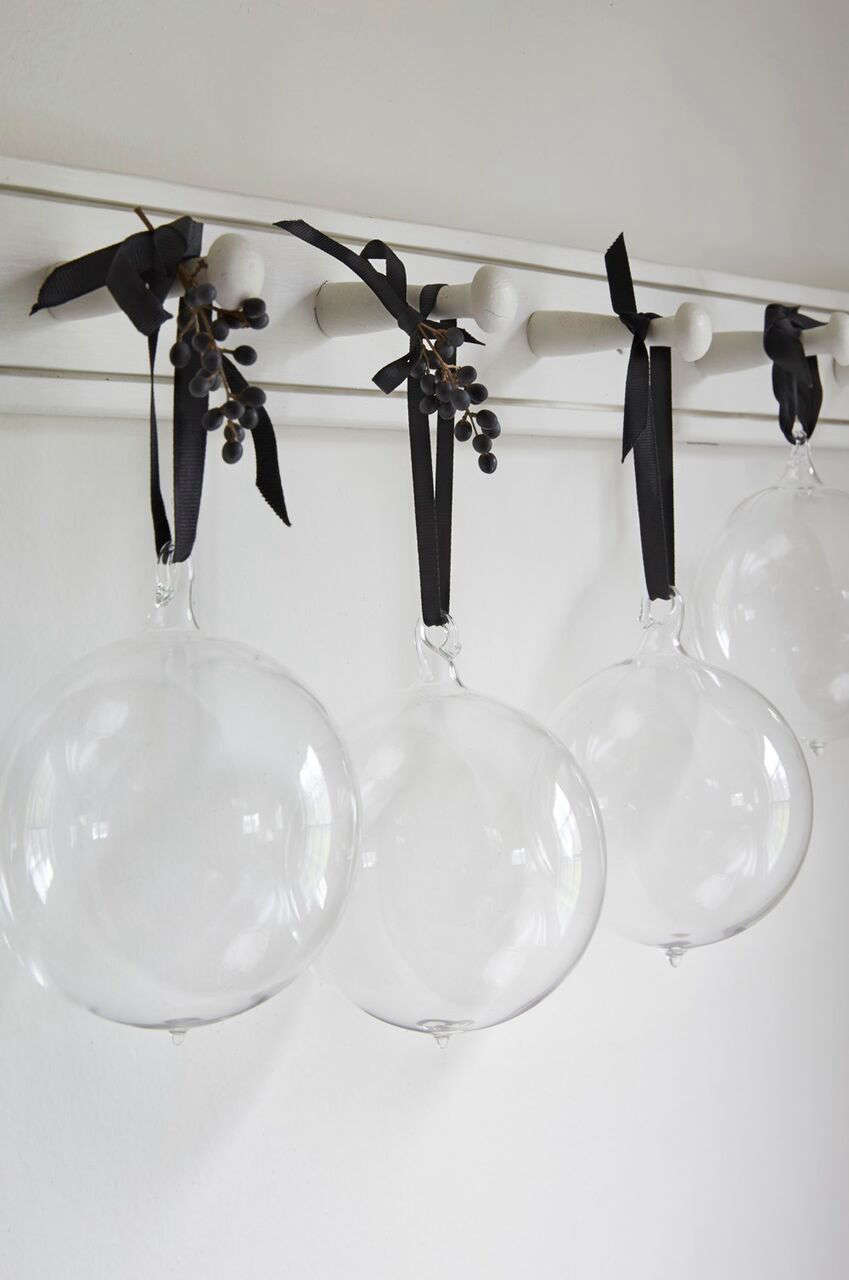 Above: Tricia hangs a row of clear glass globes on a Shaker peg rail using a length of narrow black grosgrain ribbon. She sourced hers from Bloom in Sag Harbor a few years ago; for something similar, consider Recycled Clear Glass Ornaments from Guatemala; $10 each from One World Projects.
For Scandinavian-inspired holiday decor ideas, see The 10 Best Holiday Decor Finds, Nordic Christmas Edition
You need to login or register to view and manage your bookmarks.