Blame it on A Year in Provence, Peter Mayle's memoir of expat life in the south of France. Ever since, Americans have dreamed of escaping the burbs and reinventing themselves in the French countryside. Marjorie Taylor (a La Varenne–trained cook) and her daughter Kendall Smith Franchini (a committed Francophile who studied viticulture in Burgundy and worked for Kermit Lynch, the Berkeley wine importer) have made it happen.
Marjorie owned a restaurant in Phoenix before moving to Beaune to join Kendall and her husband, Laurent, in opening The Cook's Atelier, a cooking school, wine shop, and market. 
Photography by Emily Johnston, except where noted.
Above: The family, including Kendall and Laurent's children, Luc and Manon Clair, outside their shop and school, which is situated in an 18th-century building in the heart of town.
The storefront houses The French Larder, where Marjorie and Kendall sell their favorite cook's tools and provisions, as well as their wine store, AP Wine. Laurent, who is from Béziers, in the south of France, manages the two shops and helps Marjorie and Kendall "make sense of the miles and miles of French red tape." 
Above: Marjorie and Kendall at work in the teaching kitchen, situated on the second floor above the shop. Their prep station is a vintage dressmaker's table that they outfitted with antique wooden wheels so that it can be easily moved around.
Above: The Cheese Course at one of the Cook's Atelier dinners. Marjorie and Kendall offer Seasonal Suppers for groups of eight that include a cooking class and five-course menu.
Above: Meals are served on the third floor (just above the teaching kitchen) at an old zinc-topped farmhouse table overlooking a window wall that came with the building.
Above: The "magic closet," a Belgian cabinet, houses wine glasses and tableware. Classic Tolix chairs surround the table.
Above: Wine is always flowing at the Cook's Atelier. The school offers one-, three-, and five-day Cook's Workshops–hands-on classic French cooking classes that are personalized to suit the group's interests. They take place several times a year and are also available on request. Photograph by the Cook's Atelier.
Above: Marjorie and Kendall collect vintage French creamware and flatware for their dinners.
Above: The teaching kitchen is outfitted with a Lacanche Sully range: "As a cook, I'd had my sights on this range for a very long time," says Marjorie. "We especially love it because it's made in Burgundy, just a few miles from us. We use it for our cooking classes and also for our own family lunches." The Copper Pots are made by Mauviel especially for the Cook's Atelier and are available at the shop.
The hood, backsplash, and pot rack are all also by Lacanche. Do the pots get covered in grime from the stove? "We use them every day and are a bit obsessed with keeping them polished and everything spotless, so it's never a problem," says Marjorie.
Above: The French Larder offers everything from corkscrews to tart pans and is newly online.
Above: Antique French chocolate molds over the sink in the teaching kitchen.
Above: A curved stair with an iron rail connects the teaching kitchen to the dining room. 
Above: The French Larder is currently offering a stash of Sabatier Chef's Knives with hand-forged carbon-steel blades (top shelf) made in the 1950s and never used. The boxwood-handled Utility Knives (bottom shelf, left) are handmade by Pallarés-Solsona in Solsona, Spain. The knife blade oil is from Blackcreek Mercantile & Trading Co.
Above: A view of the shop and its original stone floor from the teaching kitchen. The wine racks were built from rebar by a local craftsman. The specialty is small-production wines from France with a focus on Burgundy.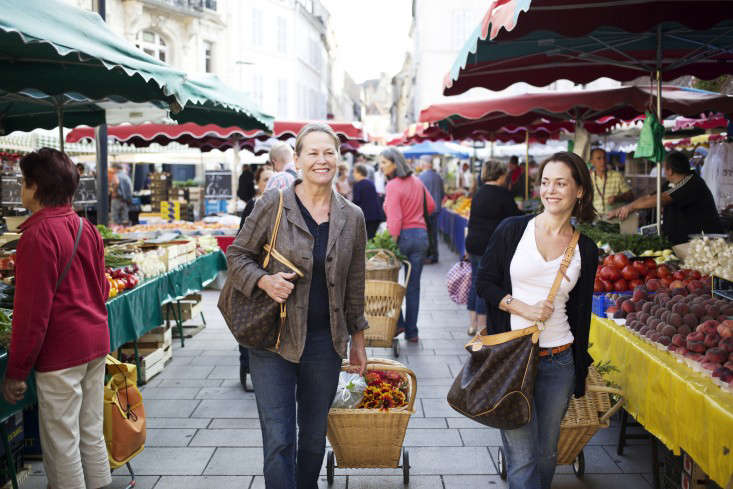 Above: Marjorie and Kendall at the Saturday morning market in Beaune. They lead combination Market Tours and Cooking Classes, lunch included, on Wednesdays and Saturdays.
Above: Yes, it gets even more idyllic: The family drives around locally in a vintage Citroí«n 2CV. Ready to join them? They have a two-bedroom Pied-í -Terre for rent not far from the school and shop. Photograph by Kendall Smith Franchini.
For more details, go to The Cook's Atelier.
For a New York cooking school, cafe, and private dining room, take a look at Haven's Kitchen. Join Michelle on a Barcelona market tour and cooking class in DIY: Eat Lunch Like a Catalonian.
(Visited 464 times, 3 visits today)