Tara Mangini and Percy Bright, better known as Jersey Ice Cream Co., have developed a reputation for working miracles. Through creative use of salvaged materials and flea market finds, this hands-on couple (who got their start renovating their own home) has transformed countless ho-hum spaces with their inspired designs, all without breaking the bank. 
Tara and Percy's latest project, a small cabin in the hills of the Catskills, put their talent for creative problem solving to the test. Purchased as a country retreat by a Brooklyn-based couple, the structure more closely resembled a "modern condo," with little charm and a challenging layout. In order to realize their clients' pastoral dreams, Percy and Tara performed a total, top-to-bottom rehab–moving walls, tearing out the kitchen and bath, ripping up floors and laying new ones, building custom furniture and cabinets, installing new windows, and redoing the entire plumbing, all by themselves. And all in eight weeks.
Above: Liberated from the hodge podge of interior walls, the new kitchen enjoys a verdant view from the newly installed picture window, a score from Habitat for Humanity Restore.
Scattered along several interior walls, the original kitchen (see below) was dark and awkward. In order to achieve some unity and sense of work flow, as well as to let in more light, Tara and Percy made the bold decision to relocate the bathroom (which had run along the back of the house) in order to extend the kitchen to the outer wall. From there they tore out everything to create an entirely new space. Cabinets sourced from Brimfield (including the red piece, shown above, that came from an old science lab) as well as big chain stores were customized to fit the space. The generous farmhouse sink was a find from Philadelphia Salvage Company; the center island was built by Percy using a piece of salvaged wood. In addition, Percy and Tara tore out the monotonous sheet rock ceiling to expose the beams. In between these, they put up wooden planks and painted the ceiling in a hand-mixed color, thus creating more height and depth in the room. 
Above: To add character and a dash of country charm, Percy and Tara clad the kitchen walls in bead board painted with Woodrow Wilson Putty by Valspar. Custom made shelves of salvaged wood and Numerär beech countertops from Ikea add a touch of warmth; $129 and $195.
Above: Though now more unified and self-contained, the new kitchen still feels integrated with the rest of the living area. 
Above: Salvaged wood shelves above the stove enhance the open feel of the space while still providing much needed storage.
Above: Bathed in light from the adjacent rooms, a farmhouse table made from reclaimed wood and antique chairs from Brimfield create a divider between the kitchen and living areas.
In the original open layout, the living and kitchen spaces were awkwardly delineated by cheap tile and parquet flooring. To unify the space, Percy and Tara replaced these with red pine boards stained with Minwax in Provincial that they continued throughout the house. In addition, Percy and Tara wanted to take advantage of the light from the corner windows in each of the flanking bedrooms while still providing some privacy. In order to save valuable space, they decided to use custom sliding doors, shown above, which Percy built himself from cedar panels.
Above: By relocating the bathroom, Tara and Percy were able to create a much larger and more inviting space.
Crammed along the back wall of the house, the original bathroom had been essentially a hallway with a toilet at the end. After contemplating their options, Tara and Percy created the new bathroom by borrowing space from one of the bedrooms. After days spent "in a crawl space no taller than a foot in some places," they managed to redo the home's entire plumbing themselves. Finally faced with a more generous space, they then installed bead board on the walls to create a cottage feel. They painted the room, ceiling included, in Benjamin Moore Grandma's China. 
Above: Set under a sunlit window, a salvaged claw foot tub from Habitat for Humanity Restore provides a peaceful place for a soak. 
Above: Cottage details such as a sink from Habitat for Humanity Restore and a recessed nook, enhance the charm of this new oasis. A vintage-style faucet in chrome from Kingston Brass (currently on sale at for $162) adds a dash of relaxed luxury.
Above: Requiring the least drastic measures, the living room received new plastered walls, the same wood floor introduced throughout, some fresh paint, and new furniture. The couch, rug, and chair are simple finds from HomeGoods and a local store. The bench is vintage and the coffee table is a Percy Bright original.
Above: Another view of the sunlit living room and entry. Tara made the grain sack pillows herself.
Above: A wonderful example of Percy and Tara's inventiveness and sense of whimsy: the built-in headboard in the master bedroom was fashioned from an old farmhouse door and cut to fit around the window.
Like many of the spaces in the original floor plan, this bedroom was narrow and oddly shaped. In order to remake it into a cosy retreat, Percy and Tara moved the wall shared with the kitchen back a few feet to create enough space to fit bed. It's a small room that works, and the piéce de résistance is the custom headboard.
Above: Creating texture and depth, Percy added his signature plastering in soothing gray to the bedroom walls.
Above: In the master bedroom, Tara applied her trademark mix of vintage and inexpensive contemporary finds to create an unstudied, personal feel. This vintage dresser was a score from Philly Aids Thrift. The mid-century style lamp is a surprise find from Lowes; $152.
Above: The original closet in the bedroom was so huge that it created a weird L in the room. Percy cut it in half to create a shelving nook in the kitchen. The remaining bedroom closet was treated with bead board and simple shelves.
Above: In the guest room, Percy and Tara achieved a cabin feel with simple paneling made from a few extra floor boards.
Having allocated half the original room to the new bath, Tara and Percy were left with a rather small guest room. By adding paneling, a built-in shelf, bedside table, and hook rack, they were able to create a defining (and inexpensive) accents while at the same time maximizing the space. 
Above: Warm paneling against plaster walls creates a cozy nook. 
Above: Pleased with their efforts (and rightfully so!), Tara and Percy enjoy a few moments of rest in the newly created space.
Above: (Before) A view from the living area shows the original kitchen.
Above: (Before) In the original bath, the tub created a crammed corridor.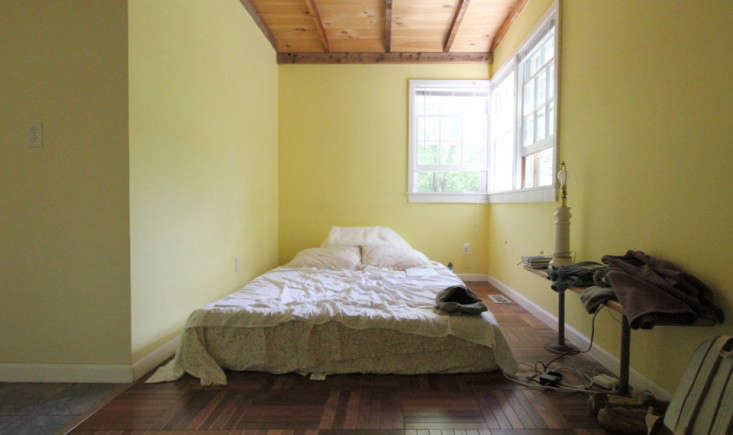 Above: (Before) In its previous incarnation, the current master bedroom barely had enough room for a bed.
Above: (Before) A floor plan shows the awkward layout of the house.
Above: A much more functional and aesthetically pleasing space, the results of eight weeks of Percy and Tara magic!
N.B. Take a tour of all of Jersey Ice Cream Co.'s miraculous budget transformations, including my own kitchen, here.
You need to login or register to view and manage your bookmarks.