Peg and Awl is an enterprising workshop that makes use of scrap wood and leather from WWII gun holsters in its household designs.
It's the brainchild of Margaux and Walter Kent, neo-homesteaders in the heart of Philadelphia who have two young sons, Søren and Silas, three chickens, and a garden. They fashion just about everything they (and you) might need by hand from scavenged materials.
Above: The Chalkboard Pad, $50, is intended to be used like a schoolhouse slate—no need for paper or electronics.
Above: Peg and Awl's list-sized Chalk Tablet, $22, is fashioned from wood salvaged from storm trees and torn-down buildings. It's nicely detailed with beveled edges, a tung oil finish on the back, and a wooden chalk pencil.
Above: A hole in the top of the tablet connects it to a handy stand available separately.
Above: A Walnut Baguette Board with an inset olive oil bowl, handmade of glazed porcelain with a black olive and branch design in the middle.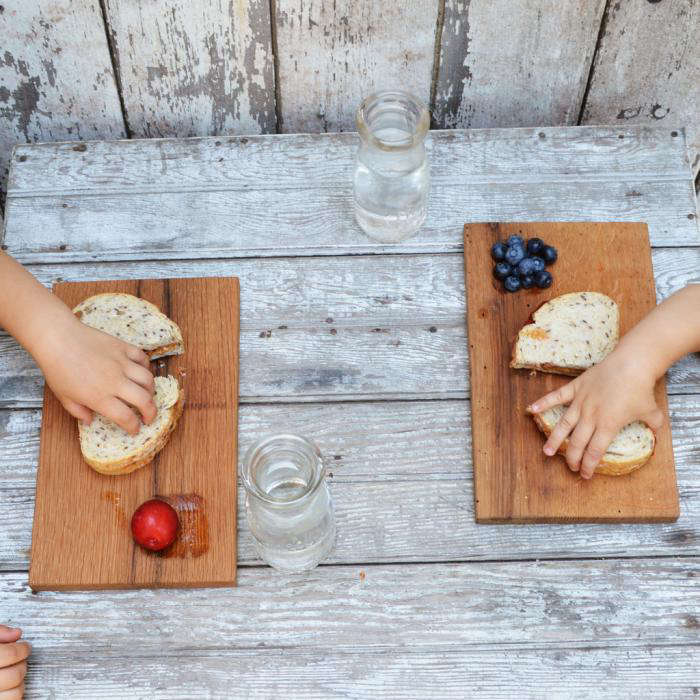 Above: Inspired by medieval tableware, Peg and Awl's Trencher Plates have an indent, or trench, for garnish or sauce. They're ideal for serving sandwiches or cheese and olives. They can also be flipped and used as cutting boards.
Above: Unisex Waxed Canvas Totes come in two sizes and four earthy colors. They have detachable shoulder straps made from Swedish gun slings (an oxymoron if ever we've heard one). The muliti-pocketed interiors are lined with vintage striped or checked fabric from curtains, dresses, and pillowcases.
Above: Garden Stakes made from scraps of oak, cedar, or red wood come in bundles of ten, each with a colored pencil for labeling.
Above: Peg and Awl's made-to-order Coops are A-frames for the discerning chicken farmer. They're built from reclaimed cypress, a durable and insect-resistant wood, and have double side doors for easy cleaning. Each comfortably houses three hens (four if one or more are bantams) and includes two roosts and a removable ladder.