The winner of the Remodelista Considered Design Awards Best Professionally Designed Living/Dining Space is Brooklyn firm CWB Architects and principal Brendan Coburn.
The firm's project was chosen as a finalist by guest judge Estee Stanley, who had this to say about the project: "I love the vibe of this home. It's pretty traditional with a whiff of modern and edgy. I love how homey and warm it feels, while also managing to be elegant and beautiful."
N.B.: This is the last of six posts spotlighting the winners of the 2015 Remodelista Considered Design Awards. Go to this year's
Q: What does your firm specialize in?
A: Our firm specializes in high-end renovation and new construction residential projects. We have a particular expertise in renovating and rehabilitating 120 to 150-year-old row house buildings in historic districts. 
Q: Who worked on the winning project? 
A: Brendan Coburn, principal. Jesse Fearins, project manager. Project team: Lesa Rozmarek and Margaret Hu. Interior design team: Erin Fearins, Catherine Brophy, and Amy Courtney.
Q: What were your practical goals for the project?
A: Our goal for the house was to create an incredibly well-detailed, very comfortable environment for our clients and their children to live and entertain in. The clients were very thoughtful about what kind of space they wanted to live in and they were open to a lot of ideas and fun to work with.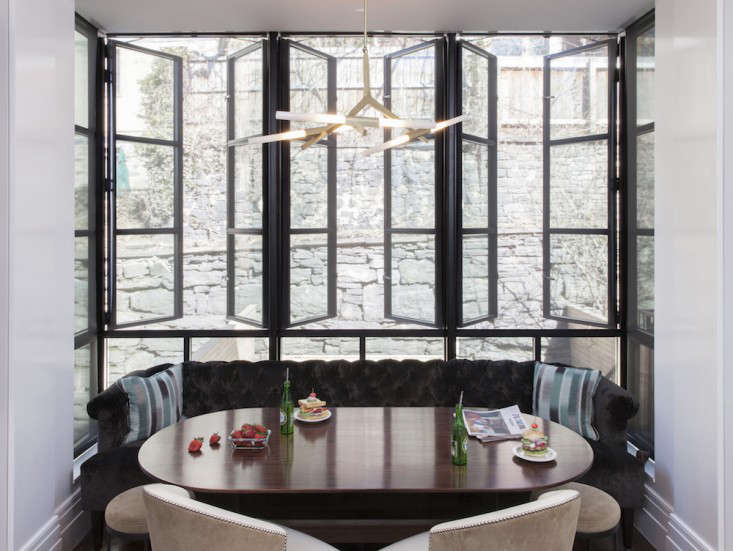 Q: What solutions did you find to your design problems?
A: As with a great deal of our row house work, we were very interested in connecting the main public rooms of the house to the garden–both physically and visually. The main solution to achieving that outcome was the creation of the two-story bay window and the opening of the floor plan on the parlor floor. Within the kitchen and within the bay window, we designed a huge and very comfortable banquette–more of a firm sofa–and a custom table. This table and the kitchen were to become the center of the house and where the family and their friends would gather for hours of chatting and eating and drinking.
Q: What are your favorite features of the project?
A: The bay window and banquette, the pantry, and the tub room (which you can see on our Website).
Q: What were the hardest lessons you learned along the way?
A: This building was more than 150 years old–no matter how bad we thought the underlying structure was, it was worse. So having the resources necessary to correct these underlying structural and infrastructural challenges is of utmost importance. 
Q: What advice do you have for someone undertaking a similar project?
A: Work as much as possible with the building's underlying architecture and vibe. Assume that the building will need to be largely rebuilt–have substantial contingency plans and expect to use them.
Q: What is your dream project, or who is your dream client?  
A: This client was pretty close to perfect. They were thoughtful about the kind of space they wanted to live in, they were very good about communicating what they were after, they were decisive throughout the process, and they had a great sense of humor. 
Q: What is your best secret design source?
A: My pencil and time to work without distraction.
Q: Where do you get your design inspiration?
A: Wandering the neighborhoods of New York City is always a good place to start. Anytime I am in another city I try to have my eyes open to the way things are being done there, and try to understand what the sources of those decisions are.
Q: Which architects or designers do you admire?
A: There are a lot: Deborah Berke, Rick Joy, Brian Mackay Lyons, Steven Harris, and Peter Rose. There is a clarity to their work, and an elegance to how it is executed. 
Q: What is your next project?  
A: We are working on a rooftop courtyard as part of a large row house renovation. It should be a fun space, as it blends indoor and outdoor in an unusual way.
(Visited 82 times, 1 visits today)