With their new restaurant Basic Kitchen, Kate and Ben Towill, the married creatives behind design and development company Basic Projects, are bringing something unique to downtown Charleston: a relaxed, all-day bistro-style cafe serving decidedly healthy "fuel."
"We wanted to create a neighborhood place where locals and tourists could visit for a delicious, clean meal in a cheery environment," Kate says. "Charleston has some unbelievable dining spots, but not enough with a casual, home-cooked vibe."
The duo approached the project with three words in mind: "colorful, energizing, and essential." They gutted the historic space, leaving only the fireplace as a compass while they worked from the floors up, painting the walls in a crisp white, anchoring the space with custom-made wood furniture, and accessorizing with characterful vintage pieces. "We wanted the interior to feel as bright and colorful as the dishes look and make you feel," Kate says. Here's a look.
Photography courtesy of Basic Kitchen.
Function was a priority for Kate and Ben, who worked in interior design and the restaurant business in New York before moving to Charleston (they co-own Remodelista favorites The Fat Radish in NYC and The Ferry Boat Inn in Cornwall, England). "Ben's restaurant-operating background drove a lot of the practical design," Kate says. "There are so many moving parts of a restaurant; we're getting better with each one we design, but things always end up moving when it starts running. I've learned you have to be flexible."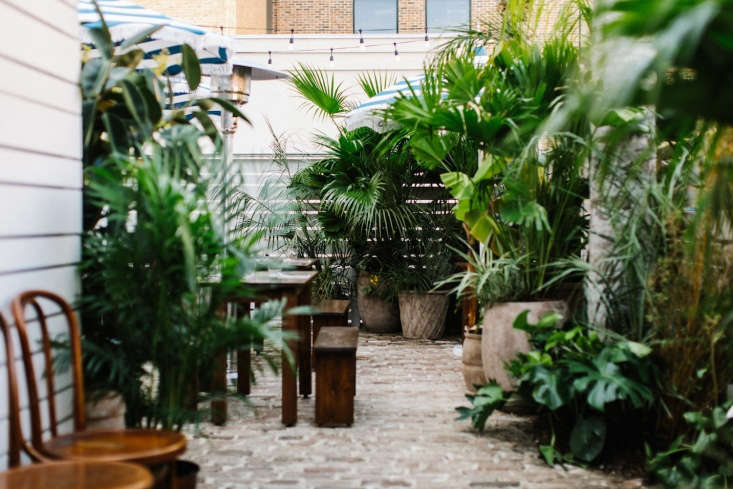 Looking for more destinations where design and food align? See our posts:
You need to login or register to view and manage your bookmarks.