Khadi is not just any fabric. Made from hand-spun and hand-loomed cotton, wool, or silk, it has a deep history in India. Produced in the country for centuries before machine production took over, khadi was revived in the 1920s as a step towards independence from Great Britain and rural self-reliance. Mahatma Gandhi himself encouraged the craft. "The iconic image of Gandhi wearing a dhoti and working at his spinning wheel exemplifies the quiet beauty of khadi," says Brooklyn-based fashion designer and exporter Susan Hahn. Her own appreciation of the textile led her to found Auntie Oti, a company specializing in "the humble and the handmade" from India.
Auntie Oti wares are traditional everyday textiles made for the Indian market and, until now, unusual to find here. They're available in stores across the country, including Steven Alan in New York City, Pilgrim Surf & Supply in Brooklyn, the just-opened Union Handmade in Chicago, Pod in Brookline, Massachusetts, and Summer House in Mill Valley, California–though not always via these shops' websites. You can get links to stores and also place orders directly at Auntie Oti.
Note that because of the handmade nature of Auntie Oti's goods, no two pieces are exactly alike and all measurements are approximate.
Above: Real khadi is spun and woven by government-sponsored khadi societies throughout India. "People typically work from home–women do the spinning, men do the weaving–and looms are handed down from generation to the next," says Susan. "A lot of what's made looks as if it's vintage but it's brand new. That's the charm of it." Auntie Oti napkins are actually men's handkerchiefs. These measure 18 inches by 18 inches and are available in a purple stripe from Steven Alan, $48 for a set of six.
Above: Auntie Oti's large napkins measure 22 inches by 22 inches and come in a range of colors, including pink. A set of four retails for $40.
Above: These dish towels (also good as hair wraps) measure 26 inches by 28 inches and are $18 each.
Above: Auntie Oti offers yarn-dyed, cotton-woven bath towels in a range of colors and sizes. These are approximately 32 inches by 64 inches and cost $40 each. A great alternative to pile towels, they're light weight but absorbent and fast drying.
Above: Tasseled bath towels, 32 inches by 58 inches, are $40 each. In addition to orange, they're available in gray, and can be worn as wide scarves.
Above: A purple-bordered gray lungi, an Indian man's sarong, that is often paired with a white T-shirt known as a banyan. Lungis measure 78 inches by 44 inches and come in a multitude of colors, patterns, and textures. Auntie Oti customers typically use them as tablecloths, throws, and beach wraps.
Above: Traditional muslin bed sheets are roughly sized for twin beds and also ideal as tablecloths and picnic blankets. They come in a range of weights, and are approximately $85 each.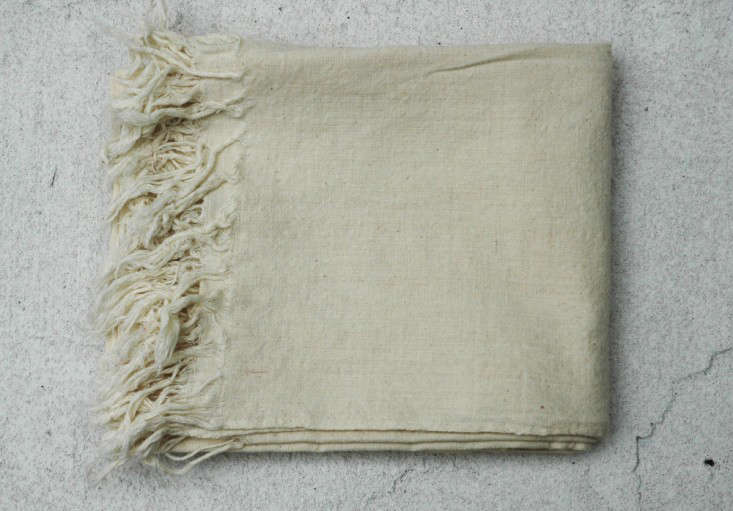 Above: Auntie Oti's largest, most luxurious bath towel, 35 inches by 84 inches, is made of fringed, unbleached white cotton, $44.
To place orders and see more khadi designs, go to Auntie Oti.
If, like us, you love nothing more than looking at tempting textiles, get lost in our gallery of Fabrics & Linens. And also don't miss, Serenity Now: A Guesthouse that Channels the Spirit of Ghandi.
(Visited 15 times, 4 visits today)