Here at Remodelista our obsession with tiny kitchens hits close to home. Many of us live with postage-stamp-size setups but we don't long for more space. What we're eternally searching for are great-looking, high-functioning appliances scaled to fit our quarters. Which is why we're so take with Italian company Alpes Inox's freestanding stainless-steel kitchen systems. Tailored for tight spaces, they're multi-functional and made to come with you should you move–none are built-ins, so they can be rearranged as needed, and most designs are available on wheels.
Based in Bassano del Grappa, Italy, Alpes Inox has been making freestanding stainless-steel kitchen equipment since 1954. Inox, by the way (an abbreviation of the French, acier inoxydable, means stainless steel, and the company uses only top-of-the-line, high-nickel stainless, which has a durable, bright-white shine. All of Alpes Inox's designs are the work of founder Nico Moretto, who now runs the company with his two sons.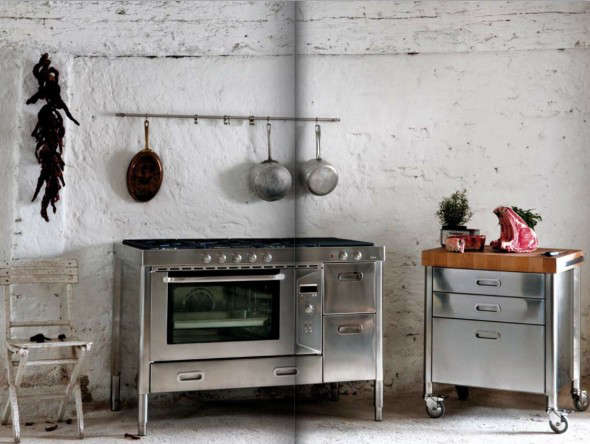 Above: US buyers can purchase directly from Alpes Inox (be warned that these pieces are pricey–the most compact electric oven with five-burner gas cooktop is € 6,695 Euros. For more information and prices, see Alpes Inox and contact Mr. Passalacqua in the company's export department at [email protected]
Above: The two gas burners on this cooktop flip up so that the piece doubles as a food prep table. Under it, a two-drawer cart on casters holds kitchen pots and pans and other kitchen essentials. Several variations of the cart are available, and buyers can opt for a steel top or a wooden cutting board (shown in the previous photo).
Above: The all-stainless-steel has two basins with different depths, which makes it possible to position a dishwasher under the shallow side. A sliding cutting board (not shown) fits over the work surface alongside inset bins with knobbed white tops for gathering food scraps.
Above: An Alpes Inox stacked oven and beverage refrigerator stand next to a multi-drawer, all stainless unit that features a sink, inset drying rack, and cooktop.
Above: The gas burners flip up to create counter space as needed.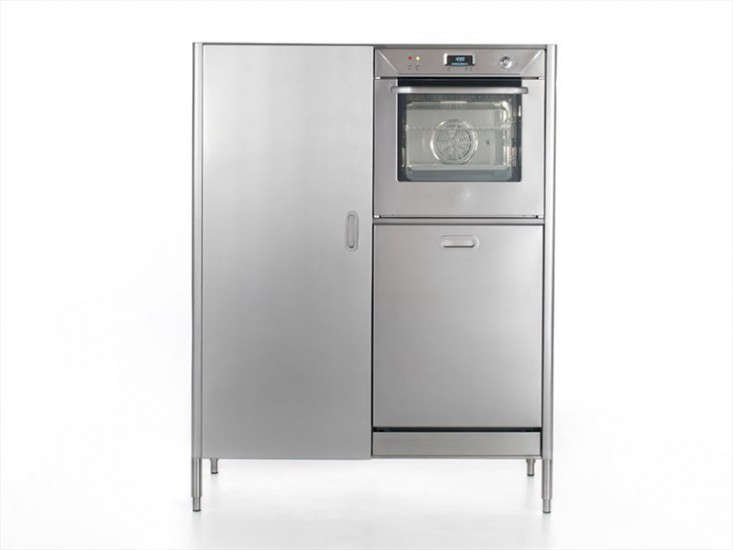 Above: Alpes Inox's Washing, Cooking, and Refrigeration Column comes with a 60 cm-wide oven and spaces to insert a dishwasher and fridge. A similar design is available as a two-door wine refrigerator, a side-by-side refrigerator and freezer, or a four-shelf pantry.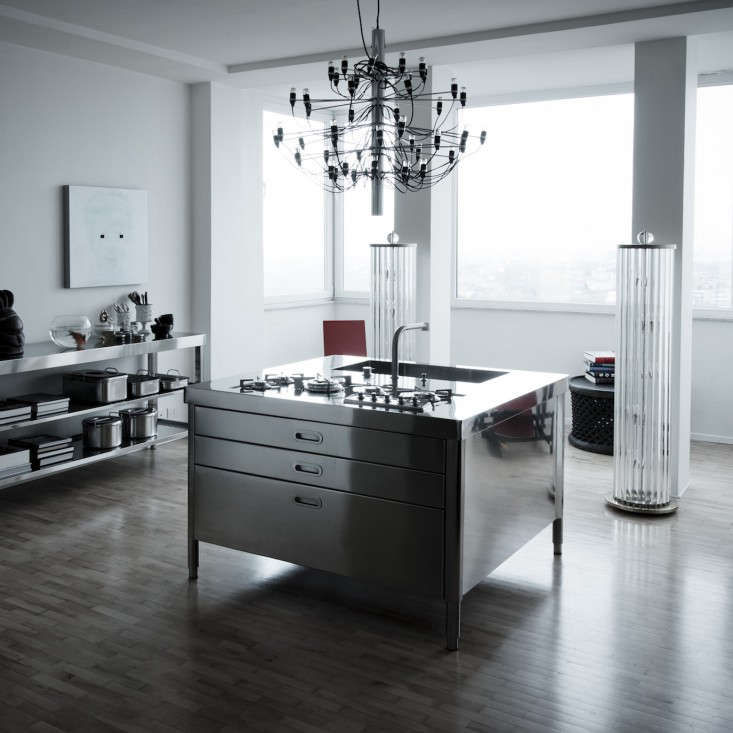 Above: The at-your-service island–it contains a five-burner gas cooktop, deep sink, and drawers on two sides.
Above: The top drawer is kitted out with wooden dividers for flatware, serving utensils, placemats, a cutting board, and knives.
Above: A rolling electric oven with its own shelving unit and utensils drawer.
For more inspirations and solutions, see our gallery of small kitchens, which includes Radical Downsizing, High/Low Mini Kitchens.
Finally, get more ideas on how to evaluate and choose your kitchen range or oven in our Remodeling 101 Guide: Kitchen Ranges & Ovens.
You need to login or register to view and manage your bookmarks.