In 1972, Danish architect Jørn Utzon (best known as the architect of the extravagant Sydney Opera House in Australia) decided to build his family a summer home on a low cliff near Porto Petro in the southernmost part of Mallorca, Spain. His own home could not be more different in scale and style from his public commissions. Join us for a tour of  "Can Lis," named after Utzon's wife, Lis.
Photography by Torben Eskerod, courtesy of The Utzon Foundation.
Above: As was the holistic intention of Utzon, the house appears to have cropped up out of the surrounding rock.
Above: The house is a modernist construction of four buildings with overhanging loggias and courtyards connecting the bedrooms, kitchen, study, and sitting rooms.
Above: Vaulted bovedilla ceilings (concrete blocks) are supported by armored concrete beams on the terrace.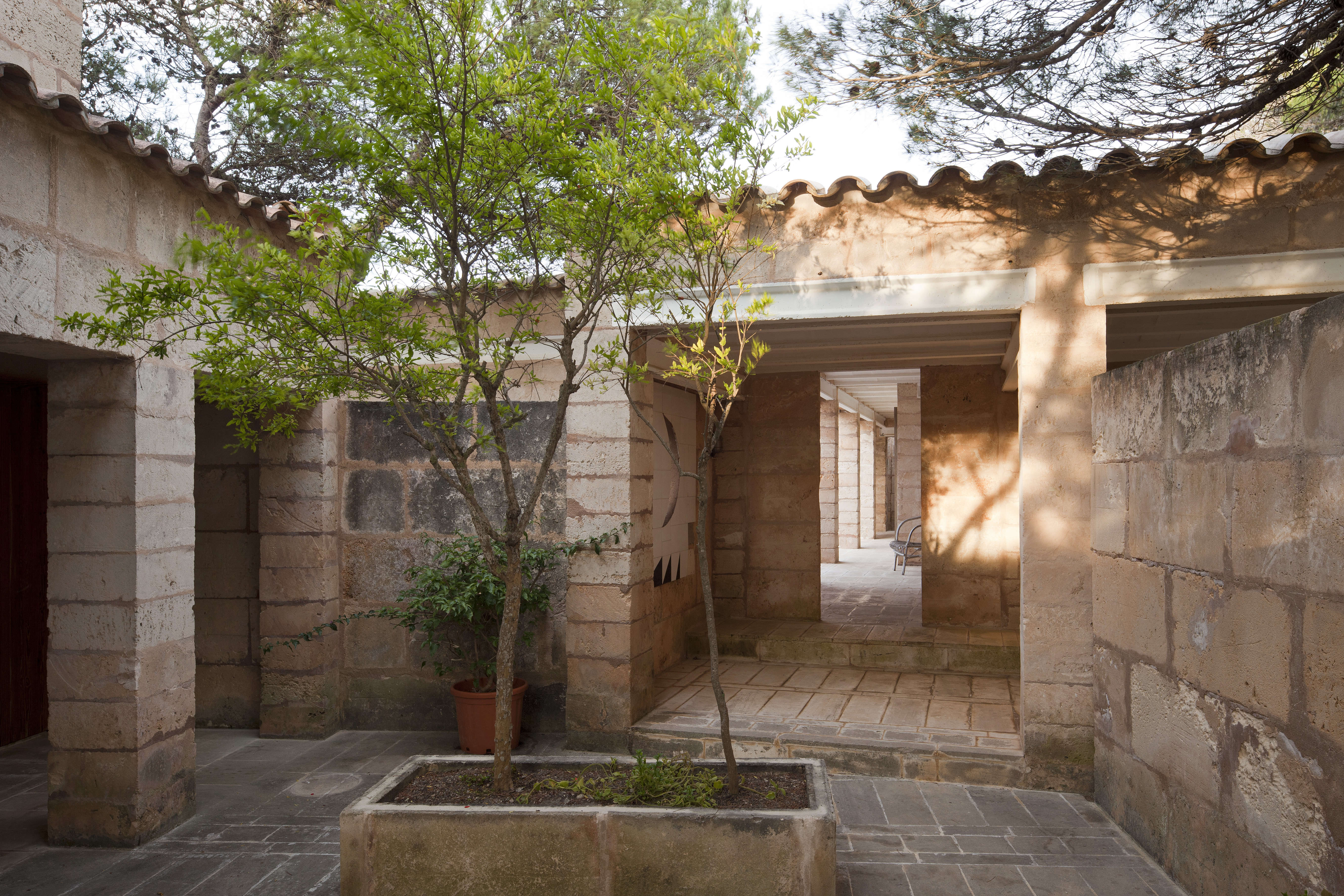 Above: The layout creates a seamless spatial transition from indoors to out.
Above: Because Can Lis is a stone's throw from the sea and thus privy to hard weather conditions, Utzon chose local, sustainable materials for practical purposes.
Above: The outer pillars and supporting walls are traditional Mallorcan marès, a local porous sandstone, with denser Santanyí sandstone used for interior walls and floors throughout.
Above: Much of the furniture is made of concrete, carved stone, and traditional Spanish tile.
Above: A concrete bench rises up from the floor, topped with glazed terra cotta tiles.
Above: The same terra cotta tiles make up a bench and outdoor dining table.
Above: A concrete kitchen of open shelving, tiled under-the-counter shelves, and spare kitchenware.
Above: A modernist dining room with built-in wood banquettes.
Above: The bare bones bath features almost invisible shower fixtures and integrated stone shelving.
Above: Lofty single-paned glass windows create a sense of transparency.
Above: The monumental spaces create a mise-en-scène framing the sea, trees, and sky.
Danica Wilcox is also the founder of Hito Home, a design studio based in Mallorca, Spain. See more of her work in our posts An Artful Casita from a New Yorker in Mallorca, Spain and Experimental Brass Lighting from Hito Home.
You need to login or register to view and manage your bookmarks.