Calling all tiny house fans, outbuilding enthusiasts, and aspiring escapists. The Spanish island of Mallorca, architect Mariana de Delás tells us, is dotted with "stone shelters built as refuges for hunters and shepherds to take cover or rest, and as storage for tools." Dating from the mid-19th century and now mostly abandoned, these made-to-last huts, she notes, happen to be set in untouched, idyllic locations.
Mariana runs her own multidisciplinary design studio based in Barcelona, Madrid, and Mallorca, and when all the firm's work went remote not so long ago, she and a neighbor friend in Mallorca turned one of these hideouts into a makeover project. Set in an old stone quarry, the friend's structure required shoring up and "the introduction of light, views, and made-to-measure furniture."
Mariana also stocked it with low-impact design ideas: known as the 12-Volt Retreat, the hideaway, located 40 minutes from the island's main hub, Palma, gets its power from rechargeable batteries and a solar panel perched in a wheelbarrow. There's an electric ceiling fan overhead, running water courtesy of a pump—and no shortage of style. Come see.
Photography by Tomeu Canvellas, courtesy of Mariana de Delás.
Mariana—who got her start working for Ricardo Bofill—and the hut's owner did the work themselves and, along the way, she began to think of the place as a prototype not only for other empty hideaways on the island, but, thanks to her portable designs, for modern nomadic life in general, whether in a van, mobile home, or other compact dwelling.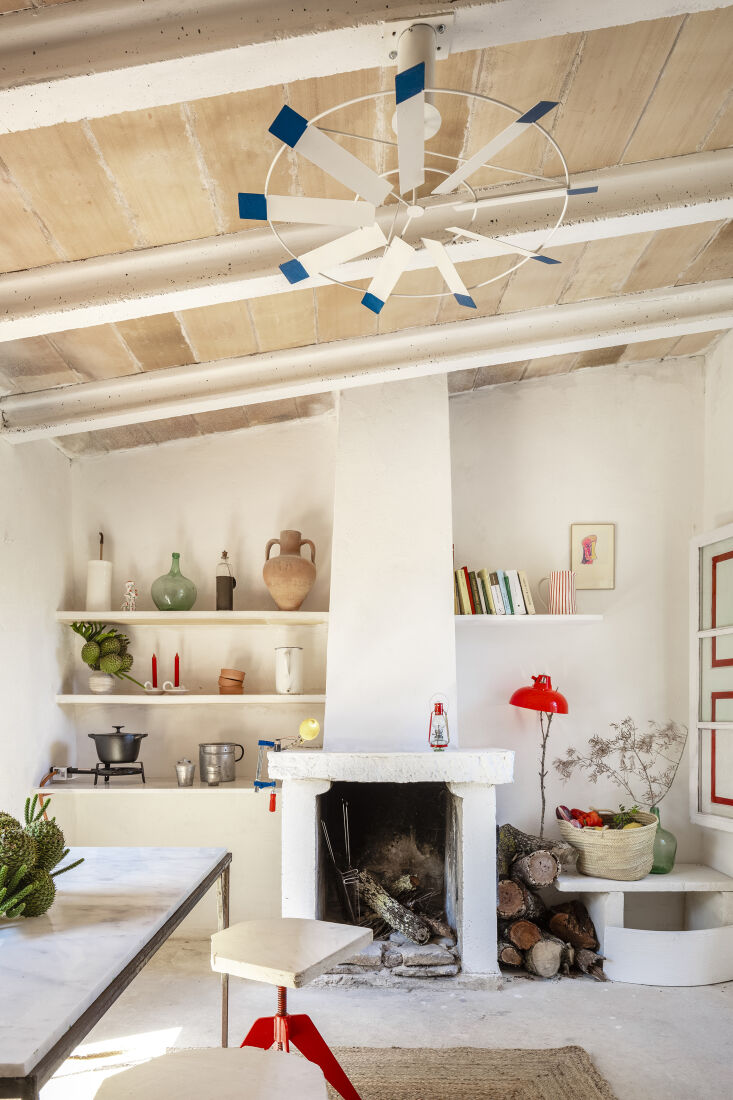 Explains Mariana:  "The existing well holds water that is collected from the roof; originally there was a small window and water was brought into the house with the help of buckets. We sealed the window with glass—as was, it brought in too many mosquitos—and installed the faucet and sink on the outside. We bought a 12-volt pump that is inserted in the well; thanks to a motorbike battery, you can use it to bring water through a pipe that's attached to the faucet. Instead of opening or closing the faucet, we turn the pump on and off with a light switch."
Check out some other inspired—and barebones—summer quarters:
(Visited 1,211 times, 1 visits today)