Brit designer Jasper Conran (son of Sir Terence) has had a robust career; his areas of expertise include apparel, interiors, and home decor; now he's moved into hospitality. Conran first visited Morocco in 1984 and had been mulling the idea of buying and restoring a riad ever since. In 2016 he opened L'Hotel Marrakech—as both designer and owner—inside the city's central medina. It's composed of five rooms (all suites) set in a 19th-century riad, arranged around a central garden and pool with a restaurant and hammam. Suites start at €293 ($314) per night; for more information, visit L'Hotel Marrakech.
Photography courtesy of Jasper Conran.
Above: The hotel was remodeled by local craftspeople using traditional Moroccan materials (tile and plaster, most notably).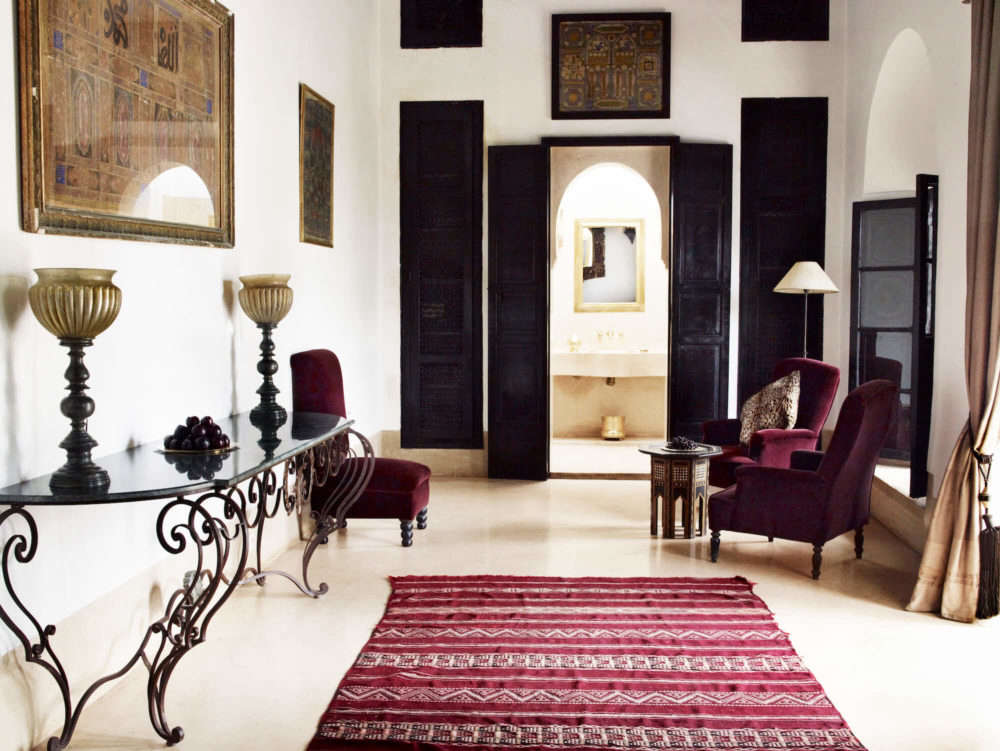 Above: The hallway of the Fez suite. The hotel is filled with antique Moroccan textiles, furnishings, and art from Conran's own collection.
Above: Every room in the riad is anchored by a king-size four-poster bed.
Above: Conran paired traditionally ornate Moroccan furnishings with whitewashed walls and a restrained color palette in each room.
Above: The sleeping spaces are designed to feel uncluttered and relaxing. The all-white linens are made locally.
Above: The hallway of the Casablanca suite, the largest in the hotel. The ceilings are hand-painted zouak wood.
Above: There are no televisions in the hotel; the beds overlook the central courtyard and garden through ornate steel windows by Crittall.
Above: Each room has a private terrace; here, light filters in from the balcony of the Casablanca suite via voile curtains.
Above: The bathrooms are made of a traditional Moroccan lime plaster material called tadelakt, which is rammed and polished. (Brilliantly, it has no grout lines.)
Above: The black bathroom of the Asilah suite.
Above: The private terrace of the Zagora suite has a floor of zelige—handcut tile set in plaster.
Above: The courtyard pool is surrounded by orange, lemon, and banana trees. Lanterns are lit at twilight.
Above: The hotel has two gardens, planted with fig trees, honeysuckle, bougainvillea, jasmine, and roses.
For more lodging in Morocco, see:
(Visited 335 times, 1 visits today)