This house is on one of my running routes, the one reserved for the rare days when I'm feeling extra peppy. And every time I pass it, as I turtle-pace up the hill, I admire its front yard. Unlike most homes in my town of Maplewood, NJ (including mine), it has no water-guzzling lawn. In its stead is a crazy-quilt of plantings that looks far more interesting than the standard suburban swathe of grass.
Recently, I had a chance to peek inside the Craftsman, owned by photographer Danielle St. Laurent and comedian Paul Dinello (currently a writer for The Late Show with Stephen Colbert)—and the interiors are just as special as the exterior. Warm, cozy, with ample dark wood moldings that are the hallmarks of this architectural style, their home is a compelling statement against minimalism: on nearly every surface is an intriguing object (or ten) that has a story behind it. "We're not really designers. We're more collectors," says Danielle. "We'll find little objects that we love and react to and we pile them on till it's us."
That was their M.O. for their recent kitchen remodel. They began with Shaker cabinets by deVOL—"they're my Instagram porn," says Danielle—which fit nicely into their tradition-with-a-twist aesthetic. "I wanted it to look cool but not trendy, and everything to have a human touch to it." Then they filled it with artisan wares. Most pieces are either from John Derian, M. Crow, French pottery shop Le Fanion in Greenwich Village—or Amy Sedaris (their longtime friend and the godmother of their two boys), who has gifted them a fair share of hand-me-downs over the years. (Paul was the co-creator of At Home with Amy Sedaris.)
Both Danielle and Paul have strong opinions that aren't always in sync, though, so they enlisted a professional, Hollie Velten, to help. "Hollie was able to find us options that we both loved. She is very good at seeing the big picture, and that was beyond our skill set." (Scroll down to see Hollie's design magic, mixing patterns and colors, in the dining room and pantry.)
Below, a tour of the couple's favorite room, artfully appointed with some of their favorite things.
Photography by Danielle St. Laurent.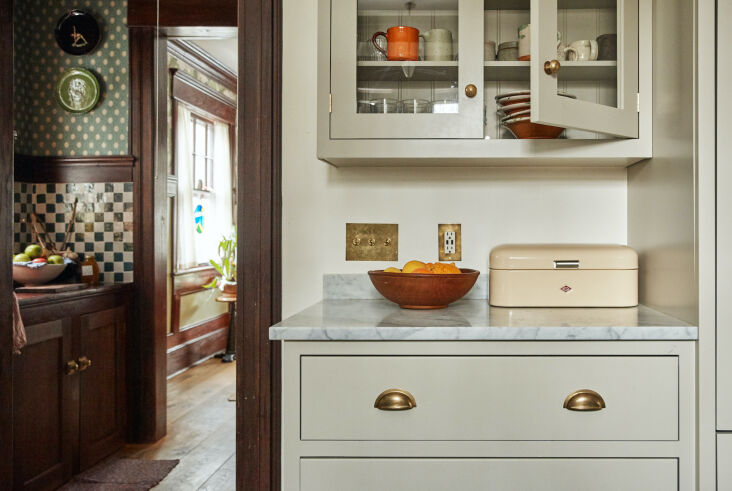 For recent Kitchens of the Week, see:
N.B.: This post is a rerun; the original story ran on March 24, 2022 and has been updated with new information.
(Visited 2,258 times, 4 visits today)