On a recent trip to Morocco, I spent several nights at the 15-room Kasbah Bab Ourika in Morocco. Perched on a hilltop at the edge of the Ourika Valley, just outside Marrakech, the hotel (opened in 2009 by owner Steven Skinner) was built in the traditional Berber style using Pise (rammed earth) and is one of the most eco-friendly buildings in Morocco.
Solar panels generate the power for underfloor heating, there's a water recycling system, and an innovative bio-digester provides electricity. Designer Romain Michel-Meniere sourced almost all the furnishings locally; among his finds: leather chairs hand-made by local craftsmen, sofas and pillows covered in Berber textiles; and pottery, lanterns, and rugs from local villages. As a drizzle arrived one morning, we spent a day lounging, first under the rustic canvas awning on the patio, and later by the fire in one of the many common rooms, mesmerized by the panoramic views of the Atlas Mountains (and plotting purchases before departure, as everything in the hotel is for sale). Go to Kasbah Bab Ourika for more information.
Above: Long communal outdoor tables and benches.
Above: Perched high on a cliff, the Kasbah overlooks the Atlas mountains.
Above: Vintage carpets line the breezeways.
Above: The dining room is illuminated with lanterns found locally.
Above: A fire roars in one of the common areas.
Above: Morning coffee service; note the carpet detail on the back of the armchair.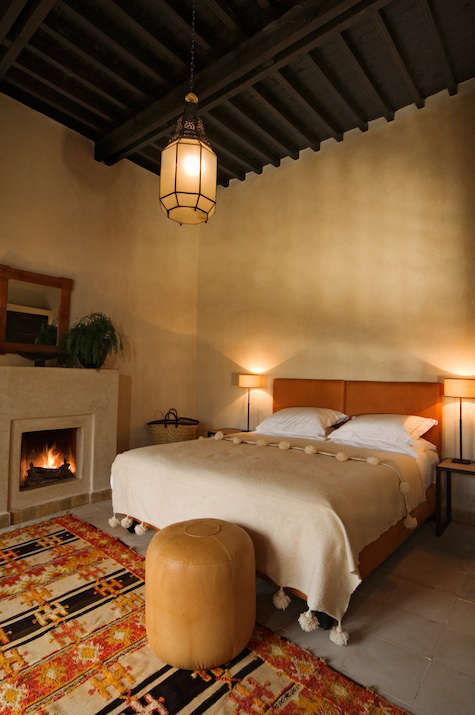 Above: Simple lean-to shading via a canvas awning.
Above: A view of the surrounding Atlas Mountains.
N.B.: This post is an update; the original story ran on May 20, 2011.
You need to login or register to view and manage your bookmarks.