Hotelier Anne Igou has a penchant for the bohemian. The owner of the Hôtel Nord Pinus in Arles, France, she's worked her charms on a Moroccan riad—the Nord Pinus Tanger—which just happens to be the highest building in Tangier's casbah, offering sweeping views across the Strait of Gibralter to Spain.
Hemingway and Picasso in Arles, Paul Bowles and Jack Kerouac in Tanger; Igou is drawn to places where artists and creative personalities have historically flocked. In her latest four-suite hotel, rooftop restaurant, and bar, Igou invokes a spirit of the past with her particular mix of color, textures, and artifacts. We'd like to think she's extending an invitation to past frequenters to come back and rejoin the party they started. For more information, go to Nord-Pinus Tanger.
Photography by Mo Hoffman.
Above: A colored glass lantern marks the entrance of the Nord-Pinus Tanger.
Above: The shady inner courtyard.
Above: A pair of leather doors were hand painted by local craftsmen.
Above: Bright Moroccan textiles mix well with mid-century furnishings.
Above: A black and white vintage photo is hung in a tiled stairwell.
Above: Colored glass and Moroccan tiles from Fez line the stair hall.
Above: Vintage Moroccan metalwork is on view throughout the interiors.
Above: Painted leather walls create an exotic alcove for a daybed.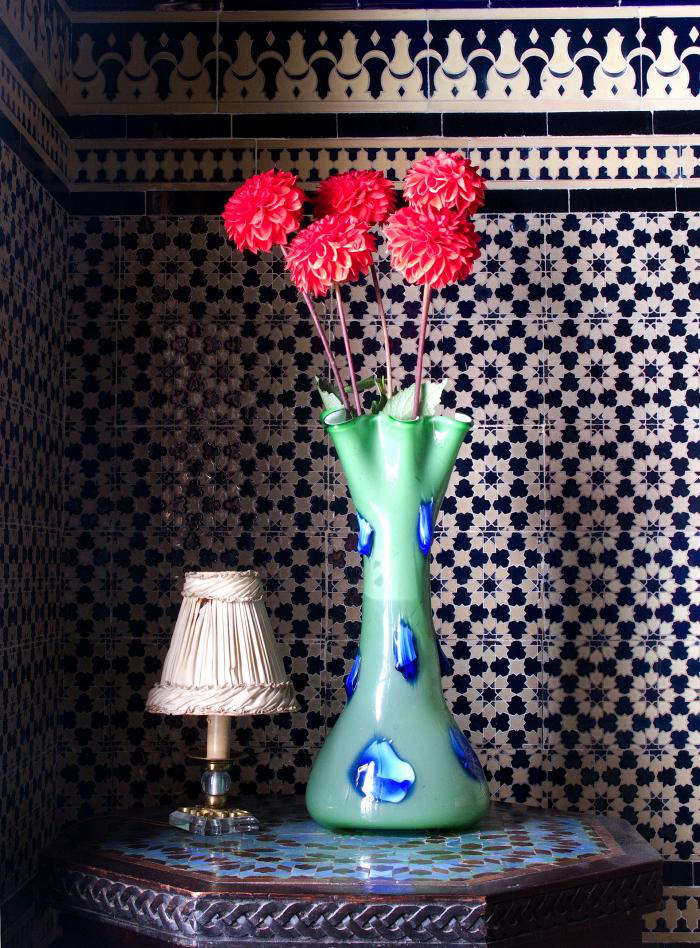 Above: A vintage lamp glass blown vase and stand out against the geometric Moroccan tiles from Fez.
Above: Moroccan geometrically patterned tiles line the bathroom.
Above: A fountain in the inner courtyard of the riad.
Above: Brightly colored Moroccan textiles mixed in with mid century furniture.
Above: Tangier musicians play to guests on the rooftop terrace as the sun sets in the casbah.
Above: Sweeping views of the sea.
(Visited 21 times, 1 visits today)