Designers Martin Raffone and Bill McIntosh's house, Dar Mahjouba, is like hundreds of other riads jammed cheek by jowl in the dense quarters of Marrakech's medina: a traditional Moroccan house with rooms ringing a central courtyard, and a roof terrace that provides the only view of an outside world. And yet the resemblance ends there. Amid the cacophony of the medina, the tranquil house is an elixir, a cool glass of milk surrounded by mounds of spice.
Having rented a riad myself only a few alleyways over at the northern edge of the souks, I know the relief of ducking through a low doorway to step from a world of overstimulation into a center of calm. Of late, Marrakech's popularity as a destination has soared, as has design interest in all things Moroccan. Now there are dozens of riads to rent, most of them packed to the roofs with design clichés. Not so the riad reimagined by Raffone and McIntosh, each of whom has his own interior design firm in New York City (see Martin Raffone and William McIntosh Design.) The good news: They rent out their house when they're not there (for information, scroll to the end).
"We simplified and modernized," Raffone says, "and grayed everything down." He and McIntosh also turned to the best local resources, the artisans themselves, and had almost all the interior furnishings made to their own design. Here and there, traditional pieces such as tea tables and wooden stools make an appearance, but rather than swallowing whole the busy array of native Moroccan craft, as so many other transplanted homeowners do, they've opted for only a soupí§on. All of which makes their riad more than just palatable. It's the ideal home away from home in Marrakech.
Photographs by Martin Raffone.
Above: The house isn't so much whitewashed as dipped in cream. Nearly every surface is tadelakt, a traditional plaster treatment involving integral color and buffing that produces a soft sheen. Window frames, doors, and shutters are all painted a complementary warm, soft gray. The courtyard is shown here. Candle lanterns are ubiquitous in Marrakech; for ease of use, Raffone and McIntosh electrified theirs and wired them to wall switches. The curlicue motif of the wrought-iron rail inserts and window guards is a common pattern in Marrakech.
Above: Off the courtyard a lounge area, commonly referred to as the bhou, is the most traditional room, and Raffone's favorite spot. Lined with a banquette in a slate gray cotton and furnished with shutters as well as curtains from West Elm, it's a cool place to retreat from the heat and intensity of the sun. Raffone and McIntosh designed the iron lights, which were made locally; the black paper lampshades came from BHV, in Paris.
Above: A fig tree dominates the courtyard, providing the relief of shade plus greenery. In a corner a wall fountain replaces what was once a well.
Above: Wood and rush stools from the souk neatly tuck under a stone-topped iron table designed by Raffone and McIntosh. To open up the living room to the courtyard, they enlarged a pair of windows flanking a shuttered doorway. Leaning in the corner is a baker's bread peel, a sculptural reference to the riad's address, Derb el Ferrane (Street of the Oven).
Above: Raffone designed a collection of linens, including this table runner, for Alnour, a local co-op that enlists the embroidery skills of women with disabilities. The name of the house, Dar Mahjouba, is monogrammed on Linen Napkins, thanks to stateside Etsy seller BetsyGrace. The ceramics and glassware were sourced locally, the flatware is Dine Noir from CB2, and the hand-shaped platter is the Como Aluminum Tray by Paola Navone from Crate & Barrel.
Above: As is traditional in riads, the rooms are long and narrow–a mere seven feet wide. That constriction meant dispensing with typical furniture arrangements and instead introducing a uniform of sorts: Mattress-topped wooden banquettes of varying heights and sizes appear in each space. "We used systemization to make the house feel quieter and more modern," Raffone says. Fireplaces are uncommon in Marrakech, but the designers wanted one for visual and physical warmth. In the living room, shown here, ribbed plaster tops a hearth with a wall-to-wall ledge of firebrick. A painting by Raffone hangs over the banquette. The leather-studded side chair, campaign chair, and Beni Ouarain rug are from Mustapha Blaoui, a favorite local source. (See High/Low: Beni Ourain Moroccan Rugs for sourcing ideas.)
Above: At the opposite end of the living room, concrete shelves finished in tadelakt echo the horizontal ribs of the hearth. A higher banquette is paired with the Raffone and McIntosh-designed dining table of oak and marble. The patterned pillow textile is mud cloth from Mali. The striped tablecloth is from Zara Home, which has a local location.
Above: The use of only three materials–local black marble for the counter and backsplash, black floor tile, and tadelakt (creamy for the walls and ceiling, black for the counter base)–make for a streamlined and graphic kitchen. Three metal downlights, two white and one black, light the space. (Learn about the benefits of downlights in Remodeling 101: How to Install Flattering Lighting.)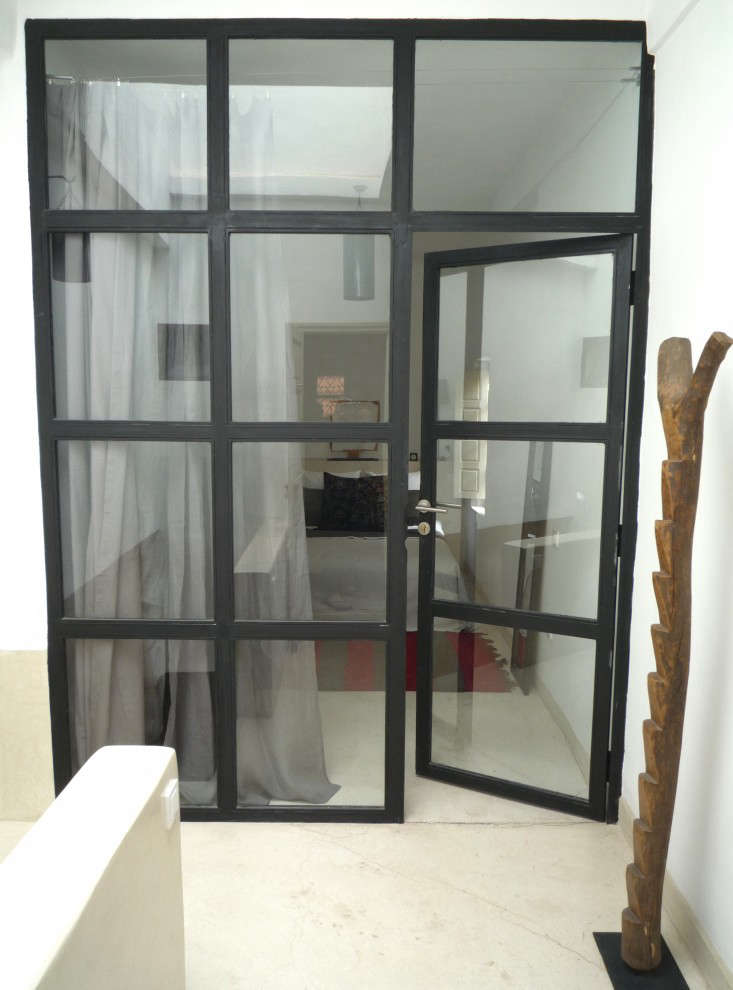 Above: A wall of steel and glass brings light to one end of a long guest room, and introduces a note of modern architecture to the house. A double set of curtains, sheer and opaque, from West Elm, modulates light and privacy. The forked branch is a ladder from sub-Saharan Africa.
Above: A narrow slot, beveled to admit more light to the interior, captures a slice of the painted wooden screen of the mashrabiya, a traditional oriel window enclosed by latticework.
Above: A view from the second-floor loggia of the mashrabiya.
Above: Sheer linen curtains soften the posts of the loggia. Simple iron tables topped with wooden slats flank a double banquette, all designed by Raffone and McIntosh. The carved posts elevated on wire bases are tent stakes used by the nomadic Tuareg people of the Sahara.
Above: The loggia's lights are a Raffone design of oxidized brass that hangs from hooks affixed to steel plates.
Above: In the master bedroom, the designers introduced open shelves in place of a closet that occupied a niche. The top shelf turns a corner and widens to form a desk. The embroidered bedspread is from India; the whip-stitched linen throw came from Lilah Spirit in Marrakech. The earthy throw rug comes from the natural wool of local sheep. The linen slippers are from Muji.
Above: A painting by Raffone stands next to a banded wooden tray used in the souks for serving tea (sometimes elevated on legs as a portable table) and at home for holding rising bread.
Above: A built-in tadelakt ledge with a niche serves as a headboard for a banquette used as both sofa and bed in a narrow guest room. The traditional painted tea table matches the ones in the bhou. 
Above: The riad's bathrooms are all seamless formations of gray tadelakt. The mirror was made by a man in the neighborhood who hand carves the frames and stains them with shoe polish. The taps are by Roca; the shower curtain and towel are from West Elm.
Above: Uplit olive trees in terracotta pots set the rooftop terrace aglow. Raffone and McIntosh elevated a section of the terrace with an ipe deck, added an iron rail to the parapet, and created shade for the dining area via a triangular sail from Ikea supported by wooden poles from the souk. The black lounge chairs and white dining chairs are also from Ikea. (For more ways to keep the sun out, see Design Sleuth: Shade Sails.)
Dar Mahjouba is available to rent starting at $325 a night via Airbnb. It has three bedrooms, three and a half bathrooms, and sleeps five. It's located in a quiet neighborhood in the Riad Laarousse district of the Marrakech Medina.
Source Moroccan design in our archive and tour La Mamounia's Royal Gardens on Gardenista.
Planning a vacation? We've found standout rental houses all over the world. For ideas, peruse our recent Summer Rentals issue. Or go straight to 33 Top Rental Houses Featured on Remodelista.
And don't forget: Today is the last day to vote for your favorite finalists in the Considered Design Awards. Vote now, and stay tuned: We're announcing the winners on August 9.