On Salt Spring Island in British Columbia lies a tiny one-room cabin, a finely detailed retreat from Seattle-based Olson Kundig Architects. Its sleek design and kinship with nature make an elegant case for simple living–that, plus the most uncontrived outdoor shower we've seen.
See more from their portfolio at Olson Kundig Architects. Photography by Tim Bies for Olson Kundig.
Above: The cabin requires few storage spaces; firewood is stacked neatly on the back porch.
Above: The building engages with the outdoors while providing sanctuary in a rugged landscape.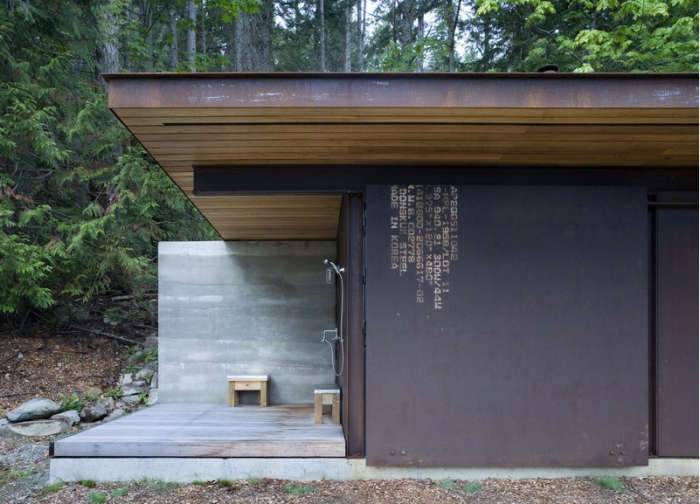 Above: An unfinished steel panel slides manually over the cabin windows, securing the building when the owners are away.
Above: Principal Tom Kundig left the original lettering on the commodity steel panel as a reminder of its rawness and history.
Above: Cedar-lined ceilings and floors add coziness and warmth.
Above: One room packs all the essentials: a small toilet, kitchen, and wood-burning stove.
Above: The owners shower outdoors; a propane tank provides hot water when needed. Simple wood benches serve double duty as shower staples and patio furniture.
N.B.: For more inspiration, see images of 697 Rustic Cabins in our Gallery of rooms and spaces.
(Visited 453 times, 1 visits today)