Fifty years ago, Åke Nordin was designing wood-framed backpacks from a small cellar in Örnsköldsvik, Sweden. Today, Fjällräven (which translates to arctic fox) is an up-and-coming outdoor lifestyle brand—from Stockholm to Brooklyn you can find urbanites adorned in their colorful Kanken backpacks.
The company's US flagship store was designed by Brooklyn-based Uhuru Design, who drew inspiration from the landscape of Sweden and utilitarian side of outdoor living. Uhuru preserved the original wood flooring, uncovered during the renovation, and used ash wood throughout, to reflect the lighter woods of Sweden's cold climates. The entire space was built with flexibility in mind: as Leah Reyes of Uhuru says, "the hang bars are designed to spring up, tent-like, and pack down flat for easy mobility." Beyond the packing and unpacking ability of the store's fixtures, the forms themselves are inspired by camping motifs, with nesting tables mimicking trail markers and camping cots.
The Fjällräven US outpost is located at 262 Mott Street in Nolita.
Photography by Daniel Kukla, except where noted.
Above: Fjällräven's iconic red snow fox is printed on a blonde wood counter.
Above: Vintage Scandinavian winter sweaters. Photography via Cool Hunting.
Above: Clothing racks with a touch of lightly tanned leather, as Reyes says, "an homage to the detailing on Fjällräven daypacks and jackets."
Above: Overlooking the basement level is a graphic of an ice pick moving across the black railing.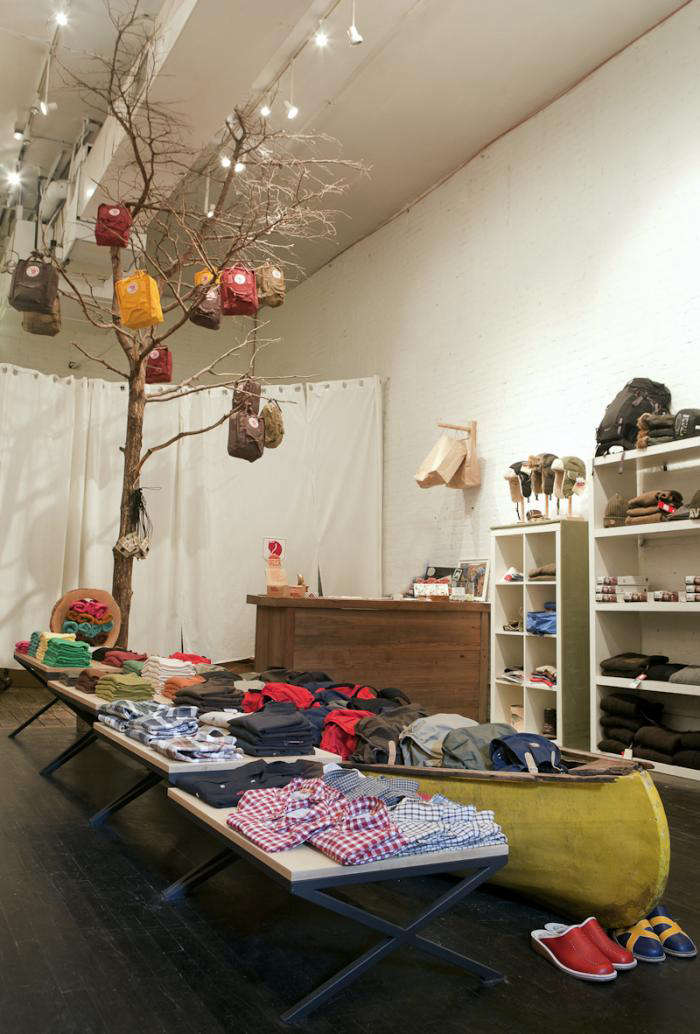 Above: A leafless tree creates a canopy for a yellow antique canoe and camping-cot-inspired display tables.
Above: "The wall in the back displays shoes on magnetic stands that can slide around to adjust for different types. Depending on the season and merchandise, they can shuffle everything around to accommodate," says Reyes.
Above: A row of Kanken backpacks hang in the window of the Nolita shop.
N.B.: For more Scandi-inspired design, see 52 Scandinavian Kitchens in our Gallery of rooms and spaces.
You need to login or register to view and manage your bookmarks.