From weird color combinations to grandmother chic: our predictions for the interiors trends that will define 2016.
1. Grandmother Chic
Above: We're obsessed with the needlepoint headboard at the Durslade Farmhouse in Somerset, England.
2. Shield Shapes
Above: Shield shapes are making a splash, from mirrors to cutting boards.
3. Artisanal Architectural Hardware
Above: Beyond the plastic switchplate: One-off architectural hardware is a trend we're rooting for; see more at Architectural Hardware from a Japanese Artisan.
4. Caned Furniture
Above: Alexa, our resident trend spotter, says caned furniture is the next big thing, as in this caned headboard at the soon-to-open boutique Hotel Panache in Paris.
5. Showroom as Apartment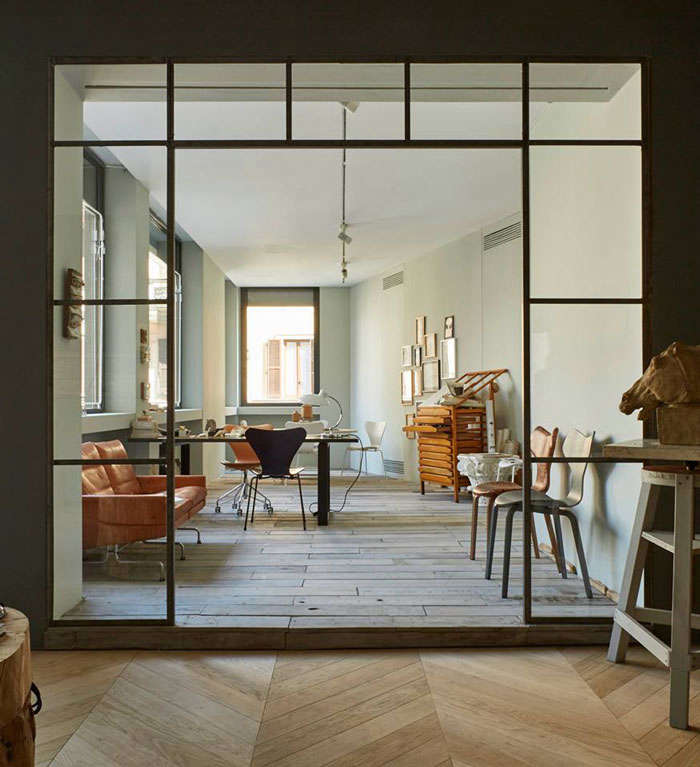 Above: The future of retail? The Fritz Hansen showroom in Milan offers an immersive, homelike experience, as does The Apartment by the Line in Los Angeles.
6. Pegboard Storage
Above: Did Julia Child start it all? Pegboard storage systems are cropping up in kitchens everywhere, including this one by Position Collective in Budapest. We're on board. Photograph by Balázs Glódi.
7. Online Upstarts
Above: Following in the footsteps of Warby Parker and Everlane, companies such as Casper, Snowe, and Greycork are cutting out the middlemen and marketing directly to consumers.
8. The Second Coming of Donald Judd
Above: Sculptor Donald Judd's residence/studio at 101 Spring Street is inspiring a new generation of minimalists to think outside the box; see more at A Modern Daybed, Hand-Dyed Shibori Included.
9. Low-Profile Appliances
Above: A recessed ceiling-mounted vent, like this one from German company Bulthaup, is almost undetectable in the kitchen. (See more at Remodeling 101: Ceiling-Mounted Recessed Kitchen Vents).
10. Patterned Tile in the Kitchen
Above: Ahead-of-the-curve LA design group Commune adds a dash of pattern to a Paris kitchen.
11. Textile Art
Above: Beyond macramé: A felted wool piece by Ashley Helvey at Lord Stanley in SF.
12. Cabin Fever
Above: This year's best seller Cabin Porn feeds our obsession with tiny rustic dwellings. Shown here: Portuguese retreat Cabanas No Rio.
13. The Daybed
Above: When London-based arts phenom Max Lamb designs a daybed, it's time to take notice.
14. Weird Color Combinations
Above: Mustard yellow and pink? Somehow it works at the Fritz Hansen showroom in Milan.
15. Pastel Sanitary Ware
Above: Spotted recently: pastel bath and kitchen sinks; shown above, a bath by UDA Architetti in Milan.
16. Curved Stairways
Above: Vincent Van Duysen started it: The Cult of the Curvy Staircase. Shown here: Leah Herzig's adaptation in her West Hollywood home.
See all our Trend Alerts here.
You need to login or register to view and manage your bookmarks.