In California it seems as though everyone has a wine refrigerator (half the state is wine country, after all). If you're cultivating a wine collection, it might be time to start thinking about a sophisticated wine storage system. Here are some options selected for both appearance and functionality.
Above: The Alpes Inox Column 128 Wine Cooler has two columns and a single drawer. Contact Alpes Inox for pricing and availability. Read more about the company in Race-Car-Style Appliances for Compact Kitchens.
Above: The Miele 28-Inch Tri-Zone Wine Storage has a 178-bottle capacity and separate controls for storing wine at three different temperatures. It's $6,999 at AJ Madison.
Above: The GE Monogram Stainless Steel Wine Reserve has a red or white wine temperature setting and seven cherry wood shelves. It installs flush under counters and is $1,899.
Above: Aga's Marvel 15-Inch High-Efficiency Single-Zone Wine Cellar has maple shelving and a stainless steel handle. It controls temperatures precisely from 40 to 65 degrees.
Above: Miele's DWT 6312 UGS Under Counter Wine Storage System is another wine refrigerator from Miele with a smaller profile holding 46 bottles of wine. Contact Miele for pricing and availability.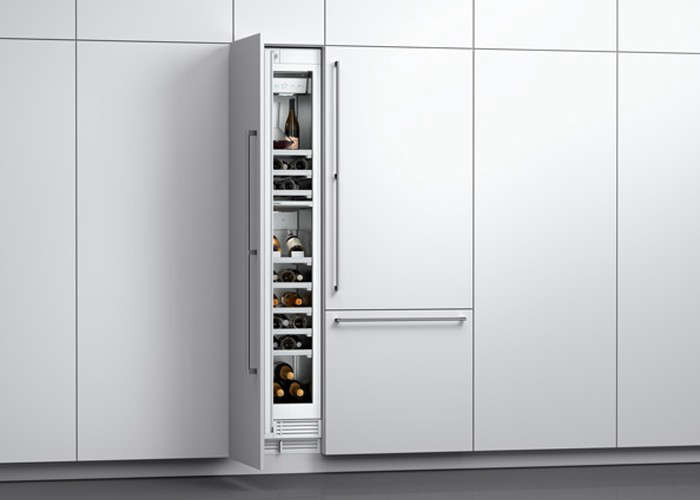 Above: The Gaggenau Wine Storage Unit holds 99 bottles and has two independently controlled climate zones. Contact Gaggenau for pricing and availabilty.
Above: The U-Line 15-Inch Wine Captain has six beech shelves, holds 24 bottles, and has a black exterior. The refrigerator can be built-in or freestanding; $1,719 at U-Line.
Above: The Smeg Classic Aesthetic Wine Cooler holds 115 bottles (or 198 bottles facing front to back). Its glass door has an anti-UV-ray tint, and the cooler can be built-in or freestanding. Contact Smeg for pricing and availability.
Above: Sub Zero's 30-Inch Integrated Wine Storage with Refrigerator Drawers holds 86 bottles of wine and also has a pair of refrigerator drawers for other beverages; $7,995 through Sub Zero.
Above: The Electrolux 24-Inch Under Counter Beverage Center has multiple storage options on each shelf, designed for wine and other beverages; $2,099.
Above: The Viking 30-Inch Full-Height Wine Cellar holds 150 bottles. Contact Viking for pricing and retailers.
Above: The Liebherr WU 4500 holds 46 bottles of wine with exact temperature controls. Contact Liebherr for pricing and availability. And check out our post Keeping It Cool: Liebherr's 5-Zone Refrigerator for more info on the refrigerator/wine cooler duo.
For more on kitchen cooling, see our posts:
Finally, get more ideas on how to evaluate and choose your kitchen refrigerator in our Remodeling 101 Guide: Kitchen Refrigerators.
(Visited 124 times, 1 visits today)