Six months ago, when I moved from San Francisco to New York City, I sold my KitchenAid stand mixer at a sidewalk sale for $50–and then lived to regret it. The mixer, in bright cobalt blue, was handed down to me by my mother, who'd received it as a wedding gift but already had a mixer. I did everything with that machine: rolled pasta, kneaded bread dough, and made what felt like unlimited batches of kalamata olive shortbread one winter. The mixer now has a good home. I sold to my neighbor, an intimidating Irish-American chef who spent 20 years making pastry in Hell's Kitchen during the 1980s. I realize now that I could have easily shipped it for the same $50.
I'm settled in a new kitchen and with holiday baking season rapidly approaching–and a revived interest in olive shortbread cookies–I'm looking for a new one. KitchenAid is a brand I can stand behind, but there are others to consider; here are 12 notable options (copious attachments sold separately).
Above: The KitchenAid Metallic Series Five-Quart Stand Mixer, shown here in the Food 52 kitchen, comes clad in tarnish-proof metal–brushed nickel (shown), chrome, and copper–over die-cast zinc and aluminum housing. The KitchenAid mixer has 10 speeds and is made in Greenville, Ohio, where it's been manufactured since 1919; $599.95 at Williams-Sonoma. It comes with a beater, dough hook, and whisk; additional attachments can be found at KitchenAid. Photograph by Nicole Franzen for Remodelista.
Above: The Breville Scraper Mixer Pro Stand Mixer has a five-quart bowl and includes a scraper beater along with a standard wire whisk and dough hook. It has 12 speeds and a 10-minute timer for auto-mixing according to recipe instructions; $299.95 at Amazon.
Above: The Aga kMix Stand Mixer has a 500-watt motor and is fully constructed from aluminum; £349.99 ($555) at the Aga Shop, in Northern Ireland. The kMix is also branded under Kenwood, currently available in the US for $473 on Amazon.
Above: The Bosch Styline Stand Mixer with Continuous Shredder has a 450-watt motor, two whisk attachments, a dough hook, and a continuous shredder (food processing) attachment; $349.99 at Amazon.
Above: For those married to the hand blender, the Breville Handy Stand Mixer can be detached from its base and used separately. It has 12 speeds, an optional timer, and twin motor system (one motor rotates the bowl, the other rotates the beaters/dough hooks/spatula); $119 at Amazon.
Above: The Cuisinart SM-70 Seven-Quart Stand Mixer has a 1,000-watt motor, 12 speeds, and an optional timer; $449 at Zappos, additional attachments available separately.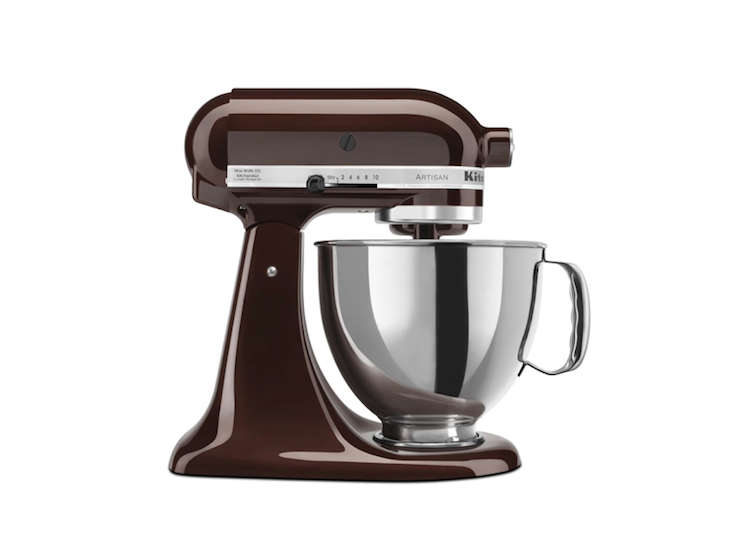 Above: KitchenAid's Artisan Series Stand Mixer comes in a large array of colors (shown here in espresso). The model has a five-quart stainless steel mixing bowl and its housing is made of die-cast zinc and aluminum; $349 at Williams-Sonoma.
Above: The Smeg Stand Mixer comes in cream (shown), red, black, and chrome. It has a 600-watt motor, 10 speeds, and a retro appeal; $449.95 at West Elm.
Above: Manufactured in the UK, the heavy-duty Viking Professional Stainless Steel Five-Quart Stand Mixer has an 800-watt motor and weighs in at 35 pounds; $444.95 at the Country Gourmet and via sellers on Amazon.
Above: Bodum's Bistro Electric Stand Mixer has seven speeds and a stainless steel bowl. It comes in four colors: off-white (shown), black, red, and lime green; $286 from Bodum.
Above: The Swedish Ankarsrum Kitchen Assistant features a 600-watt motor and is available in 10 colors. Its electric motor and aluminum components are cast and assembled at the Electrolux factory, in Ankarsrum, Sweden; $799.95 from Metro Kitchen. Read more about the mixer in The Ankarsrum: Sweden's Iconic Kitchen Mixer.
Above: The Westinghouse Stand Mixer has a 450-watt motor and four speeds; $156.99 at Overstock.com
N.B.: A variety of affordable vintage stand mixers can also be sourced through Etsy.
For other essential kitchen appliances, see:
You need to login or register to view and manage your bookmarks.