In our last apartment, we had a coffee grinder that was given to us as a gift, and it was perfectly fine–offered a selection of grind intensity and a removable tray for easy cleaning–but it was also clunky and unattractive. When we moved across the country last month, it was the first thing that sold in our garage sale, and now we're starting fresh. So I've surveyed the coffee grinders that are out there–it turns out there are a lot–and narrowed down the choices to 10 standouts.
The list is divided into two categories: manual and electric. The difference between them is much like comparing the masticating juicer (a cold press preserves nutrients) to the centrifugal juicer (high speeds get the job done quickly). Apparently a manual coffee grinder is not just for the insane with too much time on their hands; there's some solid science to vouch for it. An electric grinder mills coffee beans at such high speeds that it creates heat, cooking the beans just slightly before the brewing process. The manual option, meanwhile, grinds the beans without raising the temperature, thus preserving the coffee's essential oils and flavor.
The takeaway: If you're sold on high-quality beans, you might as well opt for the manual grinder–just make sure you wake up extra early if you do.
Manual
Above: Hario's hand-cranked Skerton Ceramic Coffee Grinder has ceramic conical burrs that can be adjusted to produce grinds fine enough for espresso and coarse enough for a French press. The mill is $49.95 at Williams-Sonoma.
Above: The Porlex JP-30 Stainless Steel Coffee Grinder is made in Osaka, Japan, of stainless steel. It, too, has ceramic conical burrs for grinding; $44.99 at Amazon.
Above: Designed for small spaces, the Hario Slim Coffee Grinder measures only about 7 inches tall and 3 inches in diameter; $26.20 via Amazon.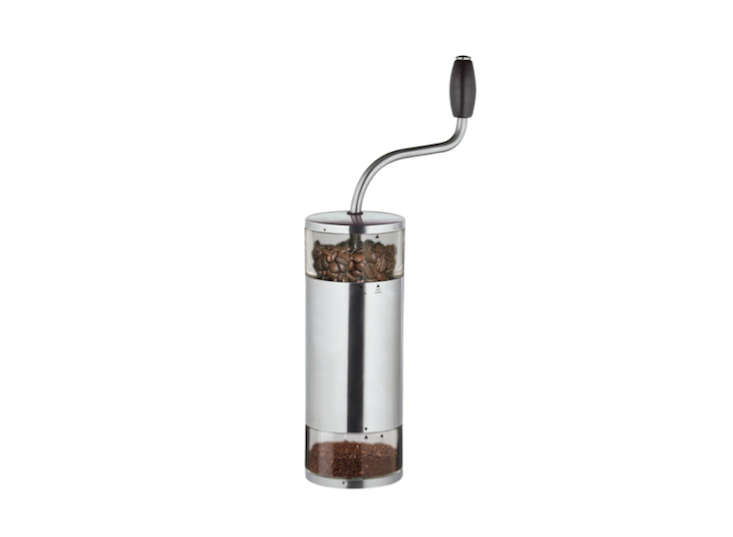 Above: The German-made Zassenhaus Lima Coffee Mill is stainless steel with an acrylic bottom for catching grinds; $69.95 at Sur La Table. 
Electric
Above: The Krups Electric Spice and Coffee Grinder has stainless steel blades and a fast, 200-watt motor for grinding; $24.90 through Amazon.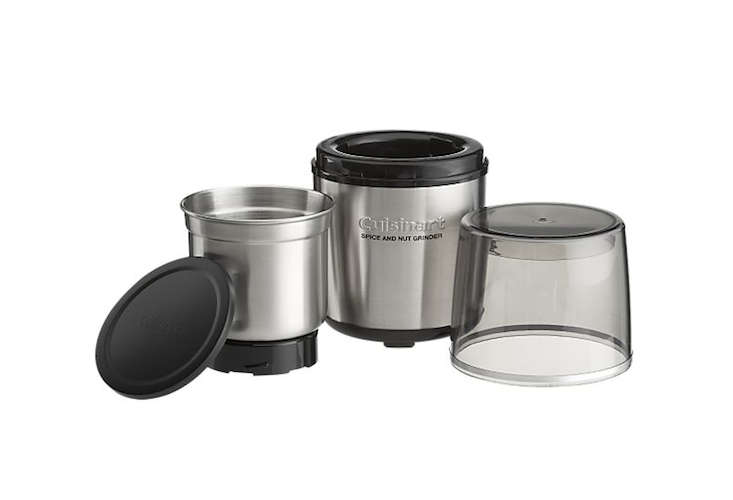 Above: The Cuisinart Coffee-Spice Grinder has a heavy-duty motor that should be pulsed when grinding coffee beans. The grinding bowl is removable and the grinder comes with a storage lid; $39.99 at Crate & Barrel.
Above: The brushed stainless-steel Cuisinart Grind Central Coffee Grinder has a removable grinding bowl for storing up to 3 ounces of ground coffee; $29.95 at Williams-Sonoma.
Above: The only electric grinder that the folks at Blue Bottle Coffee endorse, the Baratza Encore Coffee Grinder features steel burrs and 40 different adjustable steps for grinding coffee. It has a high-torque motor that turns slower than most grinders; $129 at Crate & Barrel.
Above: The Rocky Coffee Grinder by Rancilio is intended for the coffee enthusiast who wants maximum ground control. The 50-millimeter burr grinding plates are made of tempered steel and the machine delivers 55 different types of grounds without adding additional heat to the beans; $365 at Seattle Coffee Gear.
Above: The Compak K3 Touch Doserless Grinder has a stainless steel body, a large coffee bean hopper, a ground chute, and settings for single, double, or constant grind; $543.75 at Seattle Coffee Gear.
Above: The Mini P Mazzer Coffee Grinder has polished aluminum housing and tempered ball-bearing steel burrs for precision grinding; $699 at Whole Latte Love.
Need a step-by-step tutorial? See Gardenista's 7 Secrets: Tips to Make a Perfect Cup of Coffee and Ask the Expert: Coffee Tips from Alice Gao. And then have look at 10 Artful Coffee Drippers and A Coffee Maker Designed by a Portland Brewer.
(Visited 20 times, 1 visits today)