We admit it: We're obsessed with the details. Case in point: heating vent covers. You too? We turned to members of the Remodelista Architect/Designer Directory for their favorites.
Above: San Francisco interior designer Kriste Michelini likes Pacific Register Co.'s Cast Aluminum Vent Covers, especially the Clover, Industrial, and Linear patterns—the last of which is shown here. Each style is available in several sizes, thicknesses, and finishes; contact Pacific Register Co. to purchase.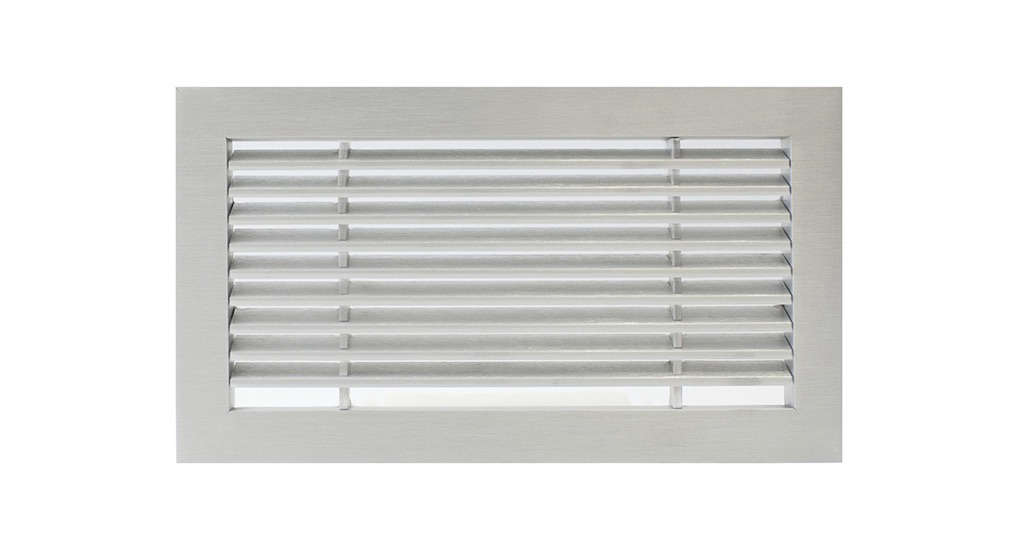 Above: Steve Schappacher of NYC firm SchappacherWhite Architecture likes Architectural Grille's Linear Bar Grille line for their clean designs and flexibility. "We have used them flush at floors, as baseboards, in radiator covers, stone counters, ceilings, and even large curved units over passageways," he said. The AG40 Bar Grille is shown here; contact Architectural Grille to purchase.
Above: Part of the same Architectural Grille collection is the frameless AG10 Bar Grille, New York architect Lauren Rubin's enthusiastic pick. "If you could call an architectural grille beautiful, this would be the one," she said. "I don't think we have a single project where we haven't installed at least one of these."
Above: Dave Swetz of Butler Armsden Architects in San Francisco likes the 208 Lattice Perforated Grille from Architectural Grille. "I have literally used this product on every project I've ever worked on. It simply does what it needs to do, in the most minimal way it can," he said. It's available in a variety of sizes, materials, and thicknesses, shown here in a 3/4-inch size pattern.
Above: Many of our architects and designers turn to Signature Hardware for high-quality bath and kitchen fixtures and cabinet hardware. We like the Contemporary Cast Iron Floor Register, which starts at $35.95.
Above: From architect go-to Rejuvenation, we'd pick the Lattice Aluminum Grille, made in the US and starting at $119 for the 4-by-10-inch size.
Above: Chris Kurrle, a partner at Feldman Architecture in San Francisco, likes the Egg Crate Flush Mount register from Real Wood Vents, starting at $46.20 depending on size, finish, and wood. Says Kurrle, "In wood floors I like using flush or trimless egg-crate style grills, which can also be painted to match casework and in walls."
Above: Dave Sturm of Butler Armsden Architects in SF likes Reggio Registers' Wood Grilles, for "when a metal register in the floor just won't do." Shown here is a Wall Wood Grille in one of Reggio's nearly 50 custom woods, starting at $60.95.
Above: Nancy Madynski, director of special projects at Jeff King & Co. in San Francisco, likes the Pattern Cut Designs from Wisconsin-based Floor Register Resources, each available in oak, cherry, and maple. Madynski's pick is Pattern H, and we like Pattern I, shown here; starting at $30.
Above: From Kriste Michelini's favorite, Pacific Register Co., we like the Flush Rim Wood Register, available in several woods, thicknesses, and sizes. Contact Pacific Register to purchase.
For more, browse Remodelista's Hardware posts, including 10 Easy Pieces: Door Edge Pulls. Find more architect-approved products in 10 Easy Pieces: Architects' Favorite Modern Surface-Mount Fixtures.
Finally, get more ideas on how to evaluate and choose a new kitchen hood or vent in our Remodeling 101 Guide: Kitchen Hoods & Vents.
(Visited 3,846 times, 3 visits today)