Most of us are not destined to live in a domicile designed by an internationally celebrated architect. But you can add world-class architecture to your daily life with flatware by current notables, such as Renzo Piano and Jean Nouvel, and 20th-century greats, including Josef Hoffman and Arne Jacobsen. Here are our favorite architect-designed flatware sets.
Above: Arne Jacobsen designed this minimalist brushed-stainless line of flatware for Georg Jensen in 1957; a Five-Piece Place Setting is $95 at LX Studio.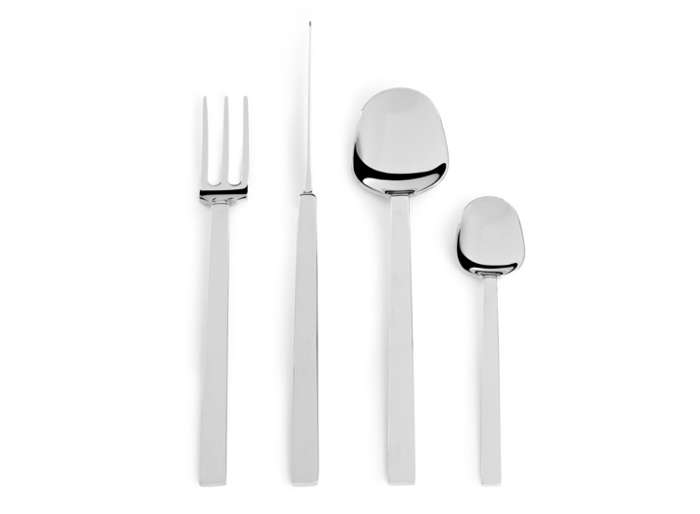 Above: Inspired by the austere lifestyle of Bohemian monks, English architect John Pawson designed this spartan set of cutlery for Belgian company When Objects Work. The When Objects Work John Pawson Stainless Tableware Set of six four-piece place settings is $672 at Fitzsu. March in SF offers the design in Sterling Silver.
Above: French architect and 2008 Pritzker Prize laureate Jean Nouvel designed this matte stainless-steel line of flatware for Georg Jensen in 2004. Jean Nouvel Steel Matte Cutlery is €15.20 ($16.51) for a dinner fork and spoon and €17.60 ($19.12) for a dinner knife at Georg Jensen.
Above: Italian architect Renzo Piano designed the curvaceous Piano 98 flatware for Scandinavian company Iittala in 1998. The polished stainless Iittala Piano Workshop Cutlery is $76.79 for a five-piece place setting and the Iittala Piano Collection Wood-Handled Serving Set is $102.64, both at Amazon.
Above: Italian architect and designer Antonio Citterio created a brushed stainless cutlery line for Iittala of Finland. The Citterio 98 Cutlery Five-Piece Set is $60 from Y Living.
Above: The Colombina Flatware Collection designed by Italian architects Doriana and Massimiliano Fuksas in 2007 for Alessi is available in a high-polished stainless steel finish; $53 for a five-piece place setting at A+R Shop.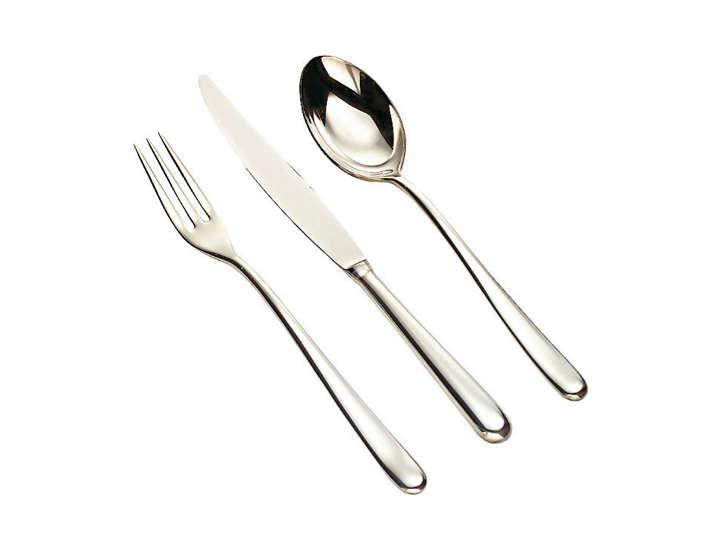 Above: In 1938, a trio of Italian architects and industrial designers collaborated on the Caccia line of flatware (it was initially produced only in sterling silver). In 1990 the company began offering the line in stainless steel; the Alessi's Caccia Five-Piece Cutlery Set is $114 from Lumens.
Above: Iconic Italian architect and designer Gio Ponti created a line of cutlery for Sambonet. Available in matte and polished stainless steel, the Gio Ponti Sambonet Flatware Five-Piece Setting is $85 from Sambonet.
Above: Achille Castiglioni's Dry Line reinterpretation of classic Italian tableware is available in mirror-polished and matte finish stainless steel; the Dry Cutlery 5-Piece Setting is $84 at the MoMA Store.
Above: Austrian architect Josef Hoffman designed a line of flatware in 1906 for the Wiener Werkstaette. Alessi recently reintroduced the Rundes Modell Flatware line in mirror-polished stainless steel; the pieces are sold individually in sets of six, starting at $132 for six Rundes Modell Dessert Forks, at Alessi.
Above: Grethe Meyer trained as an architect at the Academy of Arts in Copenhagen; her elegantly proportioned Georg Jensen Copenhagen Steel Cutlery is available in a matte and a mirror finish; €48 ($52.14) for a four-piece place setting at Georg Jensen.
Above: Alessi's Nuovo Milano Flatware by Italian architect Ettore Scottsass features a mirrored stainless steel finish; $128 for a six-piece place setting (including dessert fork and knife and coffee spoon, not shown) at Hive Modern.
For more flatware, see our previous posts: 
And go to Tabletop & Dinnerware for more of our favorites.
N.B.: This post is an update; the original story ran on March 9, 2011, as part of our Channeling Downton Abbey issue.
(Visited 638 times, 1 visits today)