True confession: I am a water-pressure junkie. Since that first apartment hunt in my early twenties, the first thing I do when looking at a new abode is race to the bathroom and turn on the shower. And don't get me started on the state of hotel showers. So, until recently, whenever the term "low flow" was used in the same sentence as "showerhead," I used to cringe. It's true that the early versions of these mandated 2.5-gallon-per-minute gadgets, while effective at restricting water flow, failed on the shower-experience front. But of late, technology and demand have resulted in water-efficient showerheads that deliver savings, performance, and pressure.
What exactly does low flow/high efficiency mean? In 1992 the EPA mandated that showerheads be made to restrict water flow to 2.5 gallons per minute (gpm) from the previous standard of 5.5 gpm. The restriction still holds, but the EPA's voluntary WaterSense specification has gone further, requiring a 2.0 gpm flow for certification, which results in an additional 20 percent water savings.
Replacing your showerhead with a high-efficiency model is a simple, affordable switch out that can have big impact. Here's our round up of eight WaterSense-certified designs to consider.
Above: A Kohler Purist 2.0 gpm Single Function Showerhead in a bathroom by architect Barbara Bestor. The showerhead infuses air into the water stream for a fuller, more powerful spray; $69.71 at Wayfair. See Steal This Look: A Barbara Bestor–Designed Master Bath in LA for more of this project. Photograph by Jessica Comingore for Remodelista.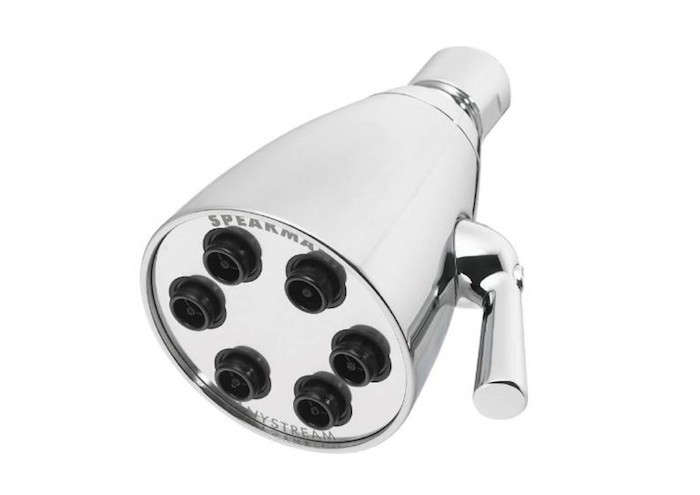 Above: Speakman is offering WaterSense-certified versions of its classic Anystream models. The Speakman Anystream Icon High Pressure Showerhead has a 2.0 gpm flow rate through six jets that pump out a solid stream even when contending with low-water-pressure systems; $74 (in chrome; five other finishes offered) at Amazon.
Above: Delta's WaterSense-certified showerheads receive praise for high pressure, thanks to their "H20kinetic" technology, which controls the movement and droplet size of water. The Delta Faucet H20kinetic Showerhead (RP70172) is $78.16 at eFaucets.
Above: The technologically advanced Danze Parma Five-Function Showerhead offers, you guessed it, five spray settings with a 2.0 gpm flow; $41.60 at Amazon.
Above: Highly-rated in the 2.0 gpm category, Hansgrohe's Croma C-100 Green Showerhead has a four-inch spray face and EcoAir Technology designed to increase the intensity of the spray; $47.79 at Home and Stone.
Above: There are even high-efficiency rain showerheads. Consider Moen's Velocity Eight-Inch Multi-function Rainshower Showerhead. It's WaterSense-certified (2.0 gpm) and offers two settings: a rain rinse function or a self–pressurized spray; $172.39 (in chrome) at Faucet Direct.
Above: To make the biggest dent in water flow with the smallest impact on your wallet, consider Niagara's 1.5 gpm Massage Chrome Showerhead; $7.22 at Amazon (and, yes, it gets good reviews).
Above: While this showerhead is a bit more robust in water consumption and cost than the others, it grabs the best showerhead rating from gadget and gear site The Sweet Home. The Delta In2ition Dual Showerhead features a detachable hand shower that can run separately from or simultaneously with the head. A built-in pause function reduces the water to a trickle, allowing you to conserve while lathering up or shaving; $143 in chrome (four other finishes available) at Faucet.com.
See Sarah's 21 Tips: How to Save Water at Home, One Drop at a Time for more ideas.
We asked a coterie of architects and designers for their go-to shower-fixture solutions. See 10 Easy Pieces: Modern Shower Fixtures for the list of nominees. In her recent remodel, Izabella found Three Rain Showerheads Worth Considering.
Over at Gardenista, Michelle presents a simple way to Instantly Turn Your Shower into a Spa Experience.
Finally, get more ideas on how to evaluate and choose a bathtub or shower in our Remodeling 101 Guide: Bathroom Tubs & Showers.
You need to login or register to view and manage your bookmarks.