An artist and designer who defies classification, Kelly Lamb lives and works in one of LA's most glamorous settings: a 1923 Mediterranean-revival converted stable on the grounds of the Paramour Mansion in Silver Lake, with, as she says, "insane views" of Hollywood on one side and downtown on the other. Not long ago, we visited Lamb's living quarters. Today, we've returned for a tour of the ground-floor studio where she produces her line of ceramics, and designs her art pieces and furniture. What unifies her work is her use of organic forms and geometric patterns–sources of inspiration include "sacred geometry, Viennese Secessionism, the Arts and Crafts Movement and architects such as Buckminster Fuller and Oscar Niemeyer." Have a look:
Photography by Laure Joliet for Remodelista.
Above: Kelly Lamb in her workspace, KL Studio, with one of her Geo Vases. She started making ceramics out of a desire to create things she could give people–"sculptural objects, not just utilitarian pieces." The table is one of her own creations, the God's Eye Table, so named, she explains, because "the wood is herringbone and it's inset with copper inlay that creates a God's eye diamond in the center."
Above: In her paneled kitchen, Lamb's signature faceted Bowls and Teacups are stacked on an open shelf alongside bottles topped with her laser-cut iron Corkscrews.
Above: KL Studio Candles in faceted ceramic bowls and Geo Planters. Kelly's first ceramic product was the Geo Birdhouse, licensed by Areaware and available on request. 
Above: The original plaster fireplace is topped with a mirror found at a flea market. The hanging glass pendant is, Kelly explains, "one of my Crystal Totems. I hang them in all my spaces because they throw light and rainbows all day–they're solar chandeliers."
Above: The Crystal Totem at work. The large bowls are "mother molds" for Lamb's ceramics. 
Above: Ceramic molds for planters and bowls. 
Above: Kelly has a small crew that helps with production. Here, they're prepping a mother mold to create production molds for slip casting. The pieces get fired in an electric kiln in the studio.
Above: The wood-paneled bathroom retains its original fixtures.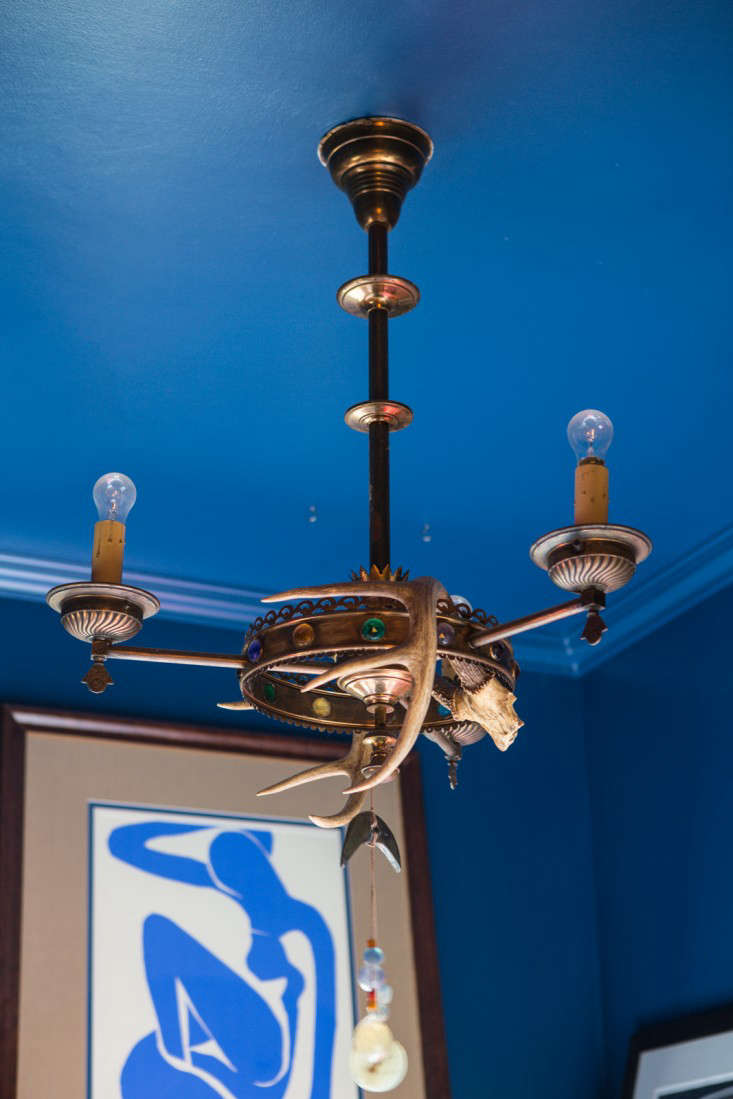 Above: The bathroom light is Moroccan, a gift that Lamb decorated with antlers–"I like to personalize lighting." The blue is a Benjamin Moore color (since forgotten) that she picked up at Home Depot. 
Above The storeroom with KL Studio products ready to ship.
Above: The stairs to her living quarters above the studio are lined with her Geo Planters.
Above: One of the best features of Lamb's setup: the courtyard surrounding the studio. It's furnished with indoor-outdoor pieces, including an octagonal ottoman designed  by Lamb. To see more of her work, go to Kelly Lamb.
Don't miss our tour of Lamb's house: High on a Hill in LA, as well as our post on LA's General Store, which carries her ceramics line. For more Planters, have a look at Gardenista. 
You need to login or register to view and manage your bookmarks.