Our judges have selected the finalists, now you choose the winners. Vote for the finalists in each of 12 Considered Design Awards categories, on both
In the Best Amateur Living/Dining room category, our five finalists are Osnat Gad, John Ferguson, Brigitte Gfeller, Taliah Lowry, and Kitty Jacobs.
Project 1
Kitty Jacobs | Sheffield, MA | Gallery and Living Space
Design Statement: "A vernacular barn form houses both a gracious contemporary home and an American folk art gallery in the Berkshires of Massachusetts. We designed the building to meld our business, selling museum-quality folk art, with our penchant for informal entertaining." Photography by Allan Baillie.
Chosen by: Remodelista editor in chief Julie Carlson, who said: "A wonderful, expansive living space to showcase art. I admire the way this couple has seamlessly combined their life and work–and also incorporated the vast surrounding landscape into their design."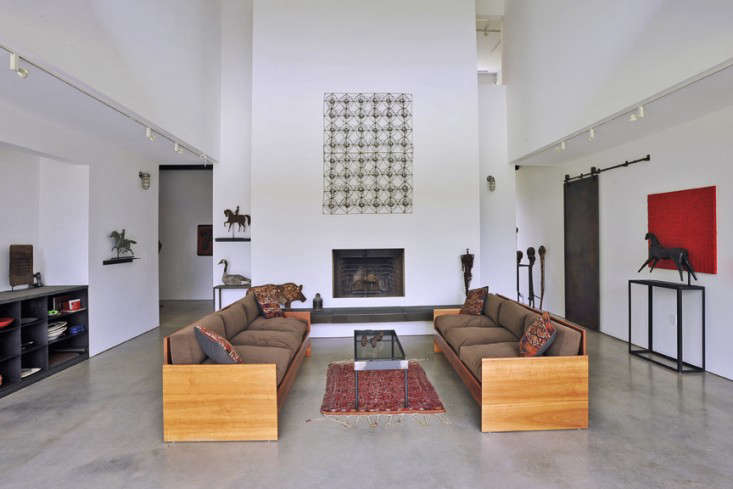 Above: "Early bedsprings hang above the fireplace. Folk art graces the living room and adjacent dedicated galleries."
Above: "All the furniture is solid cherry upholstered with Holly Hunt fabric."
Above: "The sofas, steel cubbies, and dining table were all designed by the owners and crafted by local artisans."
Above: "The living room/gallery overlooks a bluestone terrace and wildflower meadow. Radiant heating is installed under the cement floor of the two-story space."
---
Project 2
Brigitte Gfeller | Hudson, NY | Living/Dining Room
Design Statement: "This 1800s Italianate Victorian was carefully renovated with harmony, tranquillity, and balance in mind. Old details include beautiful woodwork and a functional pocket door. New additions include waxed oak floors, new ceilings, and a Morso woodstove on an inlaid tempered glass plate. New wooden windows keep the old charm and add insulation."
Chosen by: Julie Carlson, who had this to say about the project: "Rustic and tranquil without veering into quaint territory. The placid palette and repeating wooden elements play a lovely duet."
Above: "The dining room has an old farm table, new schoolhouse-style chairs, and a Workstead chandelier."
Above: "An old African wood door rests on the mantel."
Above: "The Morso woodstove and built-in bookshelves in the living room."
Above: "Organic goose-down sofa and Workstead lamps."
---
Project 3
John Ferguson | New York, NY | Living Room
Design Statement: "I just buy what I like, trying for the most part to avoid recognizable design icons (no Eames!)."
Chosen by: Guest judge and designer Estee Stanley, who said: "This home feels very cohesive and well thought-out. It's not all over the place. It's simple and elegant."
Above: "I am a big fan of Brazilian midcentury design–and Paul McCobb."
Above: "The view from the sofa."
Above: "Every house should have a cactus (this one is a Euphorbia)."
Above: "Around the corner, one of my wife's many desks."
---
Project 4
Taliah Lowry | Maui, HI | Magnolia
Design Statement: "Home sweet home. A mix of many styles that I love–beachy, modern, eclectic with a twist. Outdoor/indoor living at its best."
Chosen by: Estee Stanley, who said, "I love the vibe of this home. It's airy and cozy but at the same time really tranquil and beautiful."
---
Project 5
Osnat Gad | Southampton, NY | House by the Lagoon
Design Statement: "I am a jewelry designer. My house was destroyed by Sandy and I built a new 3,600-square-foot home with new FEMA guidelines. The house is a modern modular home, 10 boxes and a separate garage. It is magnificent: open plan, 10-foot-tall ceilings, and windows that face the water."
Chosen by: Julie Carlson, who said: "A case for open living. To me, the pale wood floor and window wall make the space. The minimalist furnishings look like a continuation of the plantings outside."
Above: "Living room facing kitchen."
Above: "Living room fireplace."
Above: "Dining room with a view."
Above: "View from kitchen."
Found your favorite? Vote once per day in each of 12 categories across both sites, now through August 15.
(Visited 148 times, 1 visits today)