How many patterned tiles is too many? Anki Linde and Pierre Saalburg of Paris-based LSL Architects say to each his own limit—and that the couple who own this rambling Paris apartment happen to have a higher threshold than most.
These clients—she's a film director/writer, he's a writer, and they have two kids—approached the remodel of their Paris quarters with a playful spirit, and the architects responded in kind. "Each space is designed as if it has its own identity and story to tell, sometimes indifferent to each other," says Linde. And yes, tile plays a starring role, some painted monkeys, too.
Photography by Katrin Vierkant, courtesy of LSL Architects.
Linde describes the space pre-remodel as "refurbished for some banker in a sterile, cheap style," but it came with preserved "Point de Hongrie" (solid oak parquet) floors, marble fireplaces, and plaster moldings, all of which they repaired. The painting over the living room mantel is by Swedish artist Orjan Wickstrom. The reading light is from Ikea.
The monkey-patterned walls mark the entry to the kids' quarters.
The mirrored cabinet to the right conceals the fridge and other storage: "it's the place where things you don't want to look at go."
The custom shutters on the windows are a signature LSL Architects detail, with decorative cutouts to allow in light.
The sink is from Agape's Ottocento Collection and the Black Hanging Lights are by Zangra.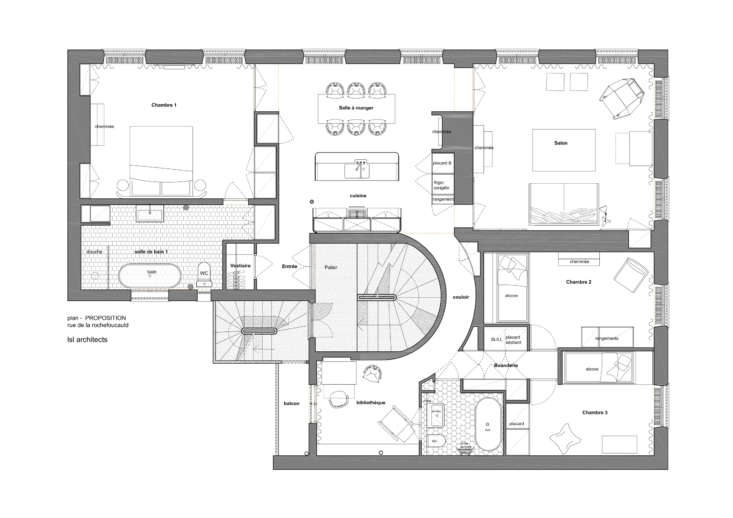 Here are three more projects by LSL Architects: