Artist/illustrator Russell Loughlan is a serial house remodeler who labels his latest project "a total impulse buy." Located on Dolphin Street in the seaside town of Deal, in Kent, England, the 1768 Georgian row house had been untouched since the 1960s. And to see his fixer-upper now, you can understand why he fell for it. But what began as a cosmetic passion project devolved: this is a tale of hidden rot, rebuilding, and blown budgets. "The moment I viewed it, I just knew I had to have it," Russell tells us. "It broke me financially and mentally, but it was worth it."
For months now, Julie and I have been watching Russell chart his renovation on Instagram @thehouseondolphinst while camping out on friends' sofas during the messiest stages. He's now enjoying the results of his work—before succumbing to his next place. Russell has a master's degree in fine art from Central St. Martins, and, since moving to Deal in 2005, he's overhauled three houses (the first also on Dolphin Street). He recently thrilled his followers by announcing the launch of his own interior design studio, The House on Dolphin Street. Russell is ready to take on commissions and also to offer color consulting and hands-on styling. Join us for a look at what he can do (and scroll to the end for a glimpse of the project as it was).
Photography courtesy of Russell Loughlan.
"I ported over a mortgage from the sale of my last property," says Russell. "It was a gamble but felt worth it as the resale would far outweigh any issues the house might have—or so I thought. I had a middle-rate survey done, but because the house was covered in layers of paneling, lino, carpets, etc., they couldn't detect the rot, and the external structure was sound." One month into the work—after the new kitchen had been installed—plumbers putting in pipes found live woodworms and crumbling rafters. "It turned out that the inside of the house was essentially a broken umbrella: there was nothing holding the rafters to anything," Russell told The Modern House offshoot Inigo. "The roof and every support, ceiling, and floor had to be replaced: our renovation budget was completely blown." Throwing in the towel didn't feel like an option—the house wasn't salable as it was, so Russell refinanced his mortgage, took out bank loans, maxed out his credit cards, and carried on.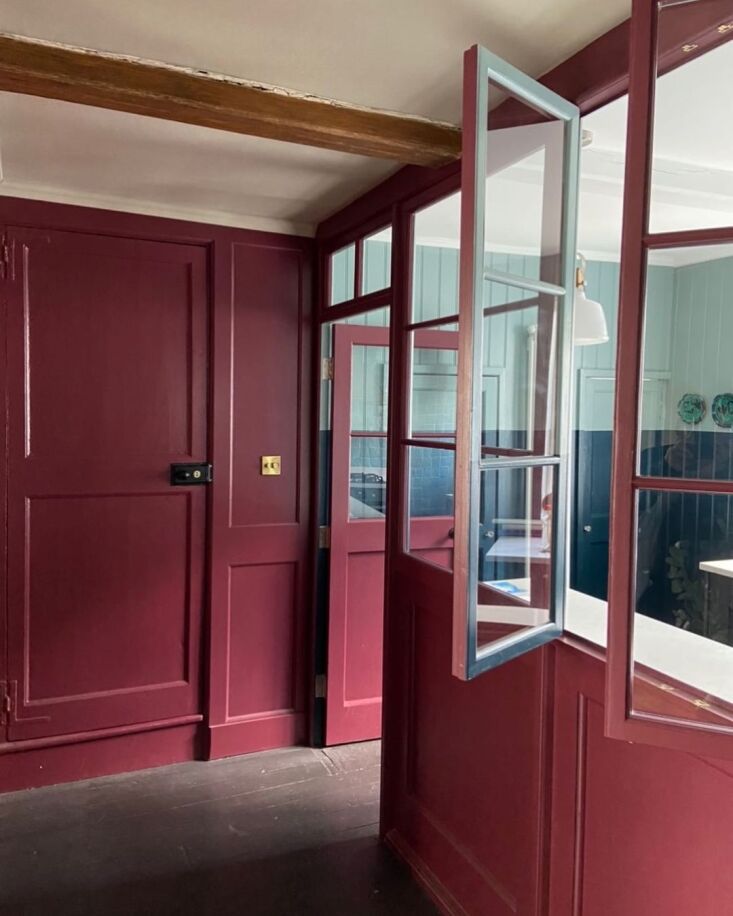 Before and In Progress
Russell says he plans to rent out the house for the holidays—and eventually to put it on the market. Stayed tuned @thehouseondolphinst.
Here are four more remodeling projects with eye-opening color palettes: