After earning an architectural interior design degree from the prestigious Inchbald School and working for two design firms in London's Chelsea, Lonika Chande felt ready to strike out on her own. What she needed was an initial solo project to show what she can do.
That commission came from Lonika's mother, Lucy Dickens, an artist (and great-great granddaughter of Charles Dickens), who dabbles in real estate: she and Lonika's stepfather had bought a one-bedroom fixer-upper in Hampstead that they wanted to overhaul as a high-end, long-term rental. The place needed a top-to-bottom renewal: scroll to the end to see the Before shots.
"Having worked on a number of projects since, it's fair to say that working with family is not the easiest," Lonika tells us. Among the challenges: having to cater to her own and her mother's perfectionist standards on a budget, select finishes that can take a beating from renters, and persuade Lucy to embrace color: "her tendency has always been to paint absolutely everything brilliant white." Being "more emotionally invested," Lonika adds, also played to both of their strengths. Join us for a look at the results.
Photography by Simon Brown, courtesy of Lonika Chande Interior Design.
The living area came with nearly 10-foot-tall ceilings and original windows that required restoring. Lucy agreed to expand her white paint palette: the walls are in "a warm and inviting but still neutral shade," says Lonika—Paper I from the Paint & Paper Library. "With no cornice, the ceiling was painted in with the walls to soften the junction between the two. The window sash bars and rails were painted in Off-Black by Farrow & Ball, not only to make them stand out, but also to highlight the pretty Victorian spindles on the balcony behind. We went for bespoke sheer roller privacy blinds set inside the recess to expose as much of the original paneled detailing on the window architrave as possible."
The furnishings are a mix of midcentury pieces Lucy already owned and antiques Lonika tracked down at good prices. The sofa cushions are made from vintage Kuba cloth: "as an artist, visual texture is extremely important to Lucy," says Lonika.
The fridge and pantry are concealed in the tall cupboard to the left of the sink. The counters are in durable, stain-resistant Carrara quartzite, "just as expensive as marble, so not a cost-saving exercise but a practical detail." The peninsula configuration, Lonika explains, "allowed for some additional base cabinet space, enabling us to get a full-size washing machine and dishwasher in. We also wanted to keep an open feel, and so restricted the upper wall cabinets, and needed to make up the space elsewhere. I worked through a few layouts and this was the best solution."
"We spent a lot on the build and getting the bones of the property right, with good-quality flooring, tiles, and other fittings," says Lonika. "Things like the ironmongery and the new doors were expensive. This meant that we had a tighter budget for the soft furnishings."
Before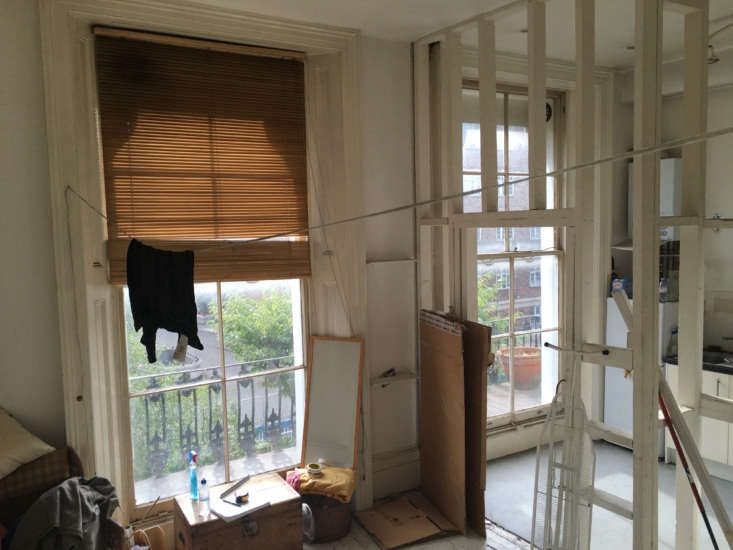 Here are three more inspired apartment remodels from around the world: