Two years ago, when Swantje Hinrichsen and her boyfriend decided to move in together, they found a 1928 brick house in her boyfriend's hometown of Münster, Germany, where he works as a schoolteacher. Built for a shipping company manager, the structure had high ceilings, French doors, and plenty of space for the two of them—but it lacked a kitchen.
Fortunately, Swantje's beau happened to have installed a freestanding Ikea kitchen 10 years earlier in his previous place, so they took all of his kitchen parts with them, appliances included. Swantje, an illustrator and graphic designer, figured out what should go where—"the components miraculously fit in our new space"—and then added artful touches, such as a pegboard on the side of the fridge and a well-propped display shelf, that elevate the design from secondhand to inspired.
We discovered her kitchen a while back on Instagram (@swantjeundfrieda); many Likes later, she agreed to share it with us.
Photography by Swantje Hinrichsen.
The dining table's enamelware pitcher is the Sockerärt Vase, one of our favorite Ikea staples (it comes in two sizes, starting at $9.99).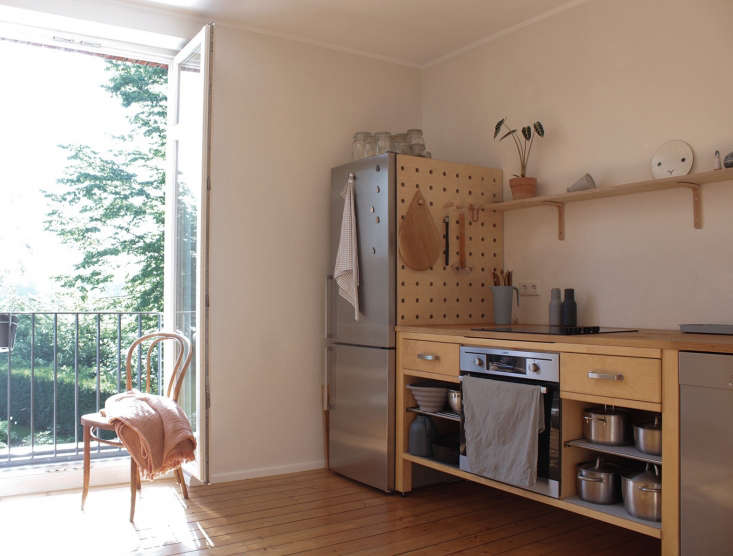 Ikea's Värde system, sadly, has been mostly discontinued, but shelf units, such as this one, can be sourced on eBay from sellers in Europe.
She introduced the pegboard to hide a gap behind the fridge because it wasn't deep enough to meet the wall. After admiring birch plywood pegboards online, including Kreisdesign's Peg-it-all design, Swantje got out her tools and took the DIY route.
The couple built their over-the-counter shelf using hardware store bentwood brackets; find something similar from Etsy seller
Claymark Furniture
, and also consider our friend
@Myles.Henry.Tipley
's source: wooden 
shelf brackets
and
rails
from, Talic, which started off supplying storage for kayaks and is now branching out).
Learn about peg rails and find sources in our
Object Lessons
post, and if you're yet to be a convert, read Christine's
Remodeling 101: How Shaker Peg Rails Saves My Sanity
.
Here are three more artful Ikea kitchens:
(Visited 1,797 times, 5 visits today)