Our friend Jamie Rosenthal, owner of Lost & Found in LA, tipped us off to the work of interior designer Frances Merrill of Reath Design. Merrill, who lived in Greenwich Village, NY, before moving to Los Angeles, works with vintage furniture, bohemian fabrics, and isn't afraid of color or pattern. Here's a look at the vibrant bedroom with a list of key sources straight from Merrill.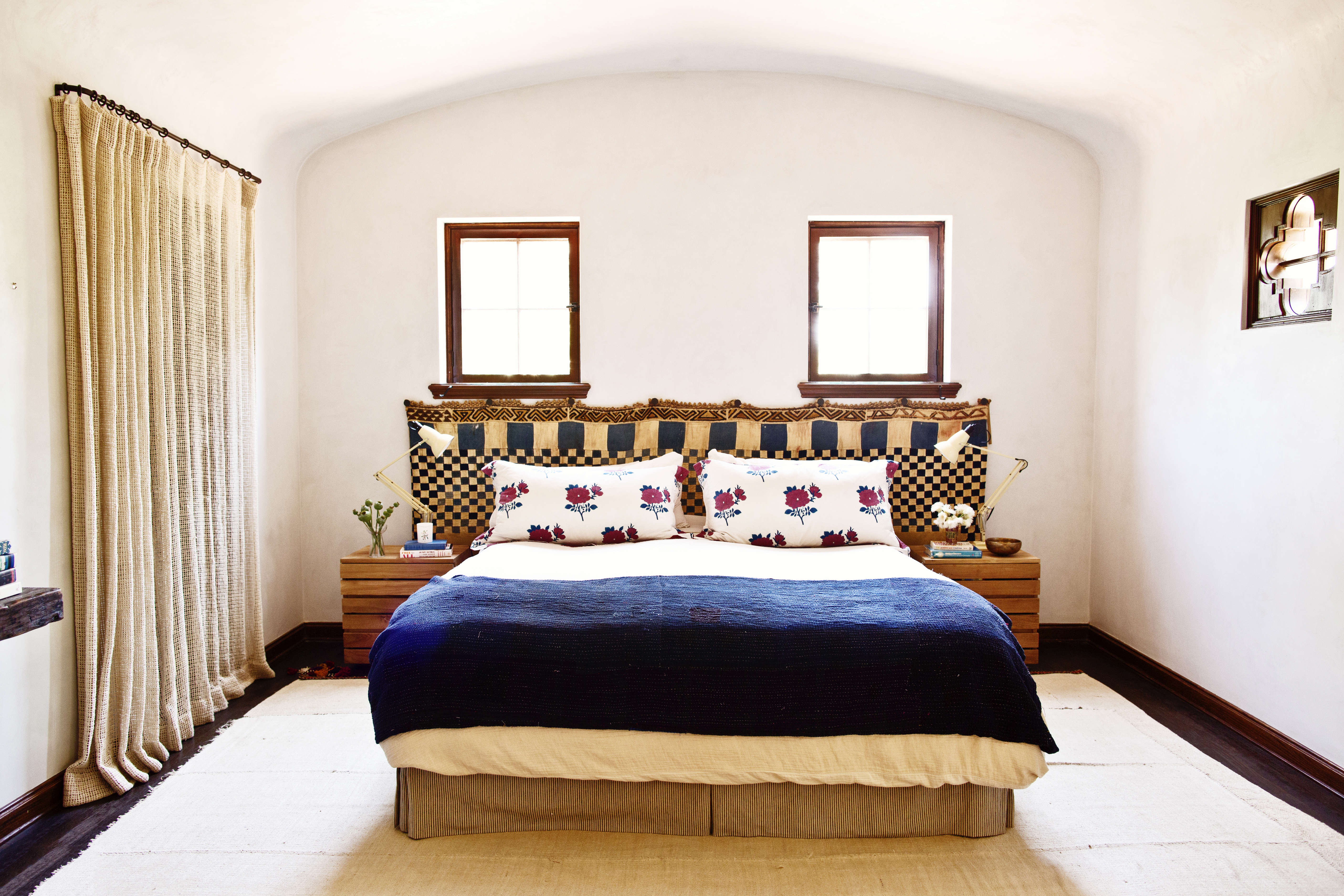 Above: "This bedroom was for one of my favorite clients," says Merrill. "Her children were getting older and she suddenly found herself with the occasional hour to read a book in her bedroom. I really relished creating that space for her."
Above: "The first thing we did was change the color of the plaster from yellow to a pale gray/cream and then layered all my favorite textures, textiles, and designers," she says.
Above: The daybed is by Reath Design; it's upholstered in Pindler Tesoro Velvet Fabric.
Above: A wooden stool by Alma Allen is paired with the clients' own artwork and vintage leather chair.
Furniture
Above: The Console can be custom-made in oak, walnut, mahogany, or alder with various levels of distressing from Dos Gallos in LA. Contact Dos Gallos for pricing and more information.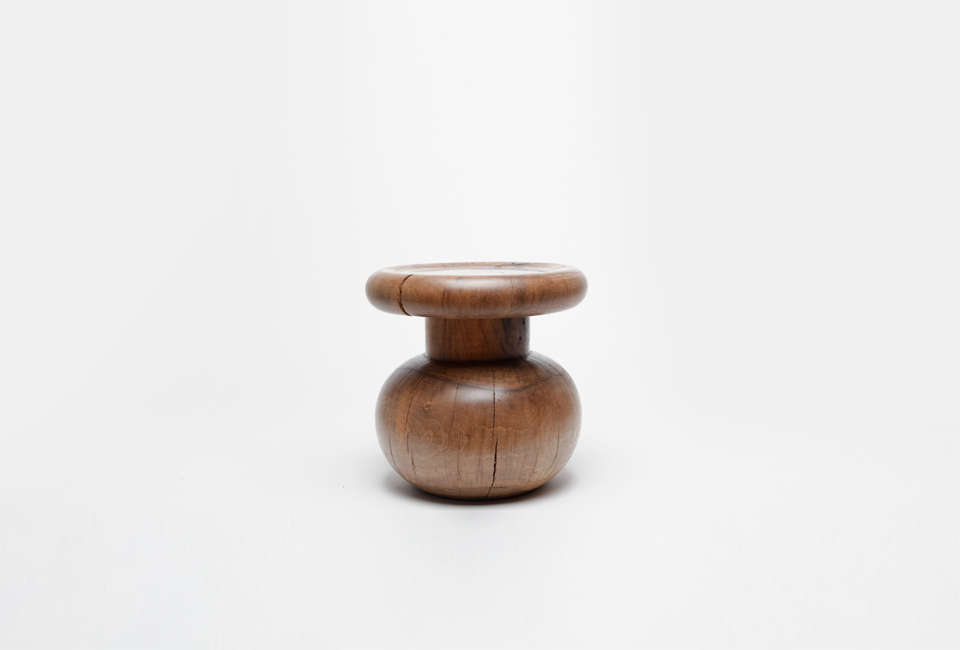 Above: A wood stool by artist Alma Allen sits in the bedroom (N.B.: Allen has a show in New York at Blum & Poe through October 29).
Above: The Ethnicraft Teak Horizon Nightstands are from Lekker Home; $900 each.
Above: The coffee table is the Symi Coffee Table in copper with a mirrored surface from Casamidy.
Lighting
Above: Lighting the bedroom is the Noguchi 15A Akari Pendant Light; $475 at Surrounding.
Above: The Gubi Grasshopper Floor Lamp in black is $899.
Above: The Anglepoise Original 1227 Desk Light in Ivory Cream is $285 at Horne.
Bedding
Above: The Pillow Shams ($75 each) and Duvet Cover ($327) in off-white are from the Mesh collection at Matteo in Los Angeles.
Above: The pillow shams were made custom from a Muriel Brandolini fabric. "I love the interplay of the African textile with the floral pillows and striped bedskirt," says Merrill. Shown here are two Muriel Brandolini fabric designs printed on a white background.
Above: The Ethiopian Throw Blanket in indigo-dyed cotton is $198 at Lost & Found in LA.
Above: The custom ticking bedskirt was designed in fabric from Clarence House; their OD Fontainebleau Fabric is a similar style.
Textiles
Above: The bed is a custom wall-hung headboard upholstered in African Kuba cloth from Lawrence of La Brea. Shown here is a Kuba Cloth woven in raffia for £50 ($64) at Kuba Cloth in the UK. You can also find vintage Kuba textiles on eBay.
Above: The net curtains were made from Pindler Diedre Fabric, a net drapery fabric available in a range of neutral colors. Contact Pindler for pricing and availability.
Above: Merrill sourced the vintage rug from Lawrence of La Brea. A similar style is the 8-by-10-foot Beige Wool Kilim Rug for $2,000.
Above: The custom daybed is covered in pillows made from new and antique textiles from Pat McGann Gallery in Los Angeles and Peter Dunham. Shown here is a Vintage Nuristan Afghani Pillow for $995 from Pat McGann on 1st Dibs.
Above: For a modern take on traditional pattern, Peter Dunham's Tangiers Indigo Lumbar Pillow is $285 at Hollywood at Home.
Accessories
Above: The Sourire Small Vase in Vichy Grey from En Soie is $195. For more on the designers, see En Soie: A Whimsical Home Goods Company Lands in LA.
For more bedrooms with style to steal, see our posts:
(Visited 908 times, 1 visits today)