Yesterday we featured the Montauk beach house of Elisa Restrepo, cofounder of shoe label Dieppa Restrepo, and Dylan Dodd, a Brooklyn restaurateur who worked with architects Space Exploration on the remodel. The bedroom on the middle floor is a bright, all-white canvas that Elisa and Dylan outfitted with artwork by friends and textiles from their travels through Mexico and Morocco. Here we've sourced some similar elements to re-create the bohemian beach bedroom.
Above: The vibe: Neutrals layered on neutrals, set against a backdrop of bright white walls and bleached wide-planked red oak. (Read more about the remodel in our post The Simple Life: A Montauk Beach House for a Creative Couple.)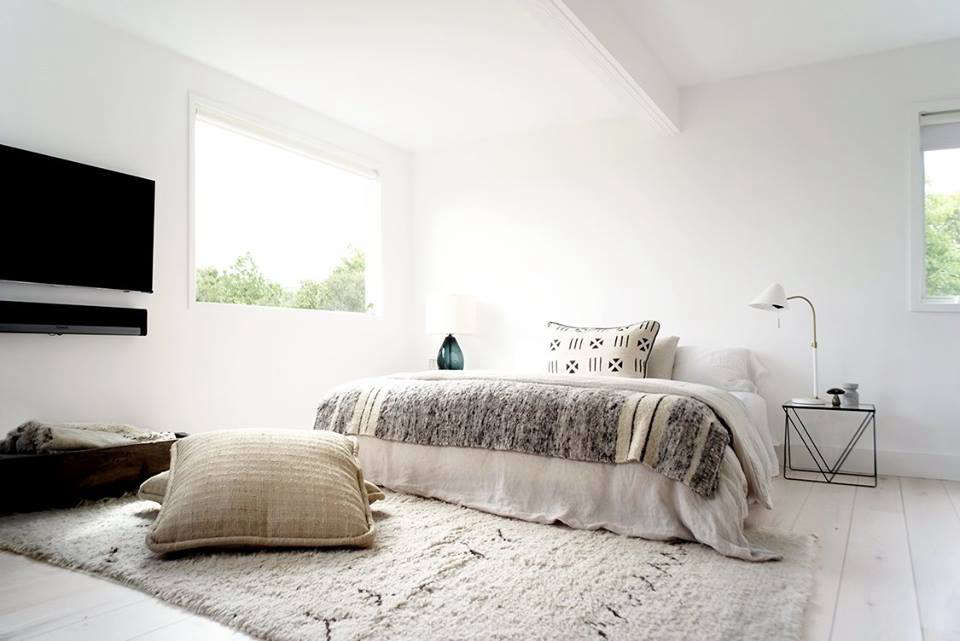 Above: On a trip to Morocco, Elisa shipped back dozens of rugs, blankets, and pillows, filling the house's three floors with woven textures.
Above: Other than the bed and small side table, a midcentury sideboard is the only furniture in the spare bedroom.
The Essentials
Above: The house is painted in Benjamin Moore's Super White paint; $37.99 for a gallon of Ben Interior paint.
Above: Designer Eric Trine's wire frame Octahedron Side Table in black is currently on sale for $200.
Above: West Elm's Heston Mid-Century 7-Drawer Dresser in Walnut is $1,199.
Lighting
Above, L to R: Ochre's Cherub Medio and Cherub Glass Table Lamps are available from Ochre.
Above: West Elm's Taper Classic Lamp Shade in white is currently on sale for $29.99.
Above: West Elm's Mid-Century Task Table Lamp in white is $159.
Softwear
Above: Silk Tussah Pillows from fashion brand Electric Feathers are soon available online and are $170 for a 14-inch pillow or $552 for the 30-inch floor pillow. Contact Electric Feathers for custom orders.
Above: In Bed's Linen Fitted Sheet in white is $165 and a Set of Linen Pillowslips is $85.
Above: In Bed's Linen Duvet Cover in white is $275 for the queen size.
Above: A 5-by-10-foot Vintage Beni Ourain is $6,600 at Nazmiyal Collection. A host of vintage Beni Ourain carpets are also available at Breuckelen Berber.
Accessories
Above: From weaver Justine Ashbee's company, Native Line, the Silver Thunder Being Wall Hanging is made of metallic thread, waxed linen, and cotton; $550.
Above: The Elba Vase in light gray is $21 from Canvas.
Above: Ceramicist Paula Greif's Tall Brown Stoneware Bottle is coming soon to her online shop. For more, see our posts Living Above the Shop and The Handmade Kitchen.
Above: The Fog Linen Wire Market Basket is available at Tea & Cake for £20 ($26). It's also at the Dwell Store on sale for $19.99.
Above: Koray Ozgen's Borne Doorstop from ODC Paris is on view in the bedroom (contact ODC for updates). A similar doorstop is the Loop Concrete Door Stopper for $30 on Etsy.
Redesigning a bedroom? See more in our posts:
You need to login or register to view and manage your bookmarks.