Ayelet Waldman and Michael Chabon, Berkeley's first couple of letters, took us on a tour of their recently spruced-up craftsman's cottage not long ago. Today we're deconstructing their calm, no-drama bedroom.
We're also offering Remodelista readers a shot at winning a signed copy of Ayelet's new novel, Love and Treasure (praised by the NY Times for its  "admirable narrative velocity" and "descriptive panache"). Here's how to triumph: Tell us in the comments section whether you agree with Ayelet or with Michael on the matter of bookshelf organization. "Michael wants to organize our books by color, of all lunatic ideas," she says. "I believe in pure alphabetizing." Whose side are you on, and why? Let us know in the comments section and Ayelet will pick three winners (we'll email the winners next Tuesday, May 13). Have at it!
Photos of Ayelet and Michael's bedroom by Aya Brackett.
Above: "Blue is totally my jam right now," Ayelet says. "I wanted the bedroom to be cool and comfortable" (this from a woman who has been called "delightfully unfiltered" (NY Observer) and a "lifestyle controversialist" (Gawker). Ayelet worked with her friend Sarah Reid on the design.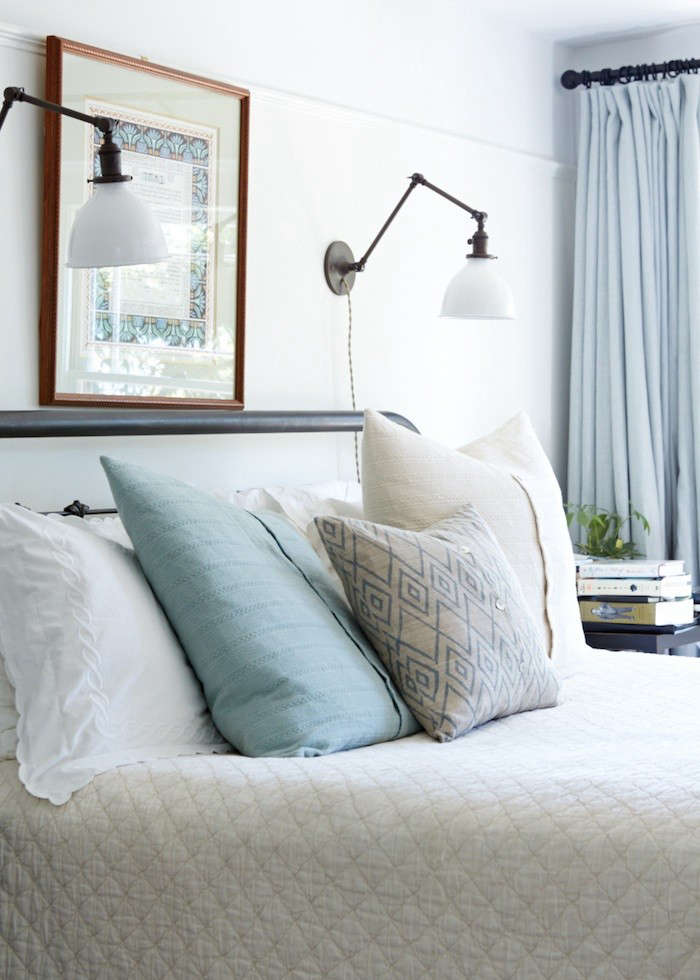 Above: Lots of late-night reading goes on in the Waldman/Chabon house, so bedtime illumination is important.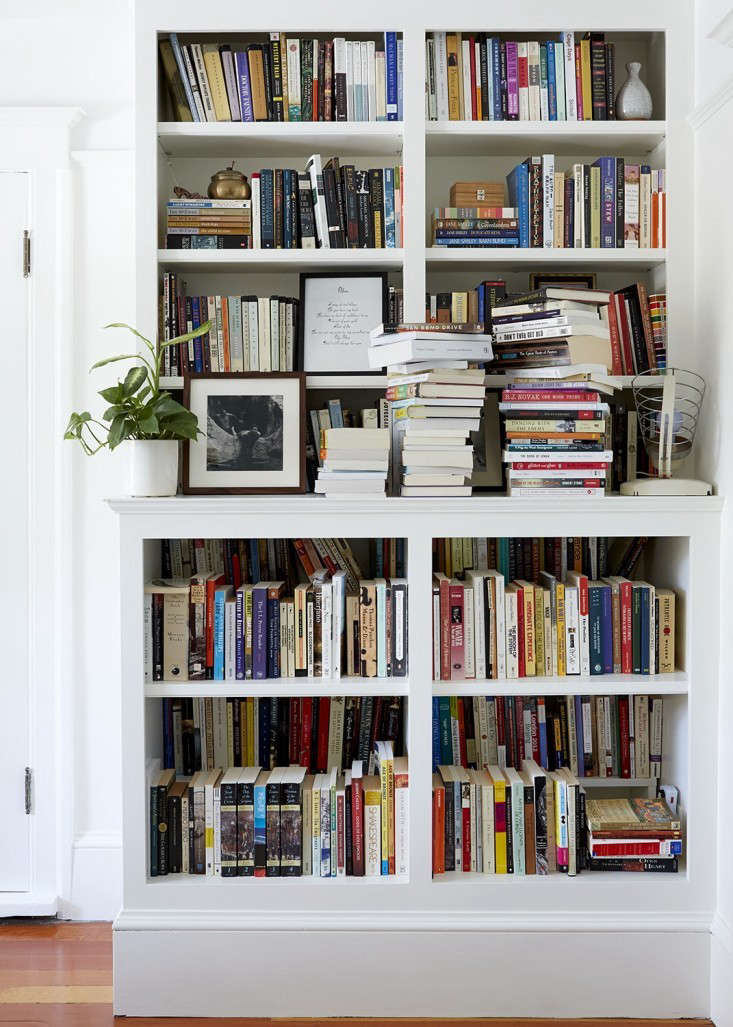 Above: Ayelet and Michael spec'ed custom-built two-tiered bookshelves with risers to allow for an accessible back row.
Above: A giant fan from Big Ass keeps the room cool in the summer and warm in the winter.
The Essentials
Above: Walls are painted in an off-white shade from Benjamin Moore called Cotton Balls.
Above: The rubbed iron Industrial Pipe Adjustable Rod from West Elm is a good choice if you're going for the white bedroom/black hardware look; prices start at $69 for the 28-to-48-inch size (Gunmetal Curtain Rings are $14 for a set of seven).  
Above: The Black Porcelain Doorknob is $35 from Rejuvenation (for more ideas, see 10 Easy Pieces: Simple Doorknobs and Classic Black Doorknobs).
The Furniture
Above: The Dutch Industrial Bed (without footboard) is $850 from Restoration Hardware. For a similar iron headboard, consider the Kensington Iron Bed from East Bay company Benecia Foundry & Iron Works (call for pricing and ordering information). Charles P. Rogers also offers a couple of facsimiles: The queen-sized Cottage Headboard is $599 and the queen-sized Leighton Headboard is $699.
Above: "I'm insane for my European Sleep Works mattress," Ayelet says (prices start at $1,600 for a Queen Latex Classic). See our choices in 10 Easy Pieces: Editor's Favorite Mattresses (European Sleep Works makes the list).
Above: The Princeton Senior Sconce from Schoolhouse Electric is $209 (Ayelet and Michael's are from Belgian company Chehoma but they're no longer available).
Above: The Haiku Ceiling Fan with bamboo blades and white powder-coated hardware is from Big Ass Fans; prices start at $995.
The Software
Above: "I have a sheet fetish," Ayelet says. "My favorites are Sferra Diamante Sateen Sheets. They are horrifically expensive. I bought mine 20 years ago and carefully mend them by hand when they fray. I plan to die on those sheets when I am 97."
Above: The custom-sewn curtains (with blackout linings) by Teal Major of Slips in Berkeley are made from Fabricut's Visitor linen blend in Opal; go to Fabricut for ordering information.
Above: The queen-sized, organic cotton Swiss Dot Quilt by Coyuchi is $390.
Above: The gray 100 percent wool Tourne Blanket with Natural Stripe is $245 from Brook Farm General Store.
Above: Ayelet's one-of-a-kind overdyed rug is from ABC Carpet's Color Reform Collection; see a selection here. For something similar, consider the 8-by-5-foot Vintage Colorwash Rug from Restoration Hardware; $3,995.
Curious to see the rest of the house? Go to The Mysteries of Berkeley: A Literary Couple at Home. And for more Berkeley, have a look at Gardenista's tour of Cookbook Author Molly Katzen's Edible Garden.
(Visited 118 times, 1 visits today)