Located in the medieval citadel of Rye in East Sussex is St. John Rye, a detached house remodeled from a former ambulance station. The building sits back from the steep cobbles of Conduit Hill, sharing a courtyard with an elegant, listed Georgian building. Its unfamiliar appearance caught the eye of owner Marta Nowicka six years ago. Nowicka, an interior architect, had been visiting the town for 20 years. "I fell in love with the atmosphere, its medieval streets, stone and timber warehouses," she recalls. She had been living nearby in a cottage on Camber Sands beach, waiting for something "wildly interesting and challenging" to come up in Rye. Sure enough, it did (and now it's available for rent).
Join us for a look.
"As it was a former ambulance station, the ground floor was very spacious and the roof spaces had quirky attic-like rooms," explains Nowicka. "It had this perfect spatial juxtaposition, plus it required a total refurbishment as it had not been touched since the 1970s."
Nowicka purchased the property in 2013, but the project was beset by hurdles from the beginning: She was faced with the stringent planning laws of a conservation area, neighbors objected to her plans, and town planners refused permission to enlarge the footprint of the original building. The project took six years in total and recently won an Architects' Journal Retrofit Award for 2018.
Original materials were repurposed throughout wherever possible. "The old existing roof was made water-tight, saving all the original tiles, including the moss that was growing on it," explains Nowicka. From nearby Condiut Hill, the juxtaposition of weathered red brick and clay with flush, aluminum windows gives the onlooker a sense that something interesting is happening inside.
In the kitchen, cabinets were made from sand-blasted greyed timber. The worktops and backsplash are Carrara marble, whilst the brushed stainless-steel kitchen island is intended to reference the medical industry.
Strong, architectural shapes and white walls are to be found in the bedrooms upstairs, where the interiors continue to reference the building's medical history. Stainless steel accents appear throughout: there is a nurse's trolley in the family bathroom, and even a repurposed cadaver bench used as a dressing table in the master bedroom.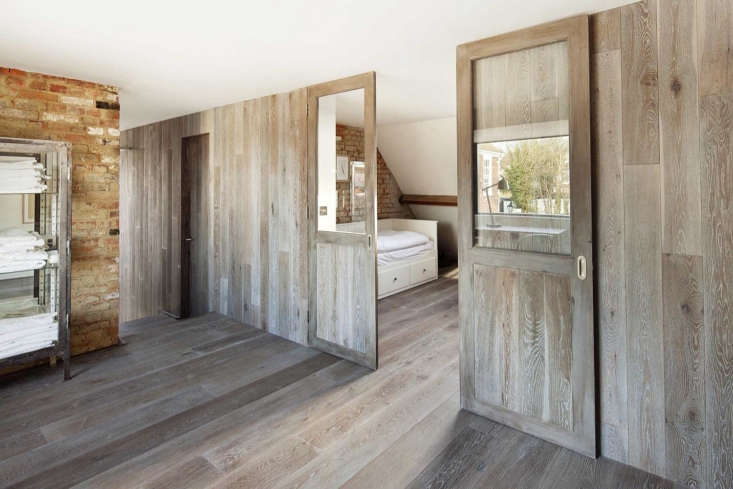 Above L: The cadaver bench, now a dressing table. Above L: The nurse's trolley, repurposed as bathroom vanity.
Before
See more remodels with slightly sinister histories here:
You need to login or register to view and manage your bookmarks.