Lying in bed in what Brendan Ravenhill calls his "seasonal cave," you can see the stars and watch the fireflies in July and the meteor showers in August. During the year, Ravenhill runs a busy design studio in LA specializing in minimalist, handmade lighting that is a longtime Remodelista favorite (see, for instance, A Study in Industrial Elegance). In the summer, Ravenhill and his wife and their young son relocate across the country to Islesford, on Little Cranberry Island in Maine, where he has been summering since he was a little cranberry.
These stays have been "ideas incubators" says Ravenhill: learning to build wooden boats in Maine—and with his siblings founding Islesford Boatworks, a non-profit boatbuilding school—led him to get a masters in industrial design from RISD and then launch his LA workshop. During the start of the pandemic, Ravenhill created a Floating Sauna accessible only by boat and open to the Islesford community. Today, we're taking a look at another of Ravenhill's summer projects, a sleeping porch on the forested edge of the old ice pond on his family's property.
Photography courtesy of Ravenhill Studio.
The name is a nod to plans of Ravenhill's late father's that never came to fruition—a Smithsonian Museum chief curator, his father had wanted to build a teahouse, Ravenhill says, "as a thank you gift to the couple who sold us the land. They had imagined that the banks of the ice pond would be a lovely place to have a spot of tea at this midway point between our two houses. It's now a way to remember my father and people who enabled us to be here."
Ravenhill says the design was inspired not only by teahouses but by local sugar shacks, for boiling sap into maple syrup, and by the "sky spaces" of artist James Turrell, hence the large screened-in skylight, which has a retractable cover. The bed is a down mattress pad on a Japanese tatami mat with a simple angled pine headboard and side tables made from the construction scraps. The quilt is by Block Shop.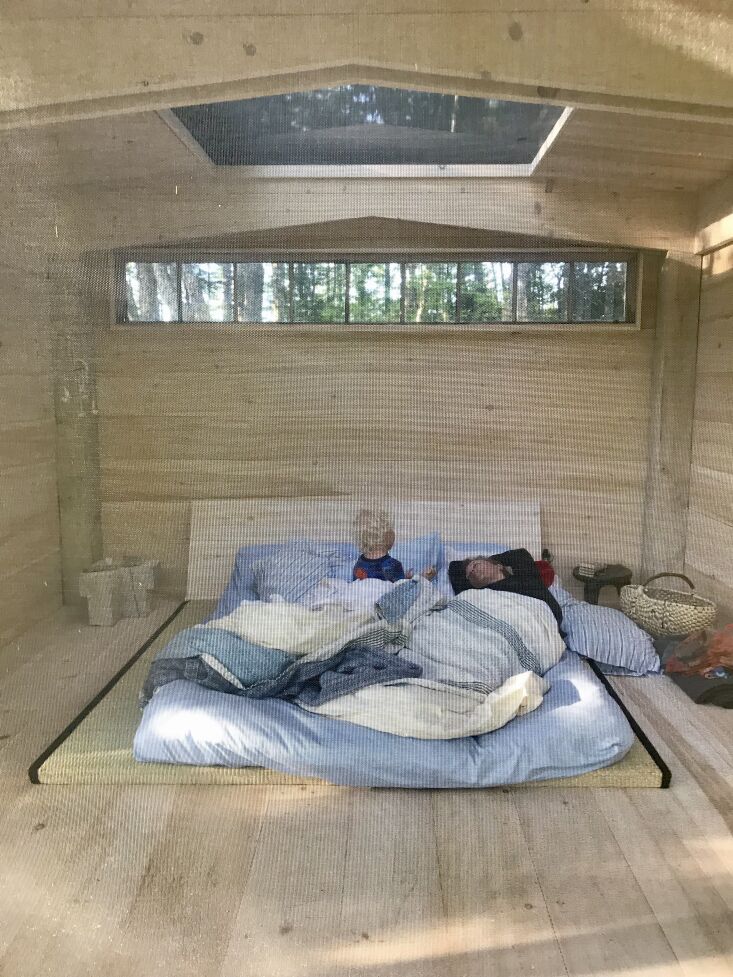 N.B. We're featuring Maine homes, destinations, and design details all week to celebrate the release of our new book, Remodelista in Maine.
For more simple summer quarters, see:
(Visited 1,644 times, 1 visits today)