The next big thing in retail (we hope)? Zero-waste stores equipped with refill stations to minimize single-use plastic containers. We've already written about Lauren Singer's Package Free Shop in Brooklyn. And now we have another buy-in-bulk store to add to our growing list: The Soap Dispensary, the first of its kind in Vancouver, Canada.
Husband and wife Linh Truoung and Stewart Lampe opened the Soap Dispensary in 2011, stocking eco-friendly products like natural toothbrushes (with bamboo or wooden handles), reusable feminine hygiene products, and liquid soaps and cleaners for refill. The concept is simple: Bring your own containers, and their staff will refill them with as much or as little as you need. (See Expert Advice: 8 Eco-Friendly Beauty Resolutions to Make This Year (Plus a 2-Ingredient DIY Salve) for Linh's tips on a more sustainable beauty routine.)
Recently, architects Susan and David Scott, of Scott & Scott Architects, brought news of the couple's latest venture: In November, they expanded into the adjacent storefront to open Kitchen Staples, which sells dry, fresh, and frozen foods in bulk. (Think: nuts and seeds, beans and legumes, cooking oils, dried fruit, grains, and more.)
The Scotts, who live and work around the corner from the Soap Dispensary and Kitchen Staples, designed the new light-filled store. They've been going to the shop for years: "It's quite busy on the weekends as a destination," says David. "We'll stop in during the day when we are around in the neighborhood; our daughters love the pierogies. We refill olive oil, vinegar, maple syrup and other regularly used items from the shop," he says.
Naturally, they designed the new space with sustainability in mind. Let's take a tour of Kitchen Staples, a slim gem of a store.
Photography courtesy of Scott & Scott Architects unless otherwise noted.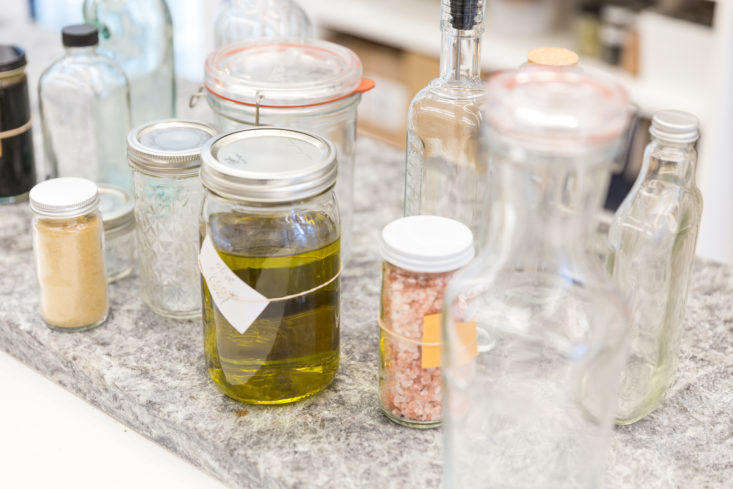 For more on zero-waste living, see:
(Visited 215 times, 1 visits today)