I fortuitously was in Los Angeles when René Holguin, owner of LA cult clothing and leather goods shop RTH, opened his second outpost, RTH Shop 2. While the first store is very much a modern trading post inspired by the "traveling American," the second represents René's creative mind unleashed. As he explains, "Every artist has their board or wall of ideas, and the whole concept for RTH Shop 2 was for it to be an inspiration wall that comes to life." To that end René, a clothing designer and master of merchandising, has brought together a mix of photography, art objects, ceramics, and drawings with his own clothing in the backdrop. He explains, "I didn't want our product to take over, it's the artists I want to be featured." The result is a very personal and passionate combination that makes the store feel like more than the sum of its parts.
If you're looking to get your hands on some of RTH's signature drop-crotch trousers and other pieces from the line, you'll need to visit the store in person–the shops are just a few doors away from each other on La Cienega. An online store is in the works but not open yet–stay tuned at RTH. In the meantime, check out the RTH video shot at Arcosanti in Arizona by Jay Carroll for the first RTH lookbook.
Photography by Michael A. Muller for Remodelista.
Above: A look at RTH Shop 2's richly layered mix of drawings, tapestries, beads, and other of René's finds. The pile of rugs stacked beneath the table are vintage Persian, Turkish, and Afghan designs. The round chair of saddle leather is by Garza Marfa. 
Above: Pillows and throws made from vintage textiles on a chair by Environment. RTH ponchos hang in the background.  
Above: A South American palo santo stick burns in the store and has become Shop 2's signature scent (Shop 1 smells like American cedar). The one-off ceramic pieces are by sculptor Mitsuko Ikeno, who splits her time between LA and Alaska. 
Above: René Holguin in an RTH Four-Pocket Shirt stands in front of a large drawing that London artist Tom "Birdman" Webb made for the RTH opening. René discovered Webb via Instagram and explains, "I loved his work and spirit, so we asked him to come to LA and create some pieces. The experience was wonderful for all of us. He's now part of the family."
Above: Around René's neck are pieces he has worn forever. As he tells us, "These are my stories. The leather feather I made over ten years ago; I've had to mend it many times. All the other items are gifts I've received or things I've found in my travels. Every one of them has a story and is a reminder of a person or a place. The most special one is my dog's tag. After she died I took her tag and put it on my necklace. Every once in a while, it jingles just right and I have to look around because I think she's nearby. Maybe she is. I like to think she stops by to check in on me."
Above: The cedar stools were custom-made for RTH and are available to order. The photography throughout the store is by René's good friend Jay Carroll of One Trip Pass and is from his Residents series shot in Arcosanti with RTH.
Above: The cedar screens with leather hinges, like the stools, were locally made for the store. René specifically left the wood raw to let it take on its own patina and weather in the same way that leather and blue jeans wear with age. 
Above: Rows of string lights on the ceiling feature different sized bulbs and wattages. The large ceramic pots are by Mitsuko Ikeno and were inspired by a small sake glass that René asked her to make bigger. Ikeno created one huge piece that was so well received, she made more. Each is its own organic design with a glaze that she says depends more on her mood than any formula, and takes on a life of its own. 
Above: A group of wood-carved peace signs peeks out among the display cases of jewelry. René is always on the lookout for small collections at estate sales and in his travels.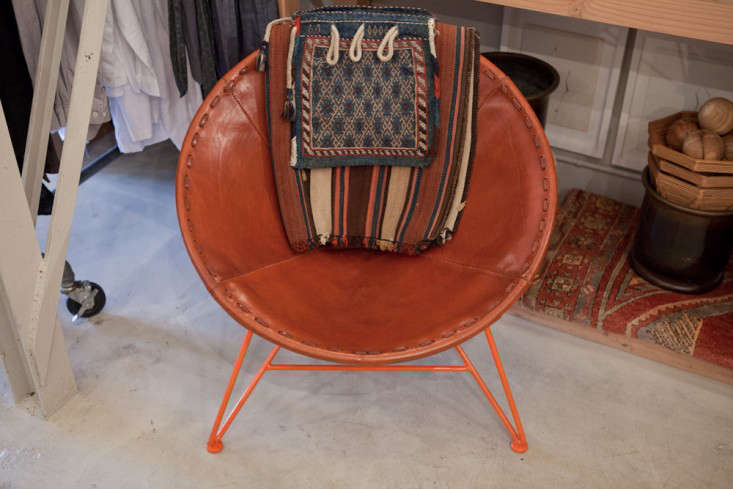 Above: The striped blanket-rug on the Garza Marfa chair looks Native American but is actually Persian.  
Above: A second large-format drawing that Tom Webb created for the store.
For more, see our original Shopper's Diary on RTH. Also have a look at our posts on Garza Marfa and Environment Furniture's Slow Design. And for more of Jay Carroll's work, see the piece he shot for us on June Taylor, Queen of Preserves.
RTH Shop 2 is located at 529 N. La Cienega Boulevard, a few doors away from the original RTH at 537 N. La Cienega Boulevard.
(Visited 19 times, 1 visits today)