When His Royal Highness The Prince of Wales visited Northern California several years ago, he stayed at Manka's Inverness Lodge. For breakfast, owner Margaret Grad had procured June Taylor's preserves and marmalades (the best around). They were at first refused by the butler (who travels with the Prince's breakfast), but when pressed, he took some. The next day there was a request for more—that's how good they are.
Like the Prince, June is an avid gardener and believes in sourcing what can be found locally. As she explains, "In the UK, preserving was for survival, it's how fruit cheeses became the original preserve and how fruit leather came about in the US. You preserve what's around you. That's why we cherish the fantastic regional foods that exist around the world, like Italian aperitifs made with wild mountain herbs. I use that same inspiration and spirituality with my work, foraging wild fennel from the local park and bringing back pine needles and cones from a hike. It's urban food with a connection to the land."
To order her jams, syrups, and marmalades online, go to June Taylor (and click here for a list of retailers; interestingly, her preserves are very popular in Japan). You can also pay a visit to her Still Room in Berkeley, CA, open weekdays from 11am to 4pm and on weekends by appointment.
Photography by Jay Carroll for Remodelista.
Above: June Taylor in her Still Room. In the heyday of British cuisine in the 1600s and 1700s, the still room was run by a woman and was always separate from the kitchen, which was for day-to-day food and was overseen by a man. The still room was for preserving, specialty baking, medicine, and anything to do with the gardens and orchards.
Above: The entrance to the Still Room shop. On the table is a cherry pitter made by a friend.
Above: Grapefruit peel being prepped (L). June uses the whole fruit, so there is zero waste, with flesh and peel for the marmalade, seeds and membranes used for pectin, and the tops and tails for candied fruit.
Above: Candied peel drying on a rack.
Above: Jars of preserves, conserves, and marmalades housed in a cabinet from the Midwest.
Above: Two jars of candied peels with fruit cheeses displayed in front.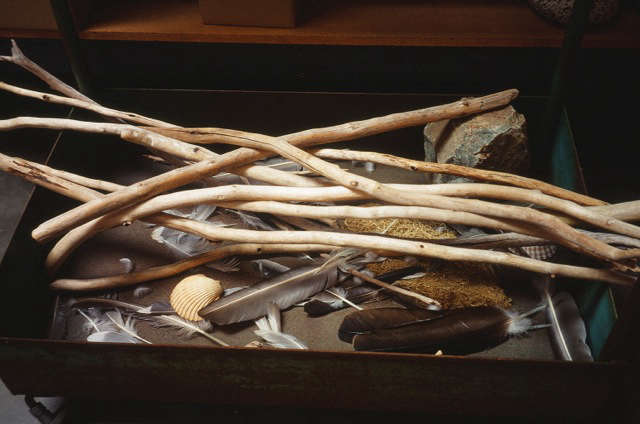 Above: June, who grew up near the woods and had her own nature collections as a child, is still an avid collector of found objects. As she notes, "basically rocks, sticks, and birds nests."
Above: A selection of syrups from the display. The letter-pressed labels are based graphically on the Book of Kells.
Above: The office area with labels ready for packaging.
Above: The Still Room is located in a former electrical company. June created a simple space with the kitchen as the hub and a small space in the front for her shop. She added an extra skylight as seeing the color of the fruit is integral to her work. Preserving classes are held here throughout the year.
Above: A piece of Chinese walnut sits atop two chimney stacks. The color for the walls was inspired by the Lindisfarne Gospels. "I try and incorporate where I come from."
Keen on foraging? Check out our post on Foraged Flora.
Explore more Shoppers Diary.
(Visited 124 times, 1 visits today)