When Heath LA's studio director and potter Adam Silverman visited Marfa last summer, he found himself in the remodeled adobe home of artist couple Jamey Garza and Constance Holt.
The three discovered a shared design DNA, inspiring Silverman, who has partnered with Heath for the past four years, to put together Heath's newest show, Marfa Amigos. The occasion marks another first. After years of custom work, Garza's furniture and Holt's textiles will now be available to the public. (Holt designed a patchwork dining table for Chez Panisse's 40th anniversary, and Garza has provided furniture for southwest hotelier Liz Lambert.)
Marfa Amigos runs through May 6 at the Heath Los Angeles Studio & Showroom and includes wood pieces by Pat Keesey, posters by El Cosmico, and soaps from Marfa Brands. For more of Silverman's pottery, see his work at Atwater Pottery and at the Man-Made Show at Bakersfield Museum of Art.
Photography courtesy of Heath Ceramics.
Above: Jamey Garza's wood and steel stools stack nicely.
Above: A table setting reflects a collaboration of artists' work.
Above: The Redwood Cereal Bowl from the Rim Line ($30 each) is set with the Opaque White Salad Plate from the Coupe Line ($27 each) and the Opaque White Dinner Plate from the Rim Line ($36.50 each).
Above: Vintage El Cosmico posters are $50 each.
Above: Marfa Brand's soap bars are available in campfire and cedarwood sage, for $10 apiece.
Above: Constance Holt's colorful table linens feature stitched rows in alternate colors. The hemp and linen cocktail napkins are $48 for a set of four, and dinner napkins are $96 for a set of four; contact Heath Ceramics in LA for availability.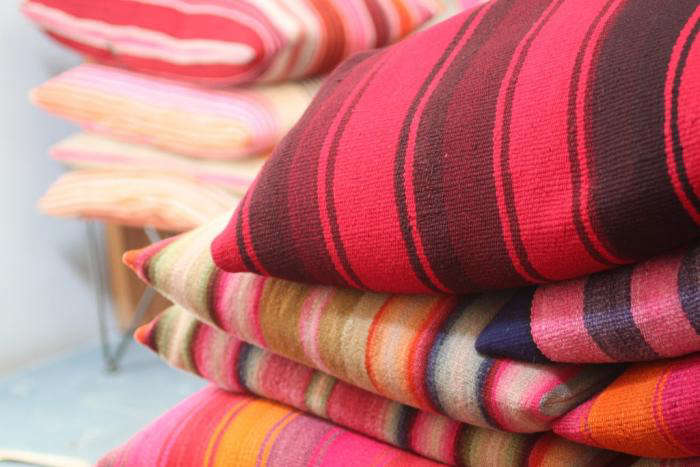 Above: Holt's bright woven pillows are $400 each; contact Heath Ceramics in LA for availability.
Above: Leather chairs are upholstered with oiled and tanned saddle leather to a natural finish.
Above: A blond wood coffee table ($2,000) and oval leather chairs ($1,200 each) feature colored steel rod frames.
Above: A row of Garza's saddle dining chairs; $800 apiece. Contact Heath Ceramics in LA for availability.
Above: The show is at 7525 Beverly Boulevard.
(Visited 7 times, 1 visits today)