The best new store to open in London recently (in our humble opinion)? Mouki, a concept shop on Chiltern Street in Marylebone–like a mini and more bohemian Dover Street Market. I dropped in recently to admire the premises, take a few snaps, and chat with owner Maria Lemos.
Maria, a world traveler and UK agent for fashion lines such as Peter Pilotto, J Brand, and Carven, was inspired to open her own shop showcasing her personal favorite cult artisan labels (ours too, we might add). Brilliant move: she hired William Russell and Angus Hyland of Pentagram to design the store and packaging to fit the Mouki brand, with an emphasis on timelessness.
Unless otherwise noted, photography by Christine Chang Hanway.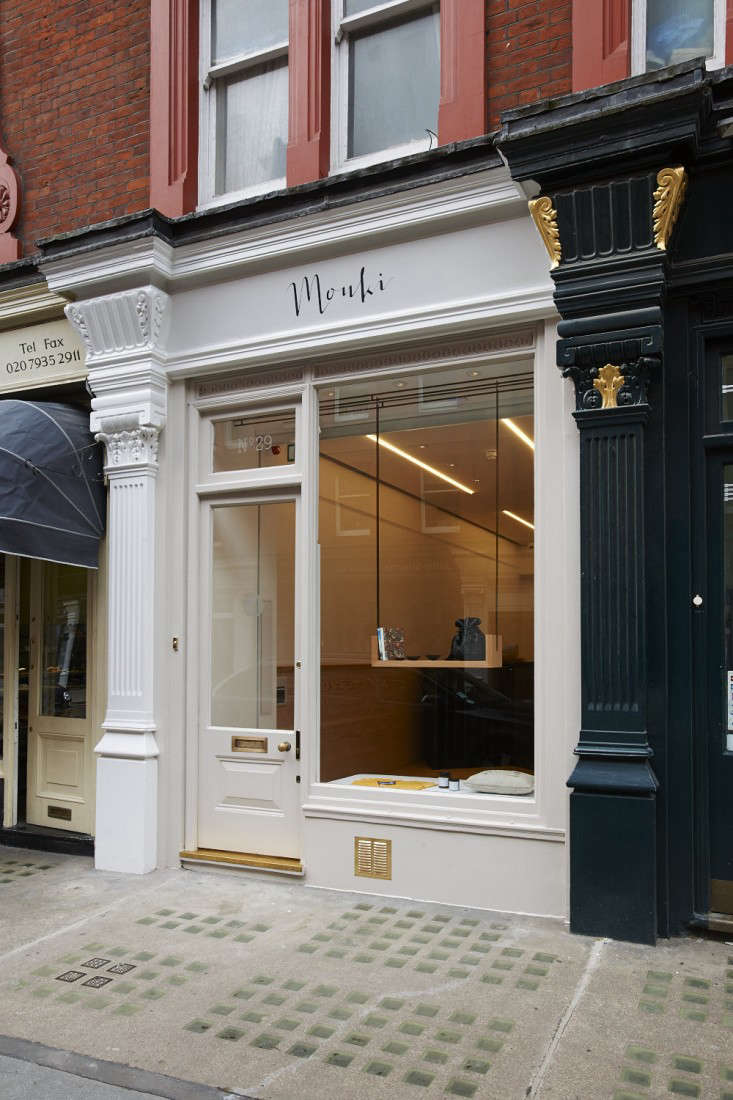 Above: Mouki is on up-and-coming Chiltern Street in Marylebone, London. Photo courtesy of Pentagram.

Above: A row of  contemporary display cases exhibit the jewelry Maria has sourced from artists around the world. "The jewelry we carry is the jewelry that you wear every day," she says. "For me, luxury is about the craft and time spent on design and production as opposed to precious materials–beautifully made pieces from humble metals such as bronze." Photo courtesy of Pentagram. 
Above: Blackened steel, Carrara marble, and plywood come together in a way that speaks of the Mouki aesthetic of "rough luxury" and serve as a backdrop for Susanne Kaufmann's spa products made with herbs from the Bregenz forest in Austria. Photo courtesy of Pentagram. 
Above: Rough yet refined pots by Maria's favorite ceramicist Janaki Larsen from Marche St. George in Vancouver.
Above: Bracelets by Fay Andrada, a New York-based metalsmith, along with earrings and necklaces by Mikkel Brogger, a Danish designer, are displayed on custom designed blackened steel jewelry holders. 
Above L: The raw black steel staircase is paired against black hexagonal floor tiles. Above R: A stool with a cork seat sits against a plywood wall. 
Above: The two floors are connected by a raw steel spiral stair case.
Above: The blackened steel clothes rails were designed by Russell.
Above: A refurbished fireplace mantel displays Fields candles by Land by Land. The lower-level rooms have individual and distinct characters, like the shiplap covered walls and parquet floors in this room, to reinforce the uniqueness of the pieces in the collection. 
Above: The floors in the two rooms on the lower level are tiled in different patterns.
Above: Cult artisan fashion labels include LA-based Dosa and Arts and Science from Japan. Maria also carries 45RPM (another Japanese label), Edeline Lee, Rachel Comey from NY, Salvatore Piccolo handmade shirts from Naples, and Denis Colomb scarves.
Above: Maria sourced the vintage furniture and accessories.
Above: The blue, black, and white encaustic tiles bring cheer to a basement space. Photo courtesy of Pentagram. 
Above: The Encaustic Grau and Encaustic Evora tiles are from Fired Earth. 
Above: The shop's tissue paper was inspired by the floor tiles.
With new outfit in hand, why don't you pop around the corner in Marylebone to Tracey Neuls for some new shoes?
(Visited 54 times, 1 visits today)