The inspiration for Hold General Store came from an unlikely place: farm-fresh vegetables. While working on her grandparents' farm, owner Marla Ebell would "stay up all night, carefully wrapping up all the vegetables in paper and string" in preparation for the local greenmarket. "It was during this time that I started to dream about a general store in a real way," she says. Ebell believes that the same care and attention that we give our food should translate into quotidian objects. "Sourcing food locally often comes more naturally to us, and it can be applied to every aspect of our home," she says, from brushes to kitchen cloths. Join us for a look inside her Victoria, British Columbia shop (and head over to Gardenista for a look at the greens she still sells from her grandparents' farm).
Photography by Kelly Brown, courtesy of Hold General Store.
Above: Hold follows a simple philosophy: "Treasure simplicity, notice the small things. Fill your home with tools you cherish and allow their stories to integrate into your everyday." The shop's logo, hand-painted onto a front window, follows suit.
Above: Inside the shop, goods are displayed on solid-wood benches and tables; a wooden rack hangs from the ceiling for drying herbs; and greenery from Ebell's family farm adds color. On a wooden rack in the back of the shop is a selection of well-made clothing, including organic cotton shirts ($240 CAD, or $182.90 USD) and natural-dyed linen jumpers ($286 CAD, or $217.95 USD).
Above: The muted palette and simple materials follow the shop's ethos that "practicality and sustainability builds timeless beauty." A Canadian sheepskin, seen on a chair by the window, is $174 CAD ($132.43 USD). The black Paper Market Tote (seen on the table) is $72 CAD ($54.80) but is currently sold out.
Above: Ebell sells fresh greens from her grandparent's farm. Also on offer: An enamelware prep set by Falcon ($152 CAD or $115.68 USD) and, seen here hanging from a wall hook, a Swedish-made dustpan fashioned from heavy-duty craft paper ($16 CAD, or $12.80 USD).
Above: Like general stores of old, "we believe in the fundamentals," Ebell says, including good brushes and even pot-scrubbers. There's a brush for every need: A horsehair dish brush ($10 CAD, or $7.61 USD), birch mushroom brush ($19 CAD, or $14.46 USD), milk bottle brush ($10 CAD, or $7.61 USD), and good hairbrushes ($19 CAD, or $14.46 USD). Bristle brushes (each $10 CAD, or $7.62 USD) hang on the wall. Stackable ceramic tumblers are available in white or grey ($28 CAD, or $21.34 USD).
Above: There's more than utilitarian goods on offer. Displayed on a floating shelf are a Vancouver-made ceramic pour-over ($56 CAD, or $42.68 USD) and an "angel wing" creamer ($68 CAD, or $61.75 USD), matte white "Wabi Sabi" pitcher ($120 CAD, or $91.33), and ceramic candle holders ($52 CAD, or $39.63 for medium), all by Notary Ceramics in Portland, OR. The round copper pot scrubbers by Redecker on the bench are $11 CAD ($8.37 USD) for a set of two.
Above: A black metal wash bucket, ideal for household chores or storage, is $24 CAD ($18.27 USD) for small and $32 CAD ($24.35 USD) for large (currently sold out).
Above: A stack of multipurpose linen squares are available for $30 CAD, or $22.83 USD, each.
Above: In a dressing room, an amber-colored glass bottle is repurposed as a vase.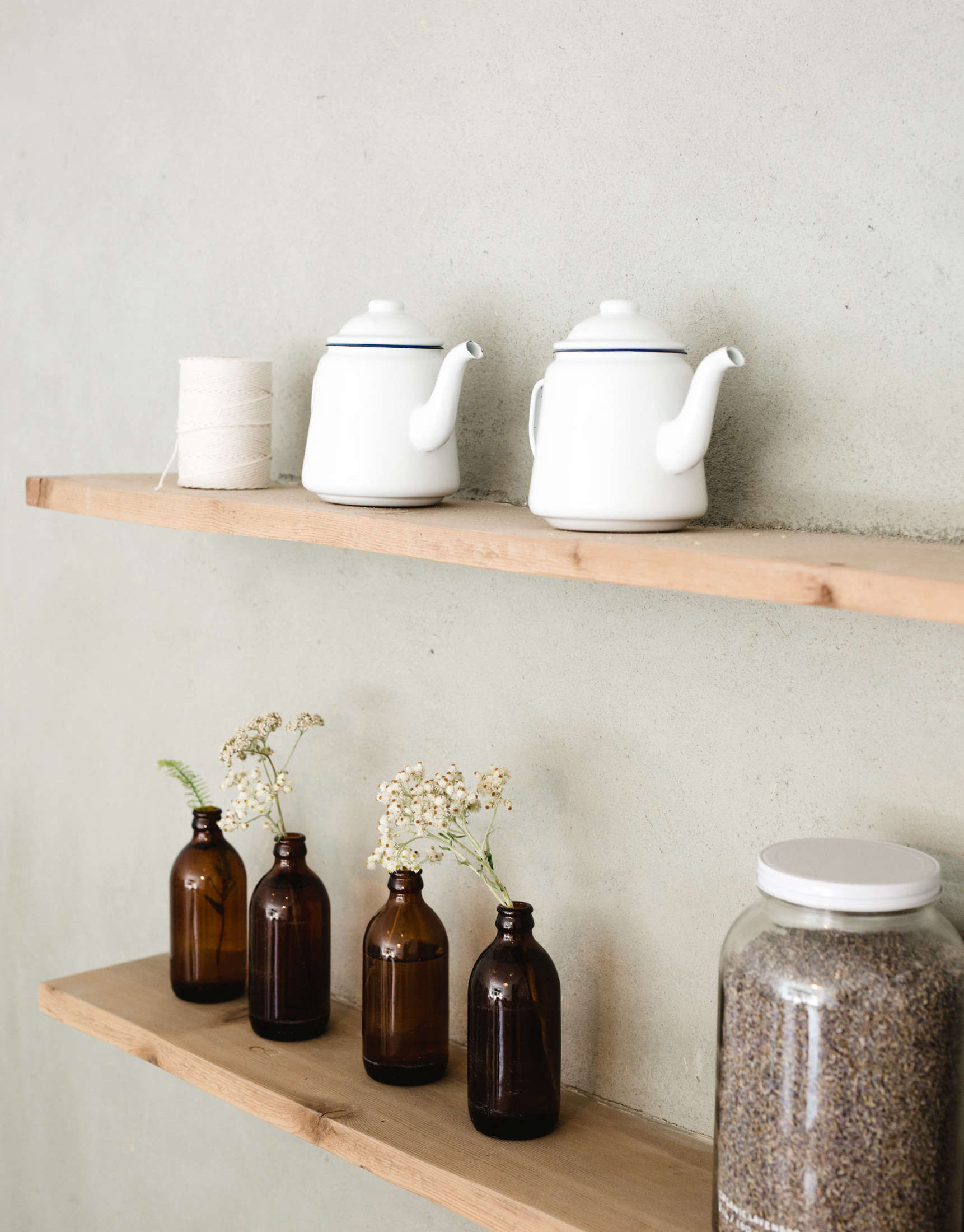 Above: The basics: teapots and twine.

Above: A beech and horsehair table brush set is $56 CAD, or $42.68 USD.

Above: The back wall is muted grey. A houseplant grows in a porcelain planter by a Victoria artist ($42 CAD, or $32.01).
Above: With Hold General Store (and it's farm-fresh bounty), Ebell brings an old-school idea to Victoria.
We, too, believe in sourcing "tools for simple living." For more of our favorites, see our posts:
(Visited 20 times, 1 visits today)