If I had to pick one gift to give this holiday season, it would be a handmade candle from Le Feu de L'Eau. Why? These one-of-a-kind, organically formed candles are created in water, forming ripples of colored hues making them a sculpture of sorts.
Artist and designer Wendy Polish grew up watching her father, an inventor, make candles in water, a process he pioneered. "He would fill plastic trash cans with water and pour hot wax down a wick that led into the water," Polish says. "When the wax hit the water, it would make the most incredible shapes." Since then, Polish and her father have refined the process (he began his wax experiments in 1968), and in January of this year, Polish launched her candle business, Le Feu de L'Eau, with her longtime friend, makeup artist Jo Strettell.
Polish and her candles made their debut at last year's Remodelista Holiday Market in LA (thanks to Jamie Rosenthal of Lost and Found); we're pleased she will be back, this time at our Remodelista Holiday Market in SF; if you can't make it this Saturday, check out Le Feu de L'Eau.
Photography by Ryan Robert Miller.
Above: Brit-born LA makeup artist Jo Strettell with artist and designer Wendy Polish. The creative duo bring their shared love of art, beauty, and fragrance together in Le Feu de L'Eau.
Above: Candles in Midnight Blue with a fragrance of black and red currant.
Above: A collection of Fire of Midnight Blue candle shells in their different color permeations, ready to be filled.
Above: Candle wicks.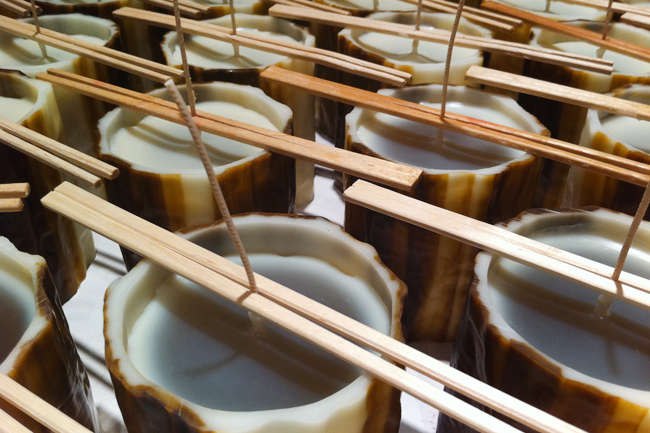 Above: Wax shells after being filled and wicked.
Above: Fire of Gray with musk and smoke fragrance. Every batch comes out slightly differently, depending on the temperature of the water and the weather.
Above: Le Feu de L'Eau translates to "The Fire of Water," every candle label is screen-printed by hand on Belgian linen.
Above: The candle packaging is an homage to Josef Albers.
Above: Le Feu Bleu Phthalo candles were inspired by indigo-dyed fabric.
(Visited 109 times, 1 visits today)